This post may contain affiliate links which will not change your price but will share some commission. Please read my privacy policy.
Air Fryer Bacon is crispy and delicious, and ready in less than 10 minutes. It leaves your home free of smoke and grease splatters!
Learn how to cook bacon in the air fryer, and you'll never want to make it another way again. It cooks quickly and it arguably the best bacon you'll ever have.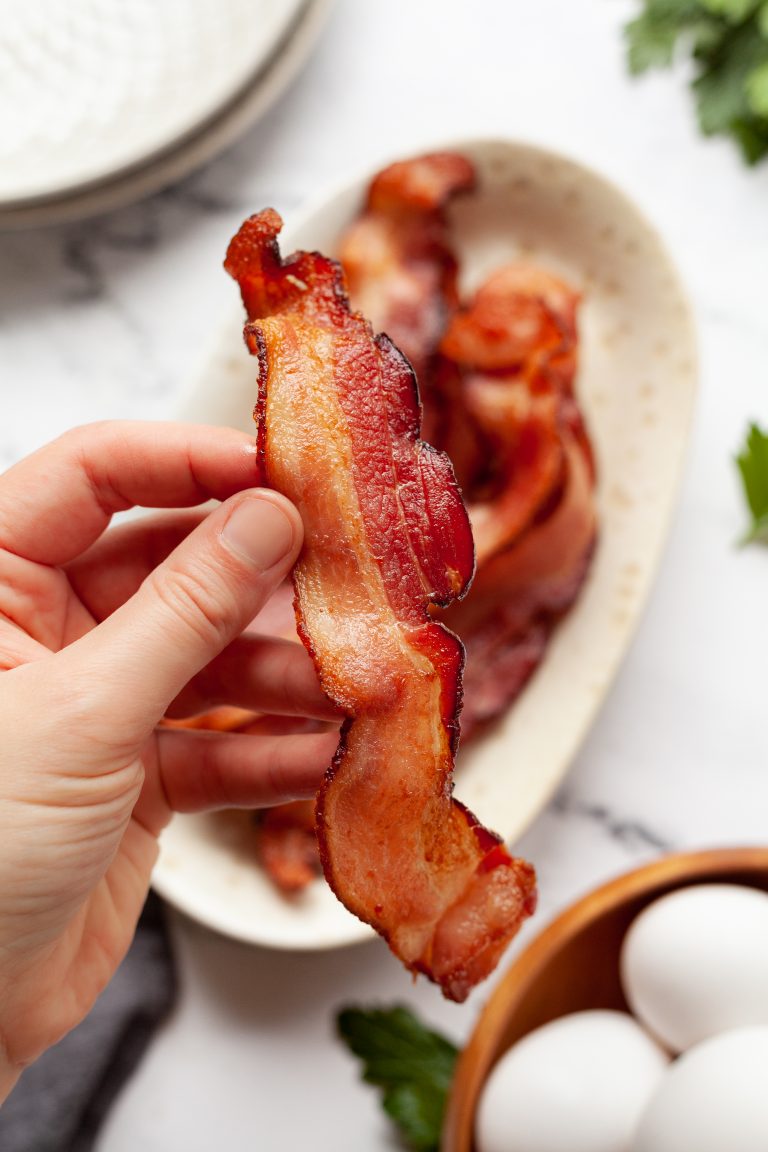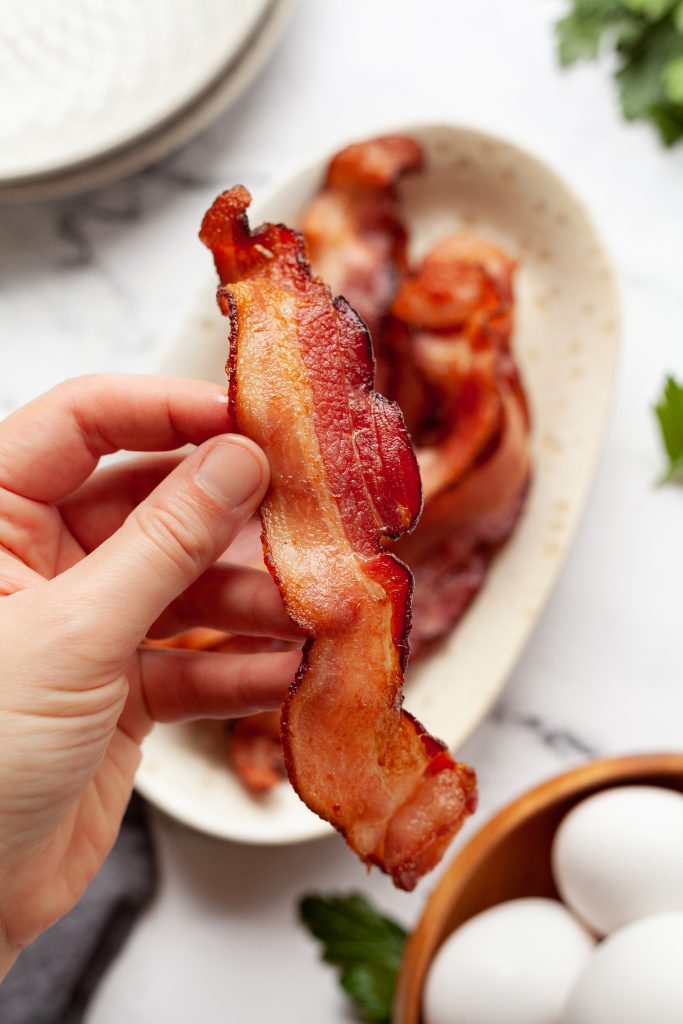 So you got an air fryer and the first thing you want to learn how to make is french fries, right? That seems to be everyone's first air fryer recipe.
I'm here to tell you the first thing you should make is BACON!
It's insanely crispy and SO easy to make! It's the only way I cook bacon now.
I can't tell you how much I love this Air Fryer Bacon. It makes me wonder why I haven't been making it this way since day one. Cue: Rihanna – Where Have You Been.
Where have you been all my liiiiife….
Oh. Sorry. Bacon. Right. This song is stuck in my head now…but let's get back to bacon!
Ok bacon lovers, where are you? This method of cooking bacon is a total game-changer and you're gonna want to listen up!
Best Air Fryer Bacon Recipe
So you're probably thinking "I already have the perfect method for cooking bacon seamlessly, why do I need another one?" well, because this method is the best. Here's why:
less messy than the stovetop think, no more grease splattering everywhere.
most air fryer parts are dishwasher safe.
the bacon crisps up in less than 10 minutes.
it's the crispiest bacon ever!
Have I convinced you yet that cooking bacon in the air fryer is the best method? Ok good. Let me tell you how I make the best ever bacon!
How to Make Air Fryer Bacon
Cooking bacon in the air fryer is super simple and quick. You'll get perfectly crispy bacon every time!
To start, I always purchase thick cut bacon because I like that crunchy outside, chewy inside situation. You can work with whichever bacon you like most, but be sure to reduce the cook time by a few minutes if you're using thin sliced bacon.
1. First, line the outer basket of the air fryer with aluminum foil to catch the grease drippings. Then preheat the air fryer to 390F.
Tip!
You can also place a piece of bread at the bottom to soak up the grease instead.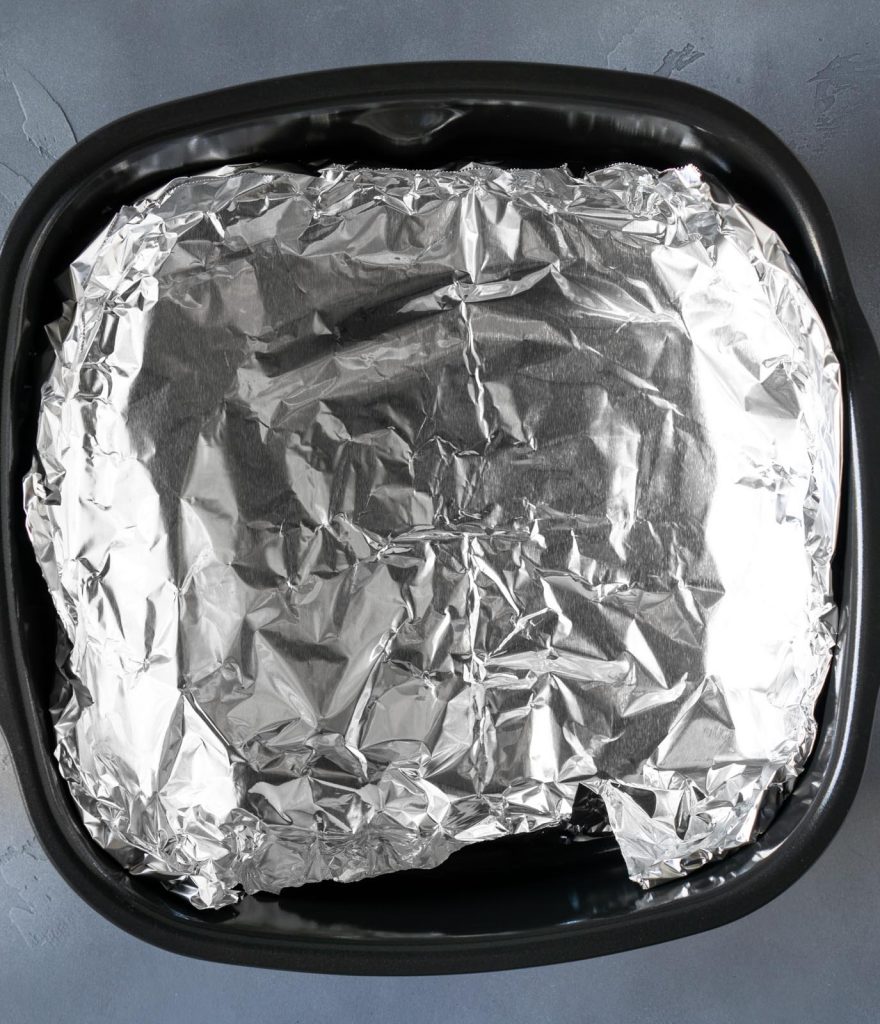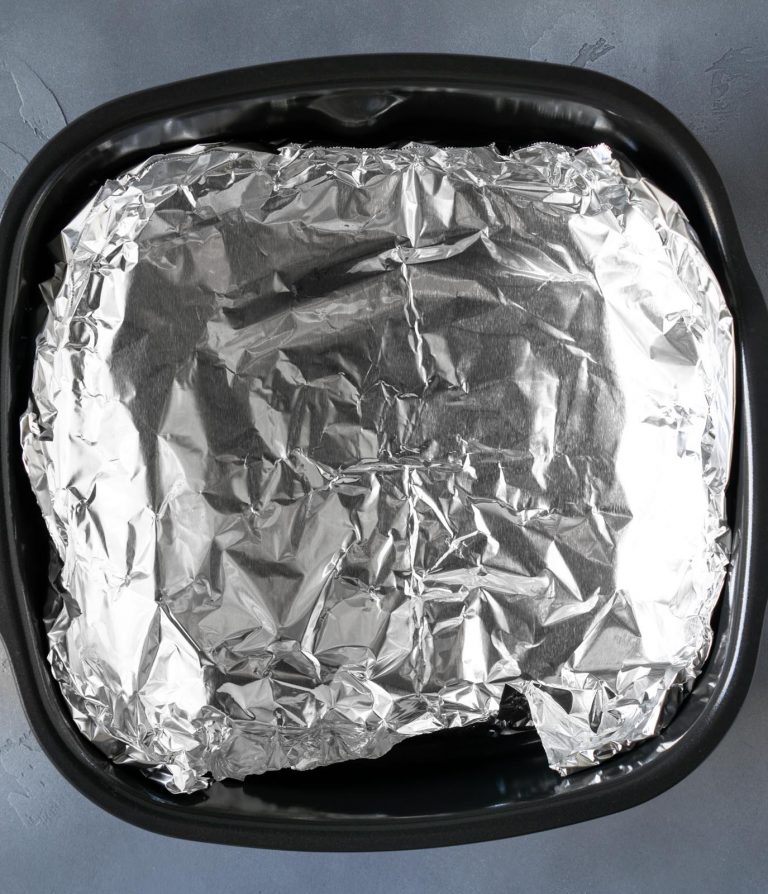 2. Next, slice the bacon strips in half (or don't, this is optional) and arrange them in a single layer in the air fryer basket. Bacon shrinks a lot while it's cooking so any overlapping corners should naturally move around.
Cook the bacon for 8-9 minutes (depending on the thickness of your bacon). Flip the bacon halfway through.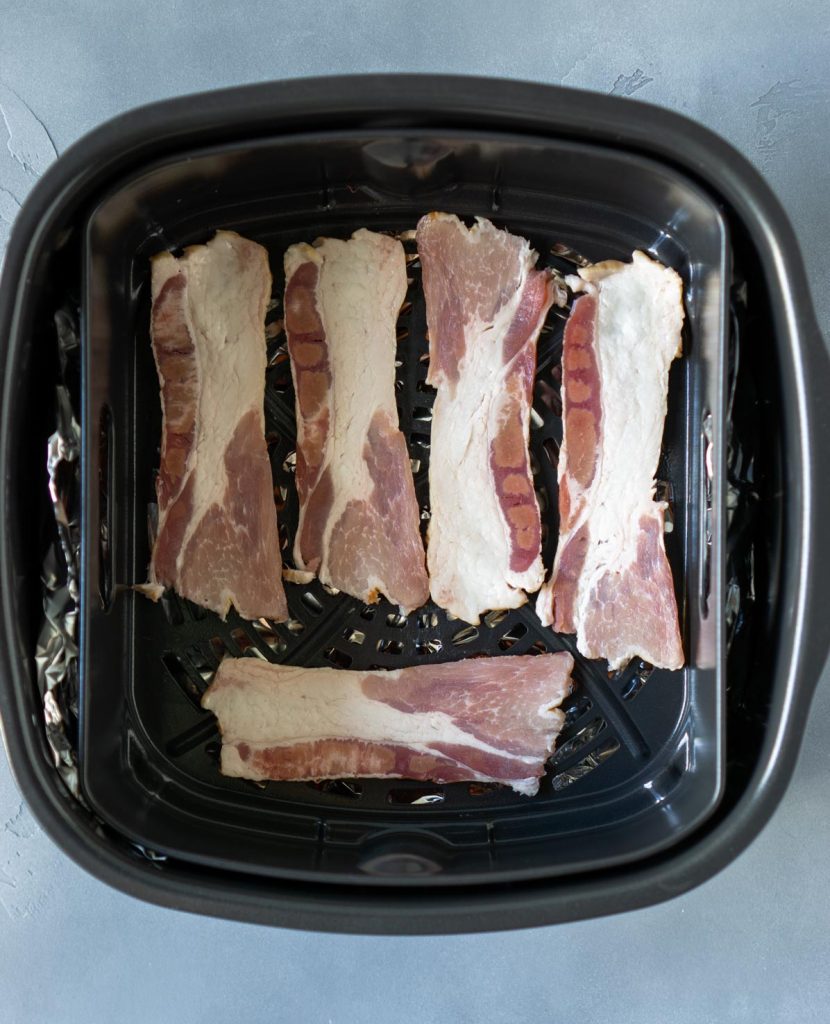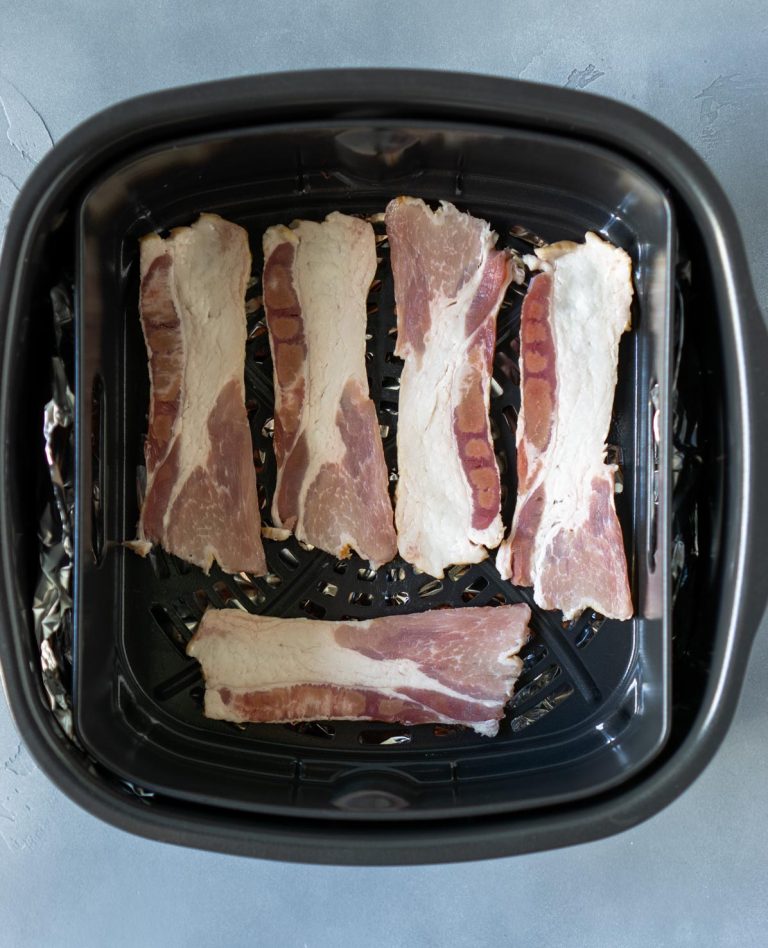 I like my bacon pretty well-done, so check on yours towards the end to adjust the time if you need to.
3. Once each batch is complete, use a pair of tongs to transfer the cooked bacon to a paper towel lined plate to cool. You can also blot off any extra bacon grease.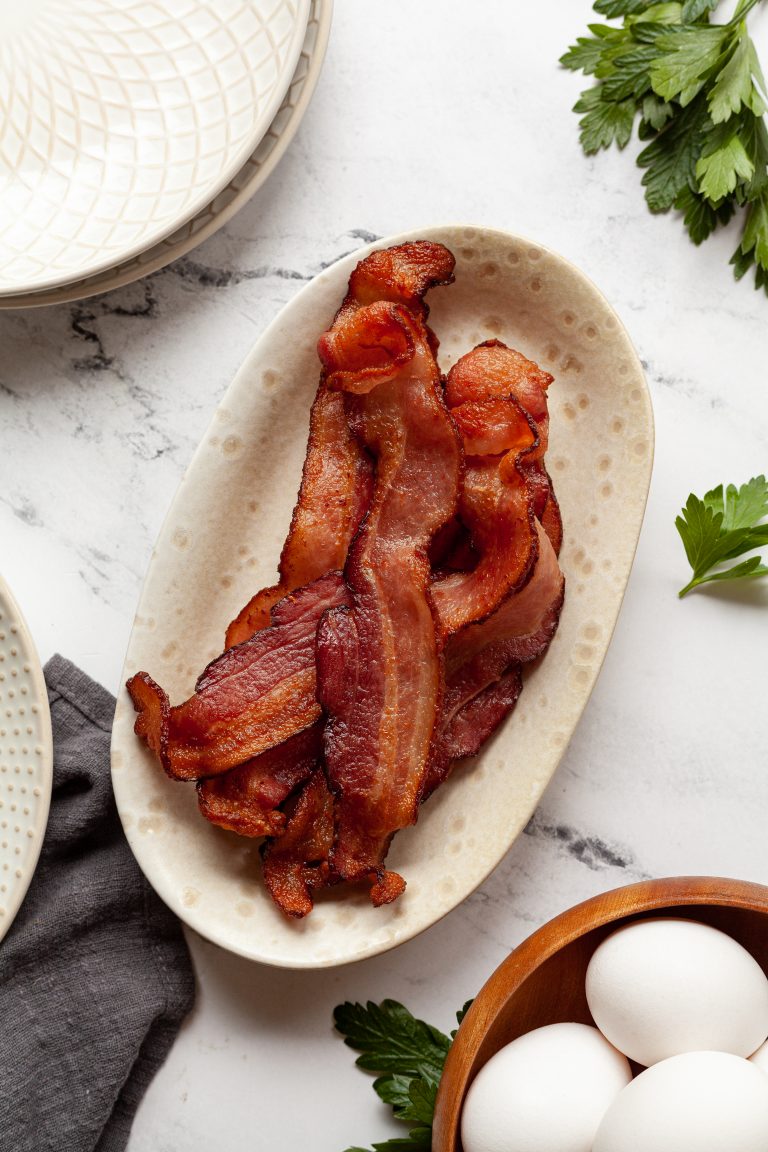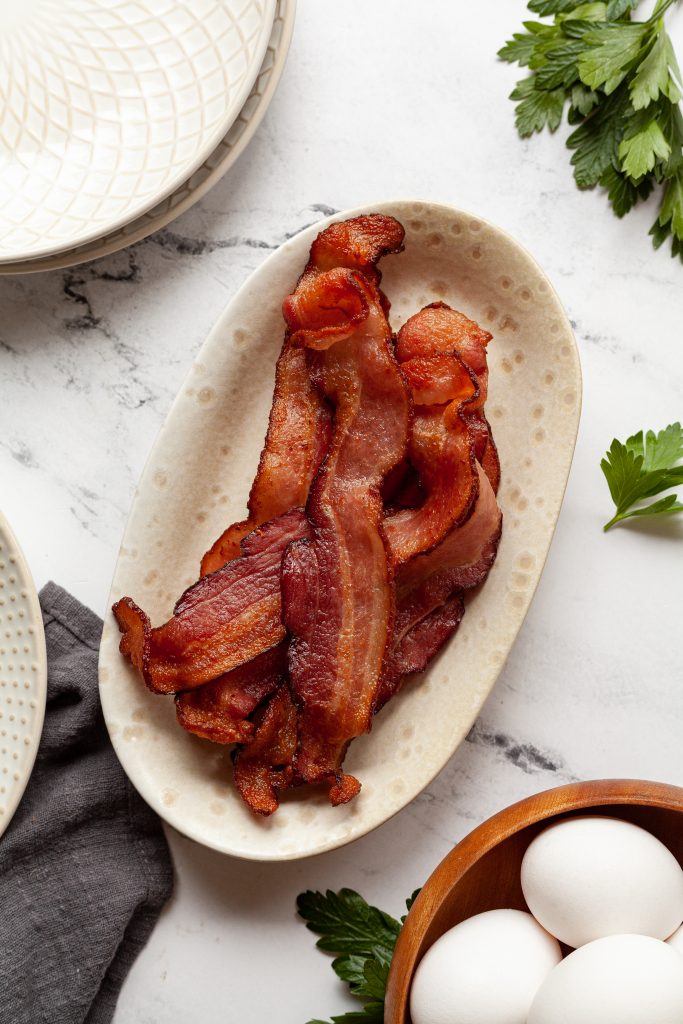 That's it! I can get through an entire 12 ounce package of bacon in about two batches.
Note: If you're cooking more than two batches of bacon, make sure you empty the grease drippings in between batches.
Why You Should Buy an Air Fryer
Air Fryers Use Minimal Oil
This is a big reason why I love my air fryer so much. I love fried food and the texture of crispy, crunchy things but they aren't the healthiest option.
Air fryers are able to crisp food by circulating hot air around it at high speed. Similar to a convection oven.
Air Fryers Are a Simple, Less Messy Way to Cook
Rather than frying food the traditional way, in a large pot of oil, the air fryer crisps food using circulating air so there is very little clean up necessary. Most air fryer accessories are dishwasher safe, too!
Air Fryers Save Time in the Kitchen
When I make bacon in the oven I've got It cooking for about 15-20 minutes. In the air fryer it's finished in less than 10 minutes!
They are a highly efficient way of cooking because they can heat food from room temperature to over 300 degrees in less than three minutes. This seriously cuts down cooking time. Air fryers take just a few minutes to heat all the way to 400 F.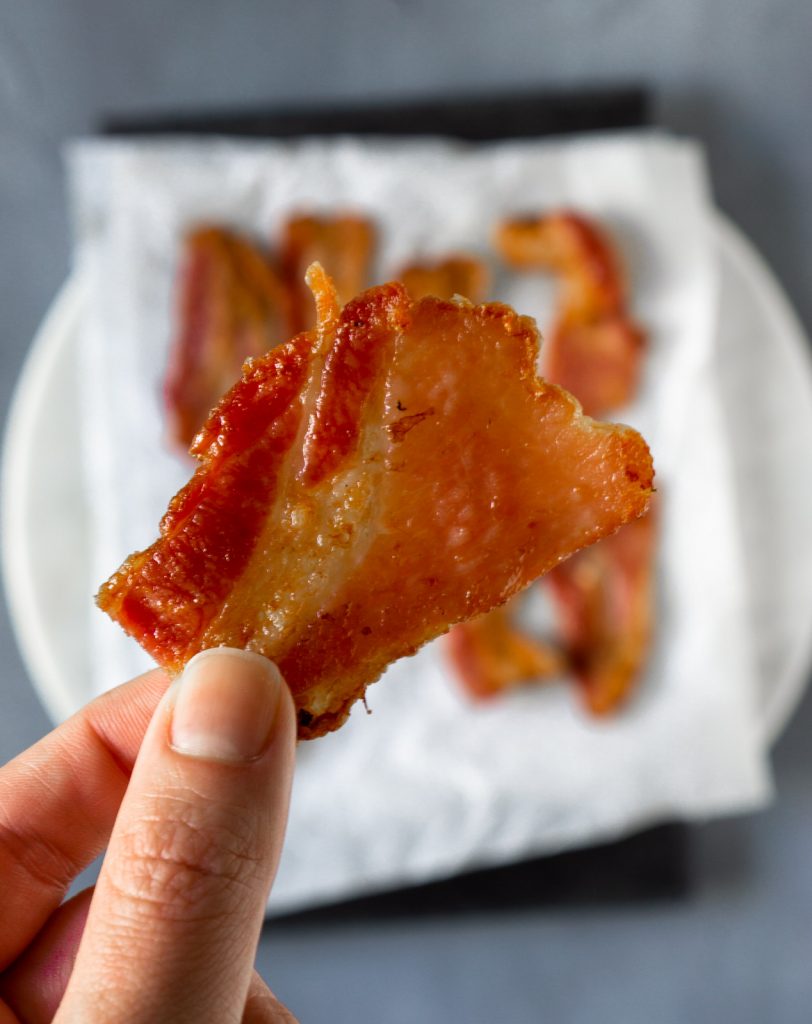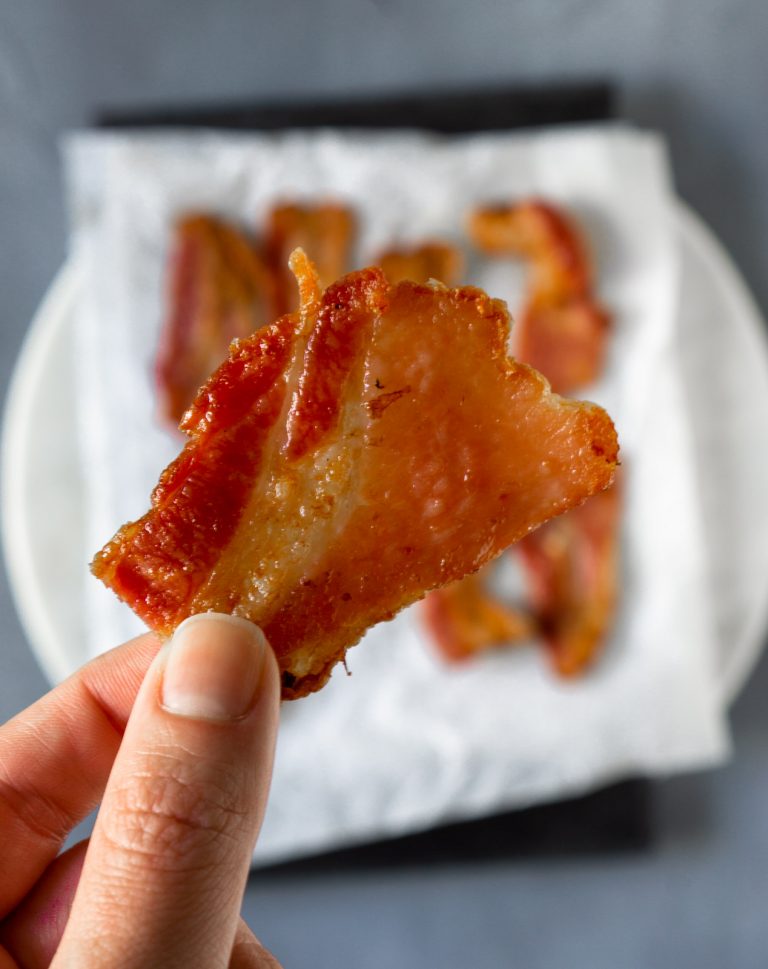 Which Air Fryer Should I Buy?
I started with this one because it was an inexpensive air fryer from Amazon and I wasn't sure how I would like the appliance or if I'd use it often.
It was a great buy and I used it for about 3 years before upgrading to this air fryer, (also from Amazon) which has quickly become my favorite. It doubles as an indoor grill and is literally the best appliance I own!
Here are a few more reputable brands to check out:
Air Fryer Tips
1. Don't forget the accessories. There are so many things you can do with an air fryer (including bake), but you'll need the proper accessories to utilize everything it has to offer. They aren't even that expensive, this 9 piece set is only $25!
That set is compatible with several brands, but make sure you double check that it's compatible with your air fryer.
2. Remember to preheat the air fryer. This step is important! Think about it, would you place your food directly into a cold oven? Nope! I mean, some people might, but you shouldn't.
Some air fryers have a preheat setting built into them, if yours doesn't, just set the timer for 5 minutes to allow it to heat up.
3. Air fryers need room to vent. Make sure there is about 5 inches all around your air fryer and never use it on the stove top! Things could get very dangerous if you don't give It room to breathe.
4. Check your food as it cooks. Each stove, air fryer, and oven is different. Just because a recipe says to cook something for 15 minutes does not mean to just forget about it until the timer goes off.
Air fryers are designed to be opened so you can shake the basket around and adjust your food as necessary while cooking.
Questions You Might Have
How long does it take to cook bacon in the air fryer?
About 8 minutes, depending on the thickness of your bacon and how many strips you are cooking at once.
Is air fried bacon healthier?
The nutrition facts of air fried bacon won't change whether you are air frying, baking, or cooking on the stove top.
Can you put aluminum foil in an air fryer?
Yes! Aluminum foil can be used in the air fryer. Sometimes I like to line the outer basket in foil to catch the drippings.
The best thing about making bacon in an air fryer is that there's no smoke! Your kitchen will still smell of warm, delicious bacon but will be virtually smoke-free.
Make air fried bacon once and you'll never make it another way again!
More Air Fryer & Other Recipes To Try
Want to try this Air Fryer Bacon Recipe?
PIN IT to your air fryer recipes or bacon recipes board to save it for later!
Find me on Pinterest for more great recipes. I'm always pinning!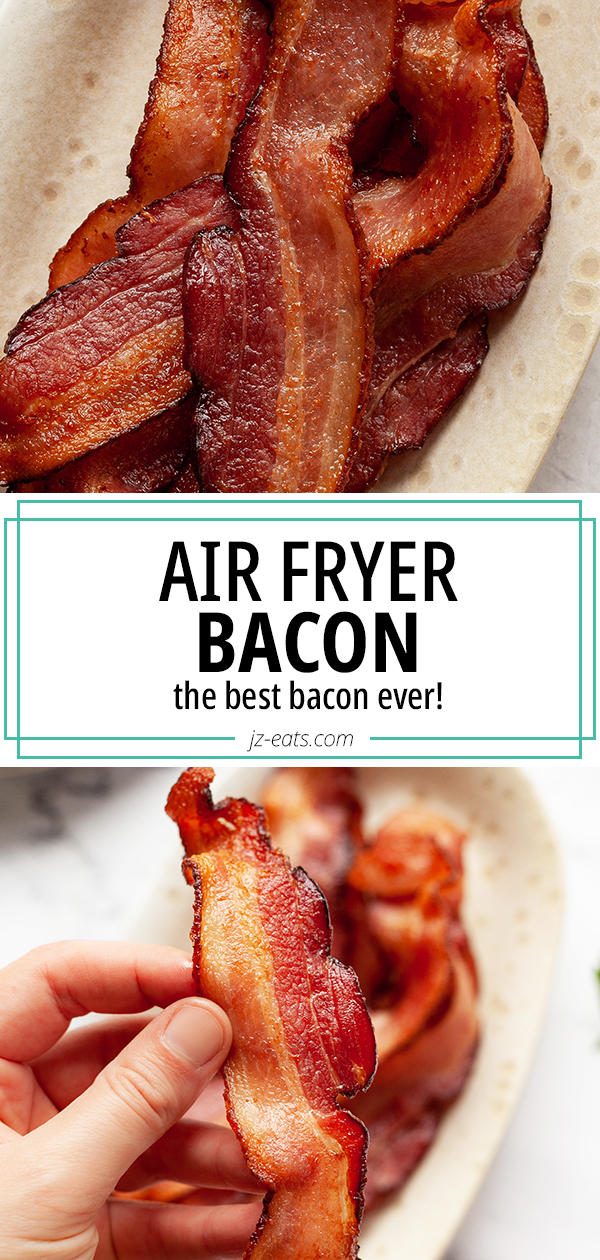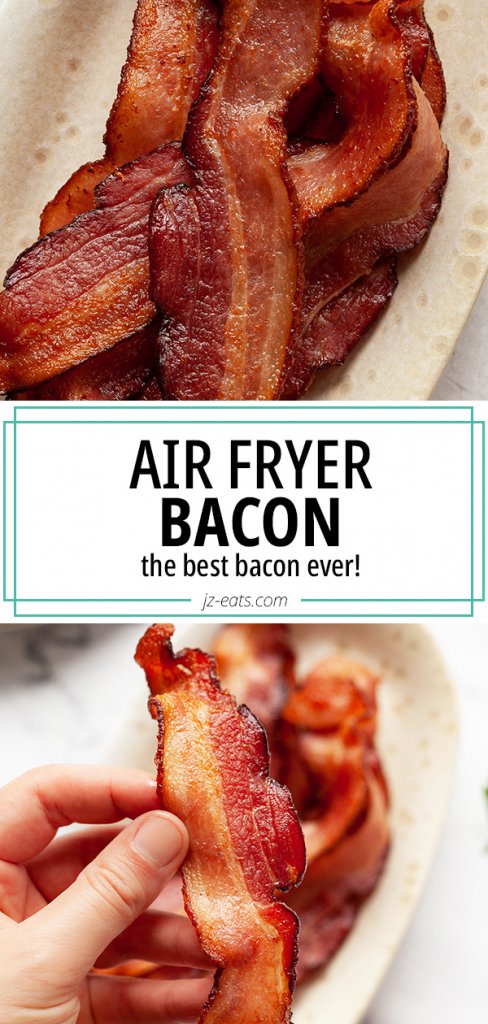 Did you make this recipe? Post a photo on Instagram and tag me @JZEATS or #JZEATS so I can see! Leave a comment below and let me know what you think, too!
How To Make Bacon In The Air Fryer
Air Fryer Bacon is crispy and delicious. It's ready in less than 10 minutes and leaves your home free of smoke and grease splatters!
Servings:
12
pieces of bacon
Ingredients
1

package of thick cut bacon
Instructions
Line the outer basket with aluminum foil and pre-heat the air fryer to 390° F. You can also add 1-2 slices of bread to the bottom basket to soak up the grease.

Cut the bacon slices in half (or don't, this is optional) and arrange them in the basket in a flat layer. Cook the bacon 5 minutes, then flip and cook for another 3-4 minutes depending on how you like your bacon. If you like it extra crispy, cook it for 4-5 minutes after flipping (total time 8-10 mins). When finished, remove the bacon strips from the air fryer and transfer to a paper towel lined plate.
Nutrition
Calories:
118
kcal
|
Carbohydrates:
1
g
|
Protein:
4
g
|
Fat:
11
g
|
Saturated Fat:
4
g
|
Cholesterol:
19
mg
|
Sodium:
188
mg
|
Potassium:
56
mg
|
Vitamin A:
10
IU
|
Calcium:
1
mg
|
Iron:
1
mg