This post may contain affiliate links which will not change your price but will share some commission. Please read my privacy policy.
Are you hosting Thanksgiving dinner this year but not wanting to make a traditional feast? These alternative Thanksgiving meals ideas are a perfect spin on your every day Thanksgiving foods.
We all have family members who aren't a fan of the traditional Thanksgiving turkey. So I have created the ultimate guide to alternative Thanksgiving foods!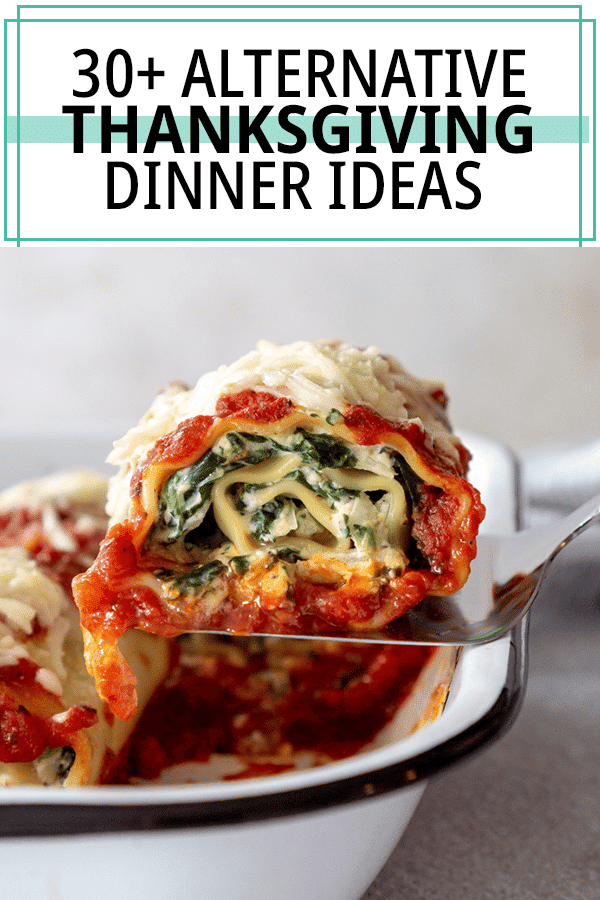 Non-Traditional Thanksgiving Recipes
Am I the only one who is already thinking about what to serve this Thanksgiving?
I'm still debating on whether or not I want to tackle making a traditional Herb Roasted Turkey or if I want to switch it up altogether.
I think putting a new spin on your classic recipes is a great way to not only change things up this holiday season, but you can also customize your recipes by your friends and families' dietary needs.
What can I make instead of turkey for Thanksgiving?
For the past few Thanksgivings, I have been changing things up a little. Instead of letting a traditional bird take center stage, I have been trying out different main entrees.
This works perfectly for my family because while I still love to enjoy a delicious turkey, some of my family and friends have different food preferences.
I have found that the best way to switch up your traditional thanksgiving dinner is to first start with a different entree. I have made a collection of main dishes that I think work perfectly for alternatives to turkey for thanksgiving.
However, if you're looking for new ideas for a traditional Thanksgiving turkey, you can try out my Roasted Cajun Turkey, Air Fryer Turkey Breast or my Air Fryer Turkey Legs.
Here are a few of my favorite recipes you'll want to add to your Thanksgiving menu: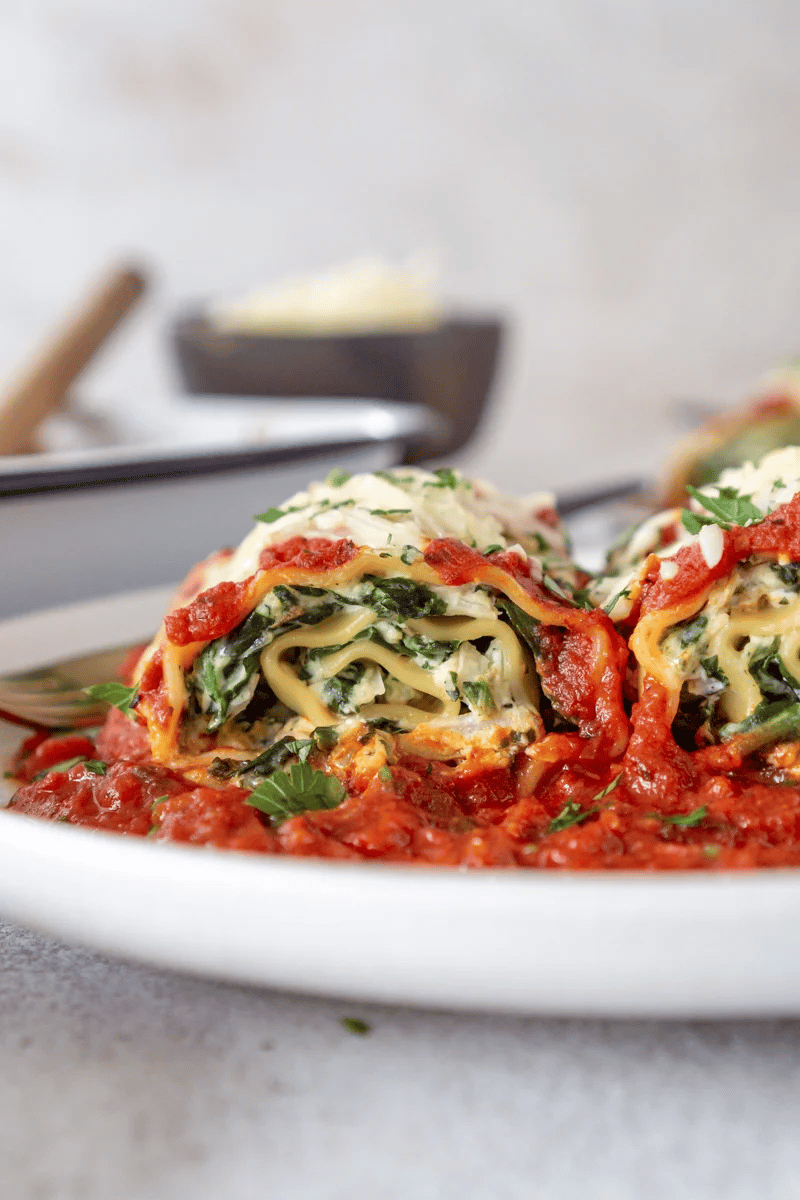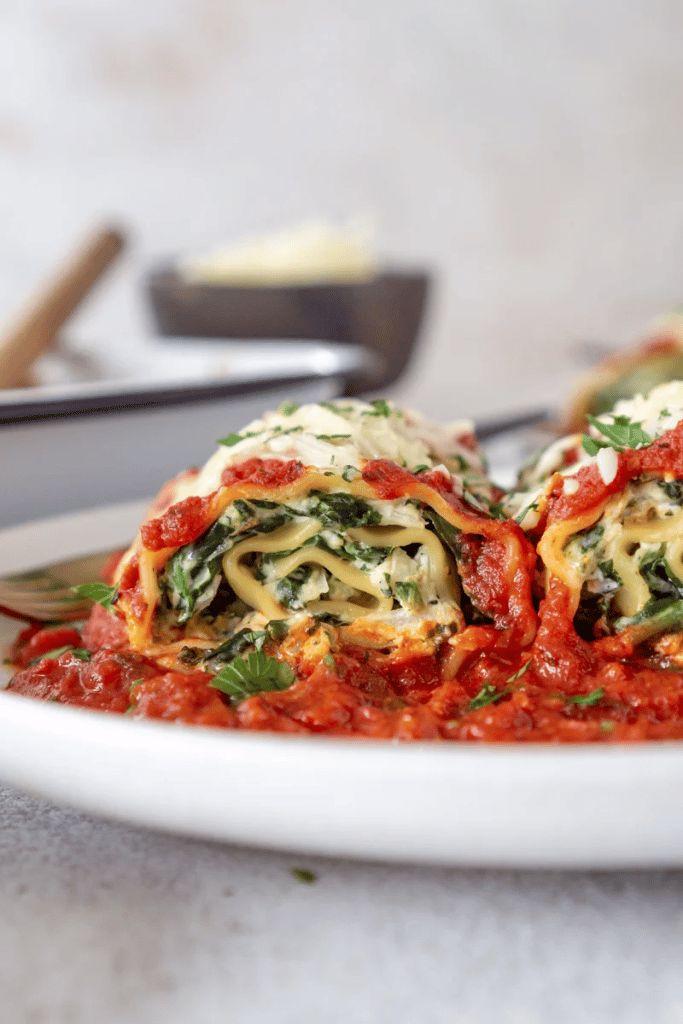 While turkey is usually the star of the show on Thanksgiving, we don't want our vegetarian friends to feel left out!
Spinach Lasagna Rolls are perfect if you want to try something different for your Thanksgiving or even your Christmas dinner. Add a side salad and a piece of bread, and enjoy a delicious Italian meal.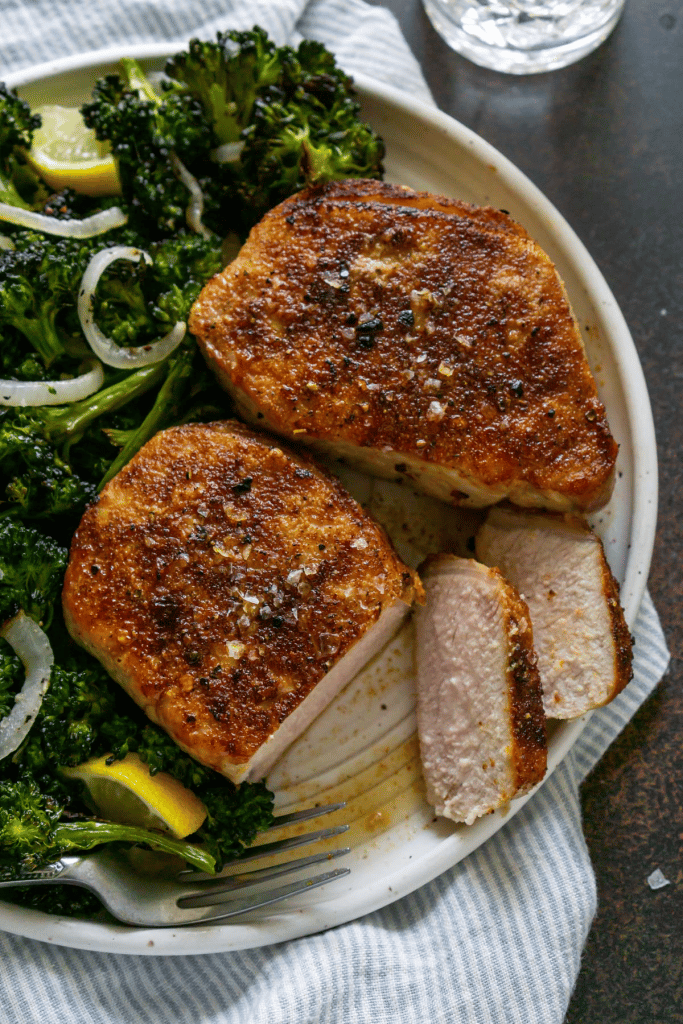 Do you need a quick and easy entree? Covered in fresh herbs and spices, these pork chops are packed full of holiday flavors and would go great with most all Thanksgiving sides.
Air Fryer Pork Chops only takes 15 minutes to make.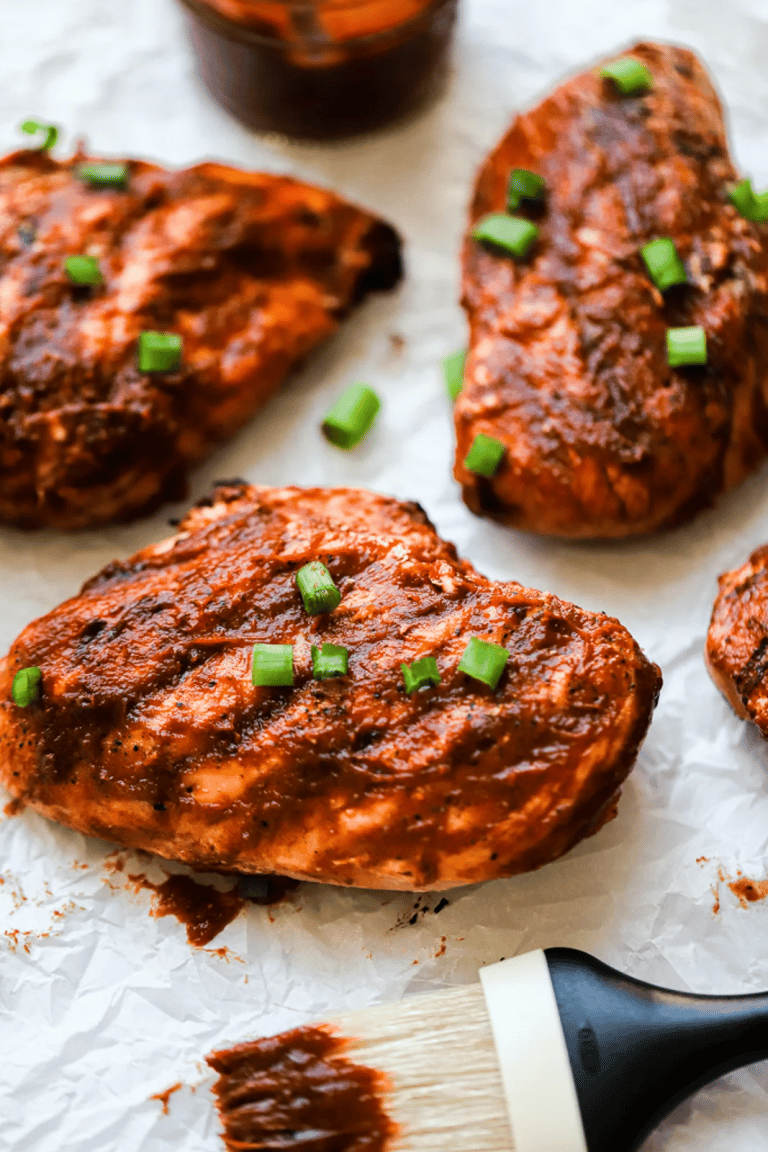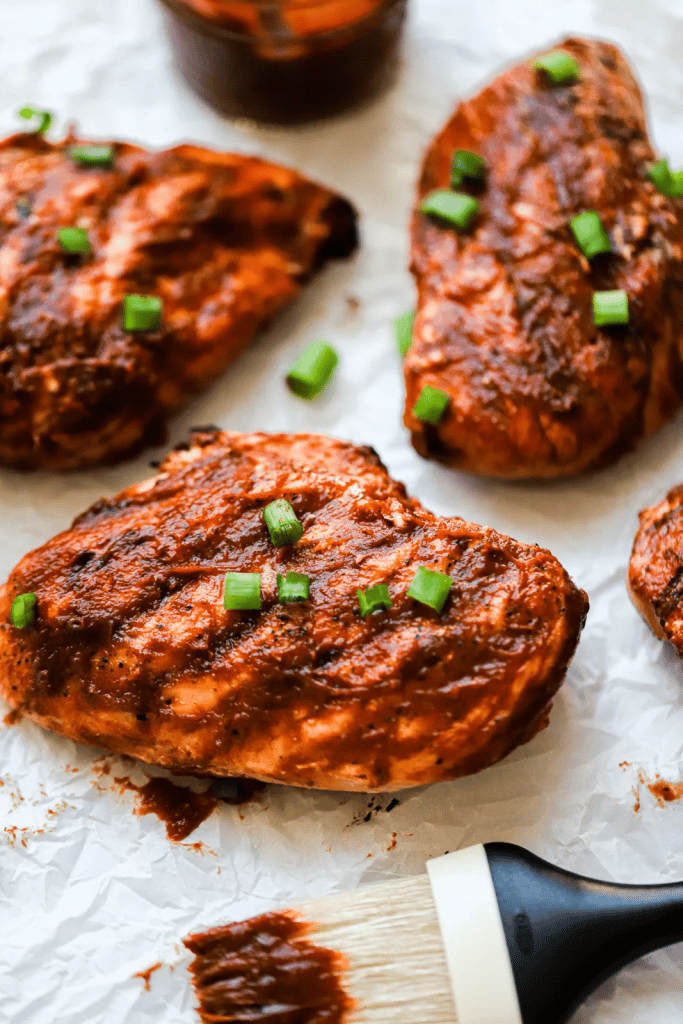 BBQ Grilled Chicken is perfect for your guests who are sugar-free and dairy free. Toss your chicken on the grill and add corn on the cob on the side for an easy to make Thanksgiving lunch or dinner.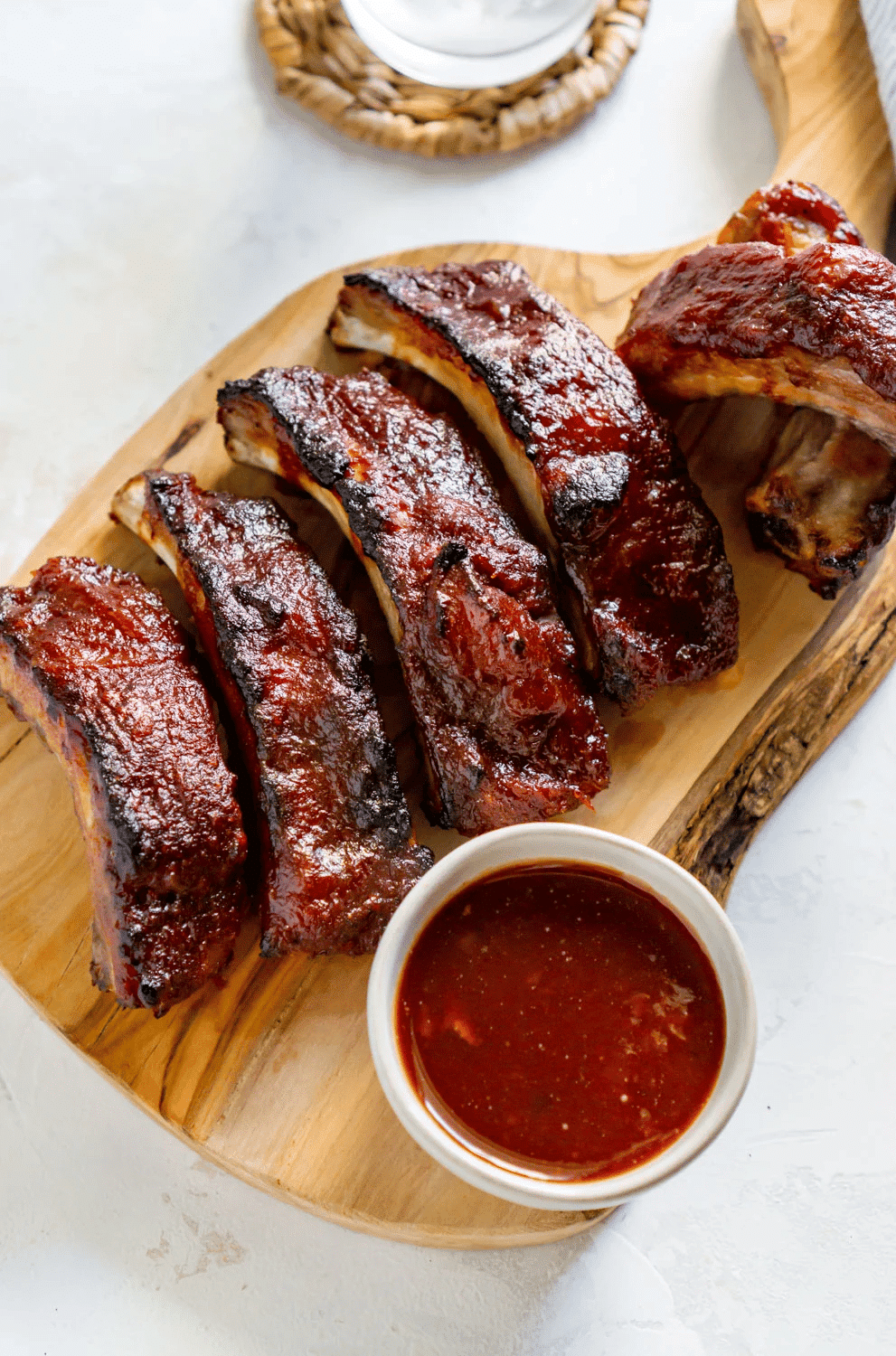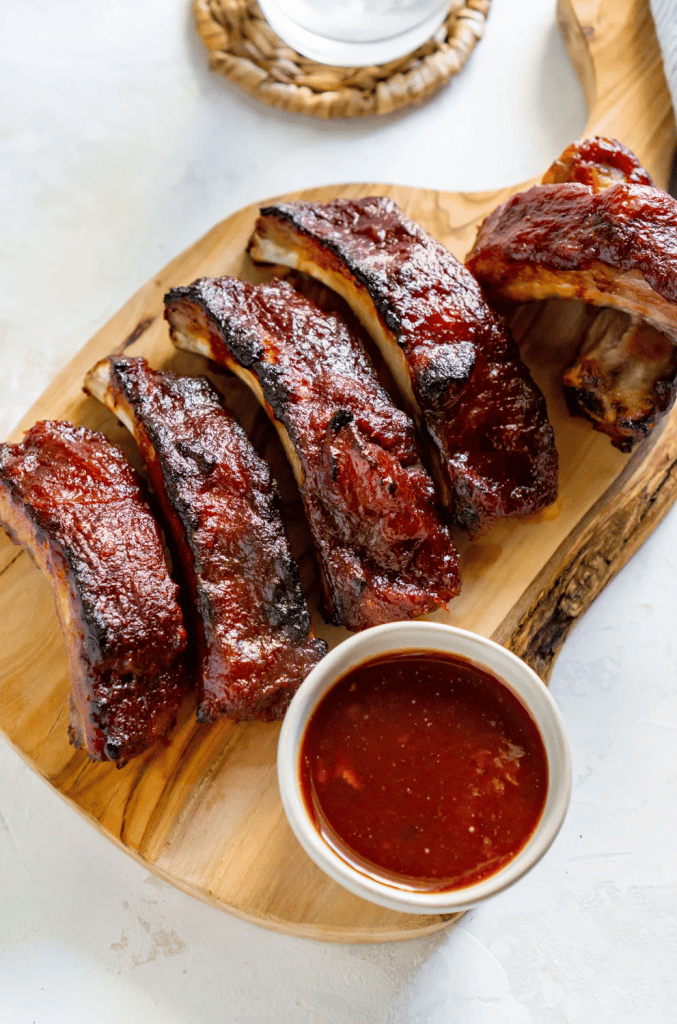 Slow Cooker Ribs aren't just for a weekend dinner but also wonderful on Thanksgiving. They're perfect for a dump-and-go meal.
Throw your baby back ribs in the slow cooker in the morning, and they're be done just in time for dinner.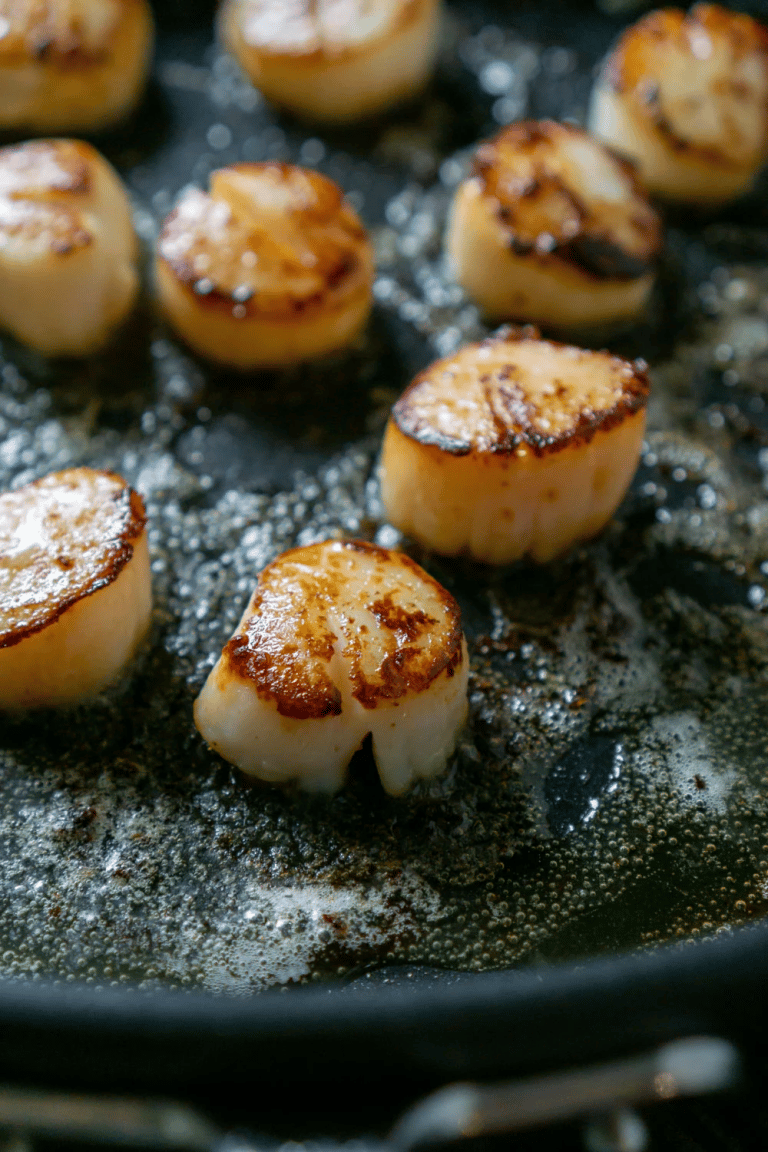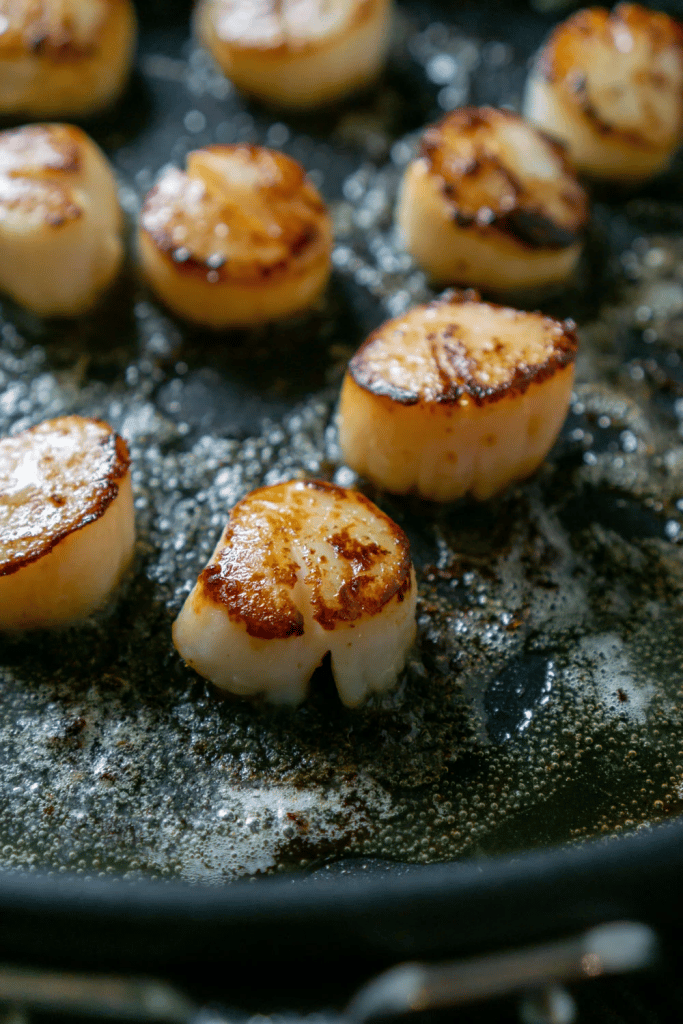 Seafood for Thanksgiving? Yes! Try out these Seared Scallops with an amazing Garlic Butter Sauce for the perfect alternative thanksgiving meal. You could also put them over pasta for a more filling dish.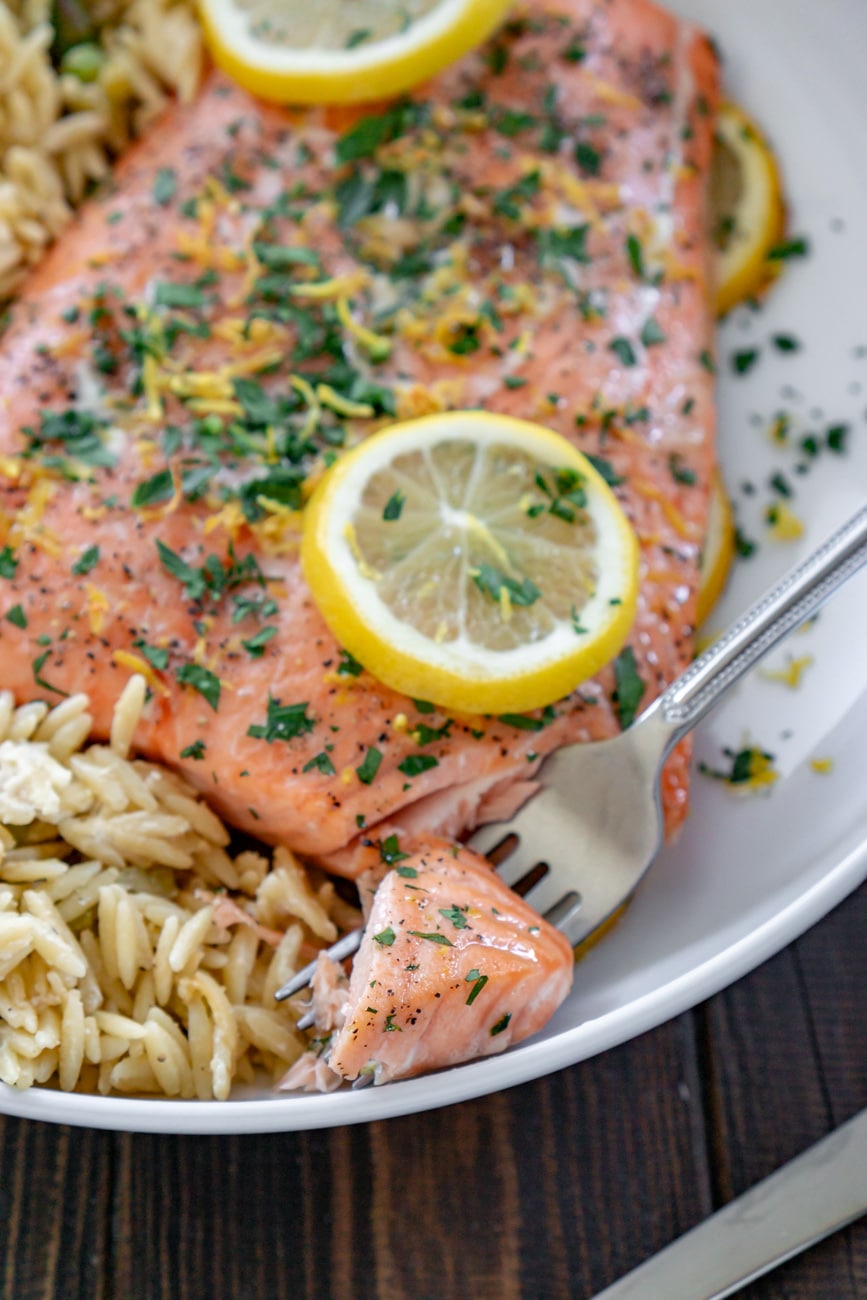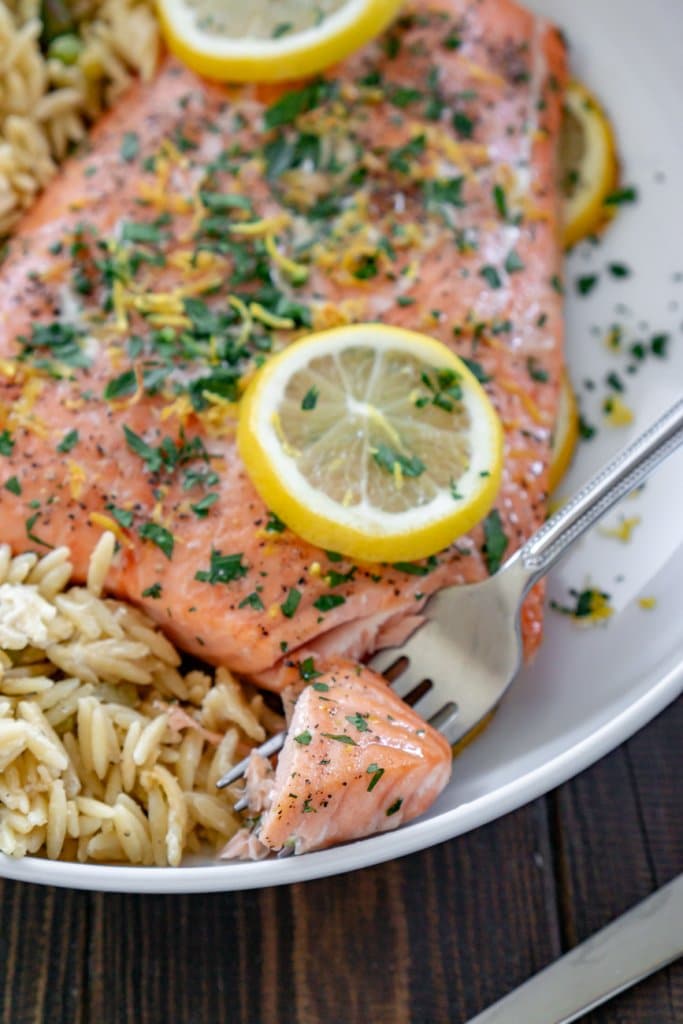 Lemon Pepper Salmon is a delicious and healthy addition to your Thanksgiving dinner table. This recipe uses only five simple ingredients and can be ready in less than 30 minutes.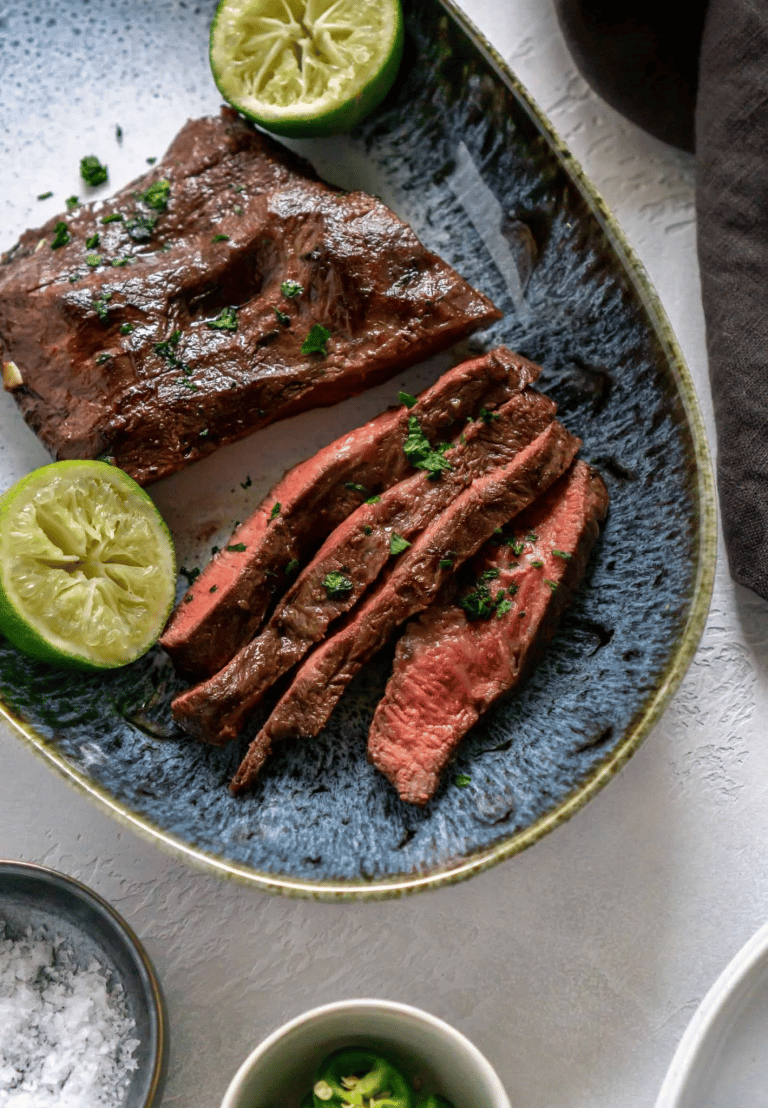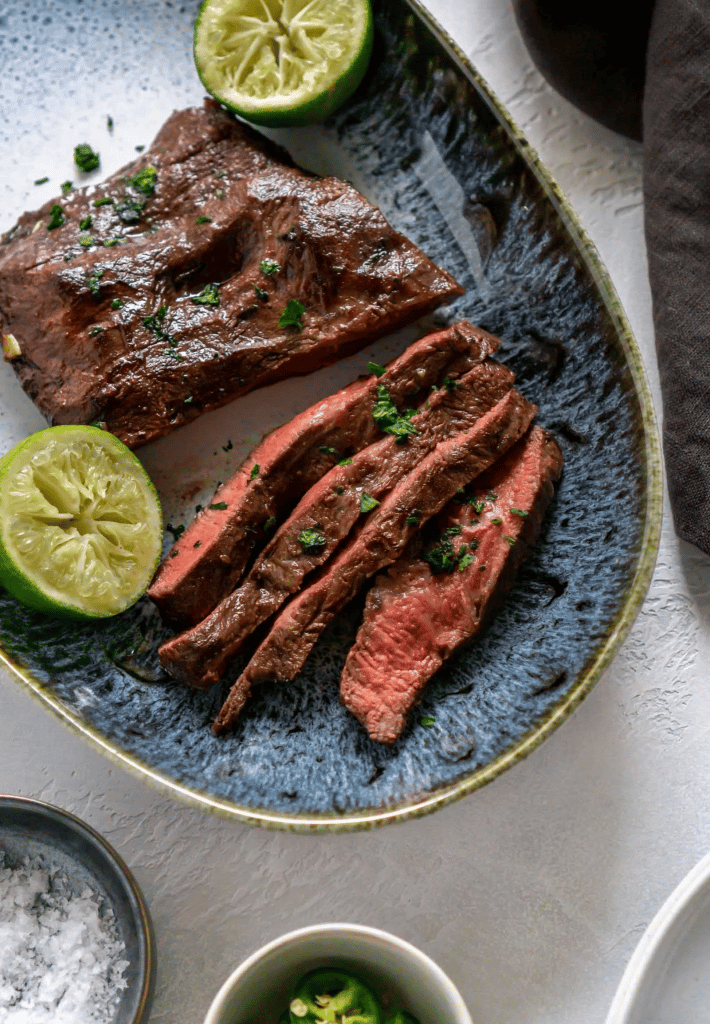 Jalapeño Lime Air Fryer Steak is mouthwatering, juicy, and full of flavor. Ready in only 10 minutes, this air fryer steak recipe will show you that steak cooked in an air fryer is just as good (if not better) than a steak cooked on the grill.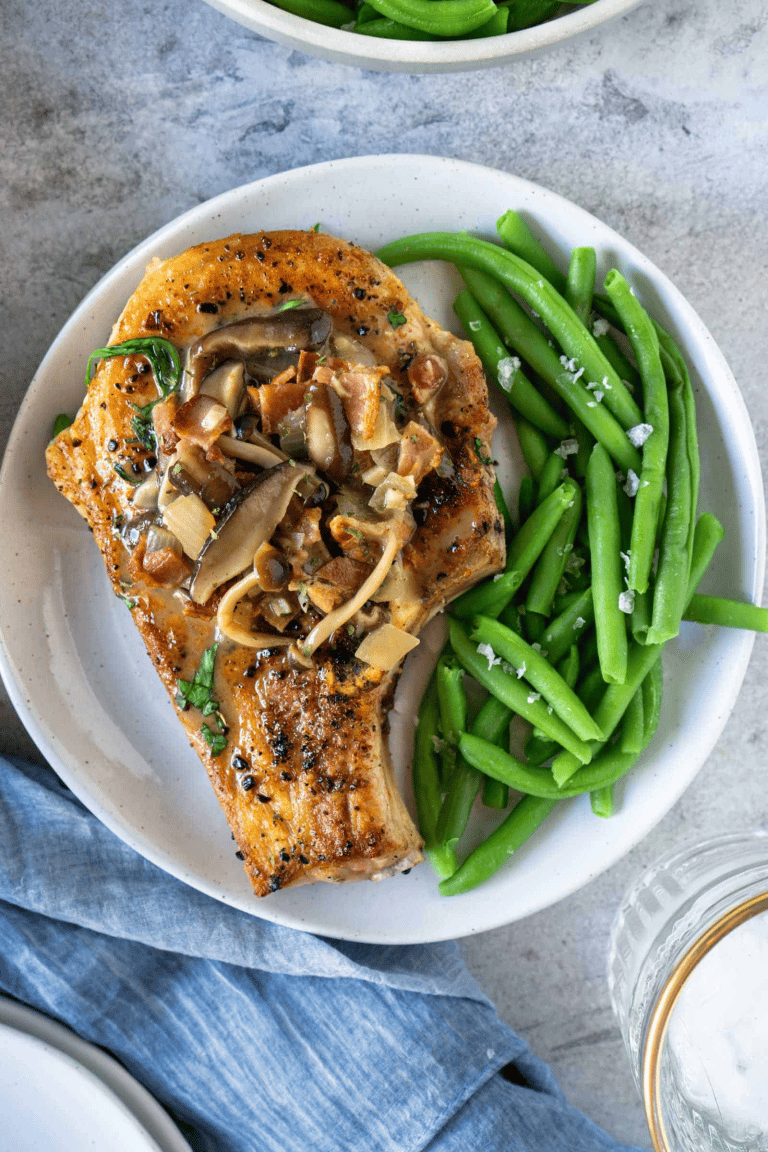 This Bacon Mushroom Smothered Pork Chop recipe is great for all your Whole30 and Keto friends coming over for Thanksgiving dinner.
This savory dish is made only using one pan and pairs great with your traditional green bean dish.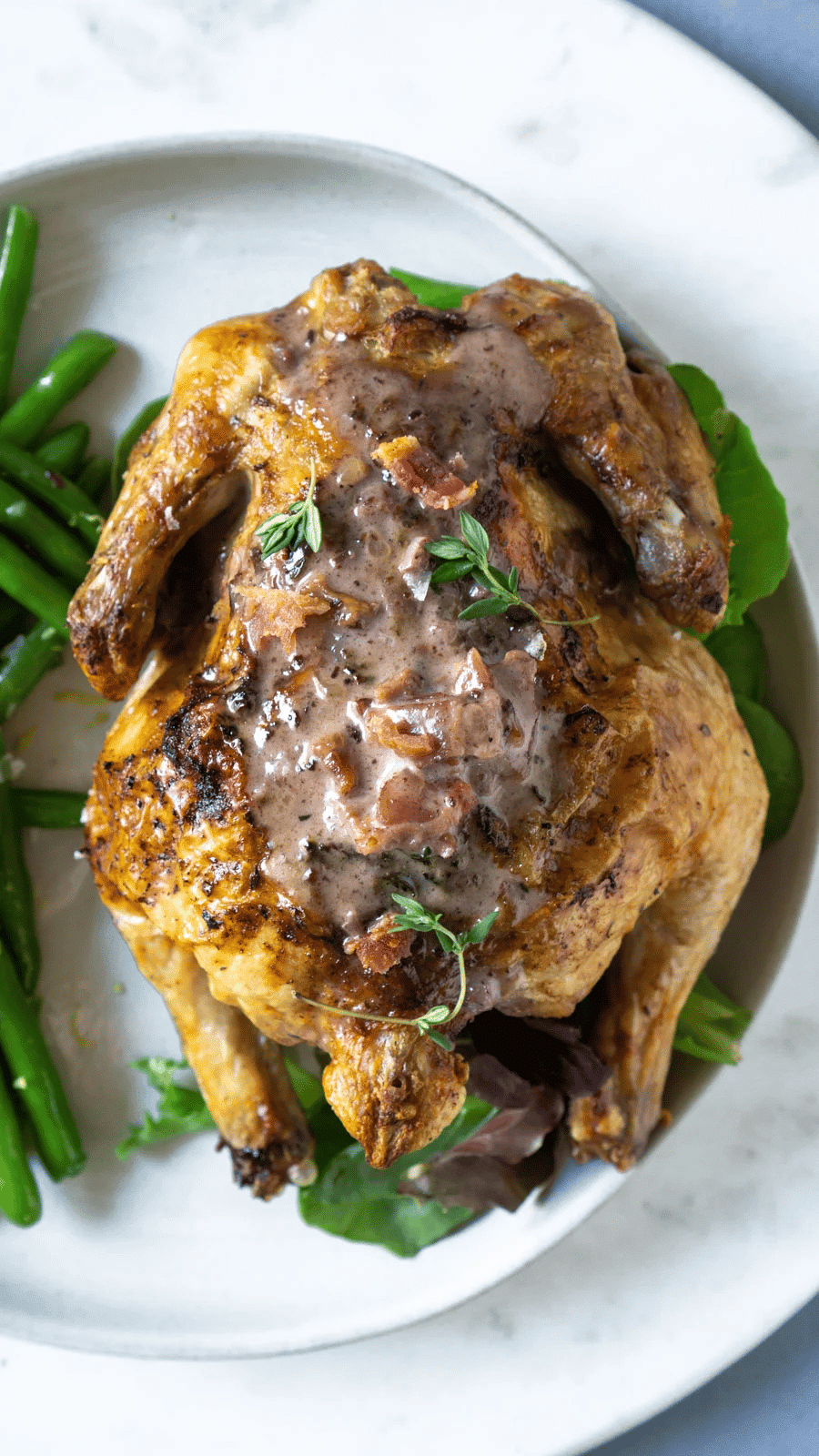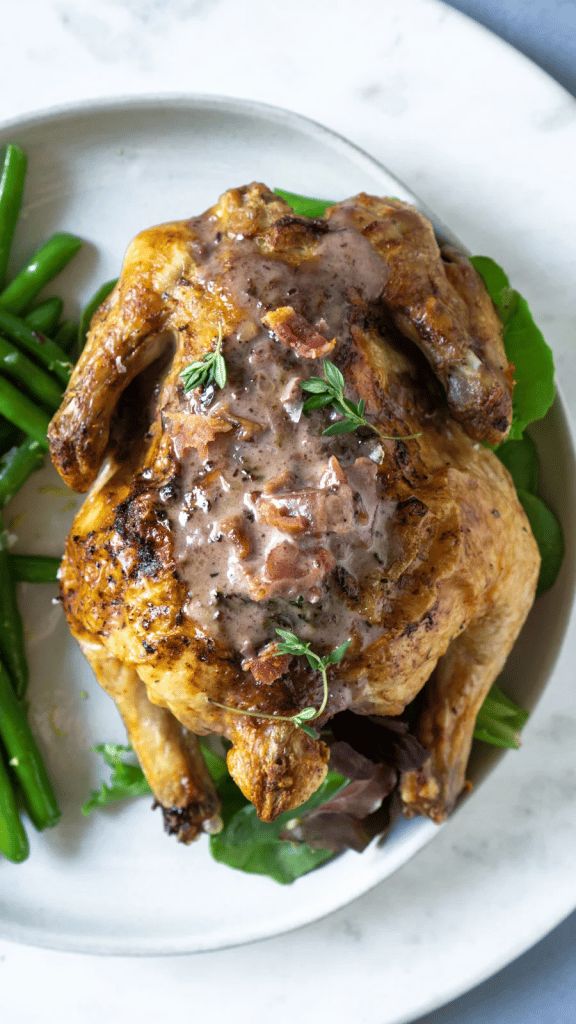 Air Fryer Cornish Hens are great if you want to stick with poultry but do not want to make a turkey.
While these cornish game hens are smaller than your average turkey, they're just as flavorful, with a crispy skin and a juicy inside. Be sure to pair it with Red Wine Mushroom Bacon Gravy for even more flavor.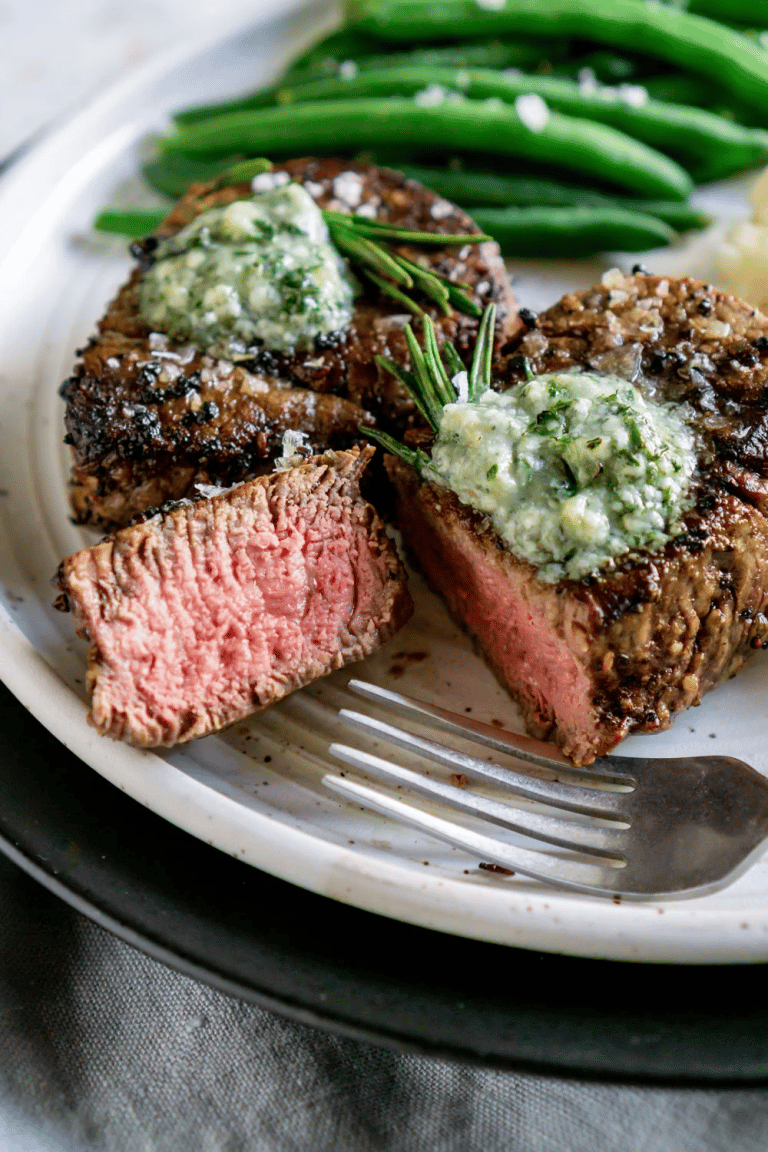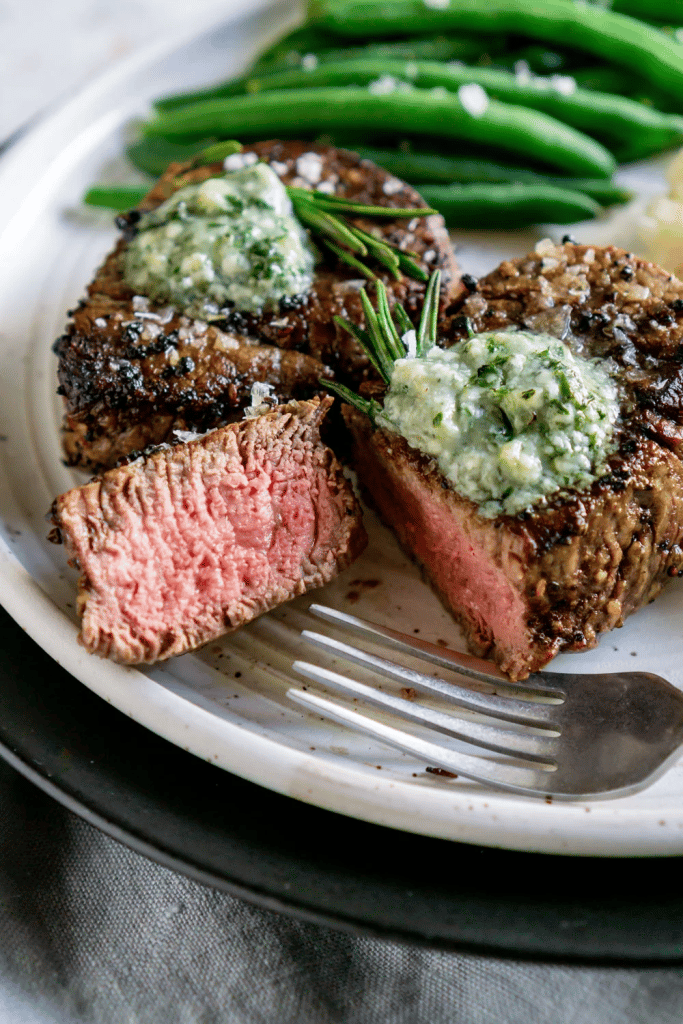 This Air Fryer Filet Mignon recipe is a great main course substitute for a regular turkey bird. You will have a perfectly cooked steak in 30 minutes. Don't forget to serve it with Blue Cheese Butter!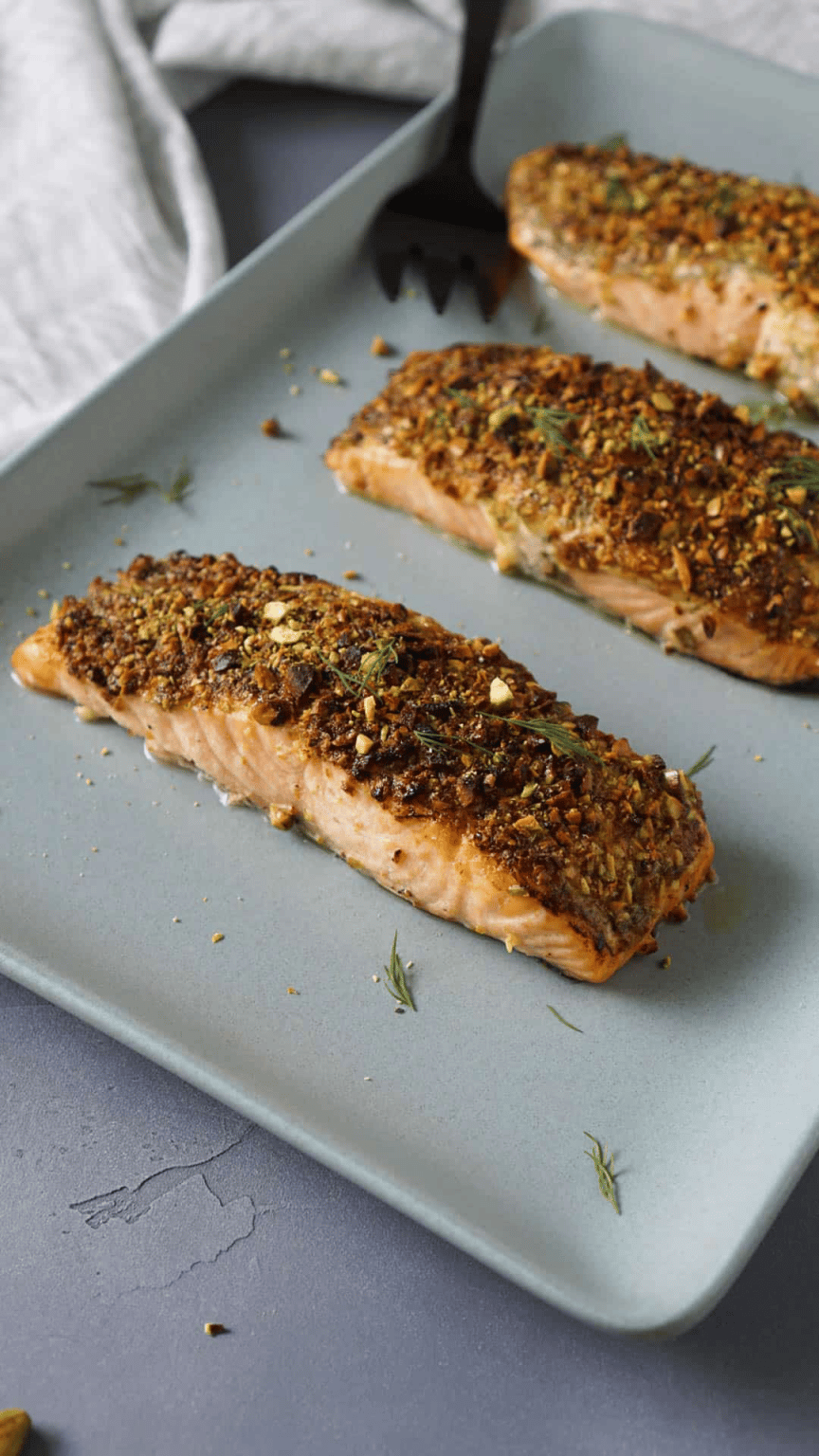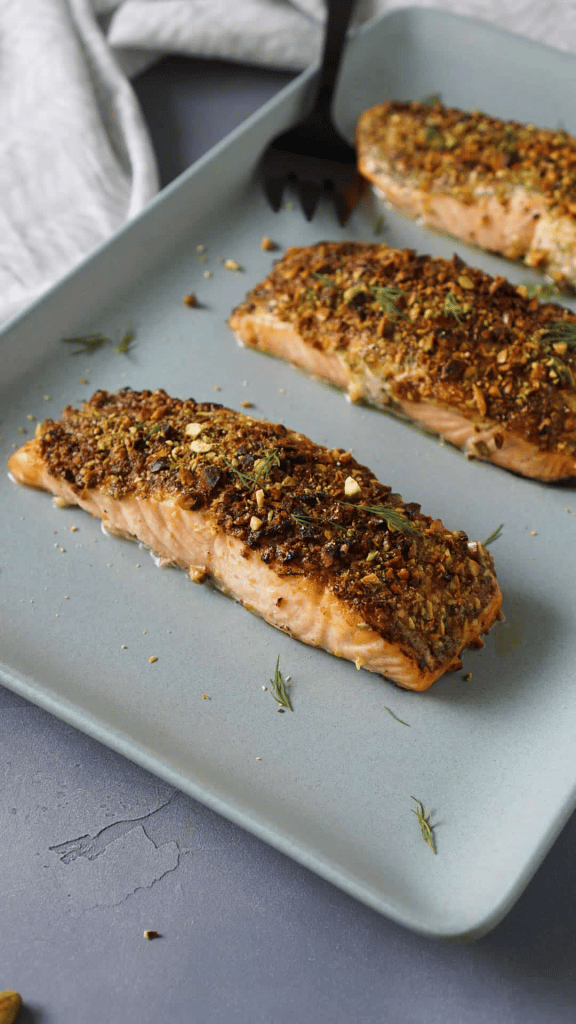 This Pistachio Crusted Salmon recipe is perfect to quickly throw in your air fryer and it will be ready in less than 10 minutes.
Pair it with air fryer asparagus and roasted garlic mashed potatoes for a full alternative Thanksgiving meal.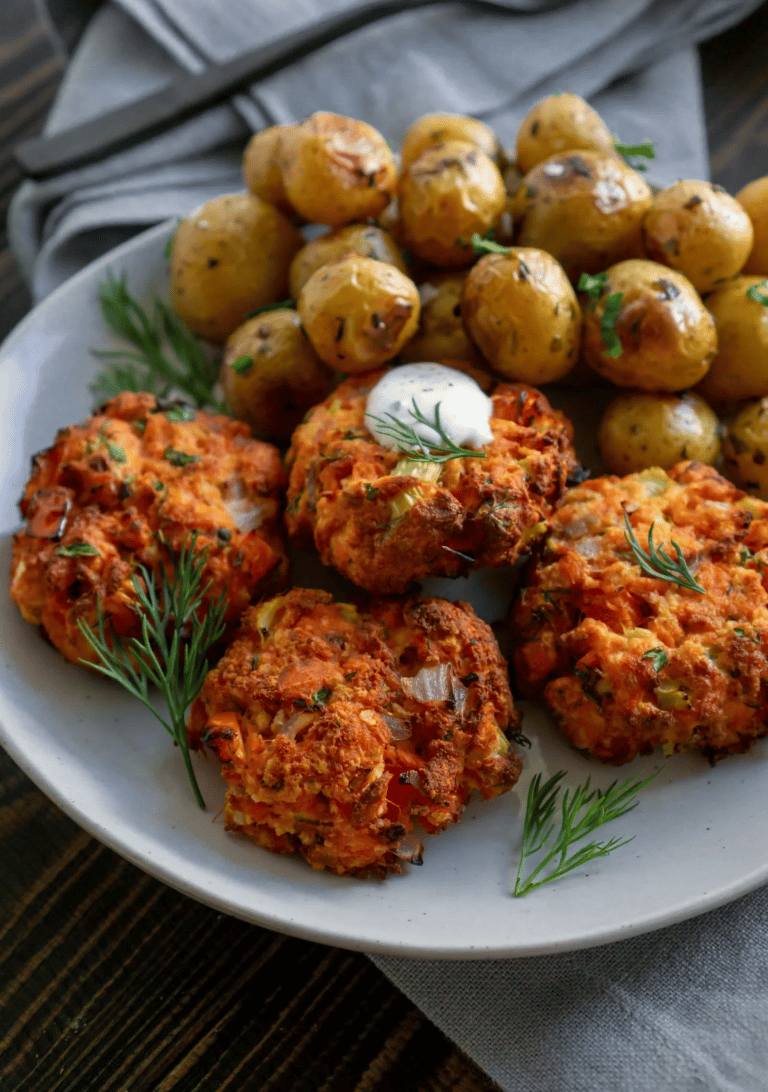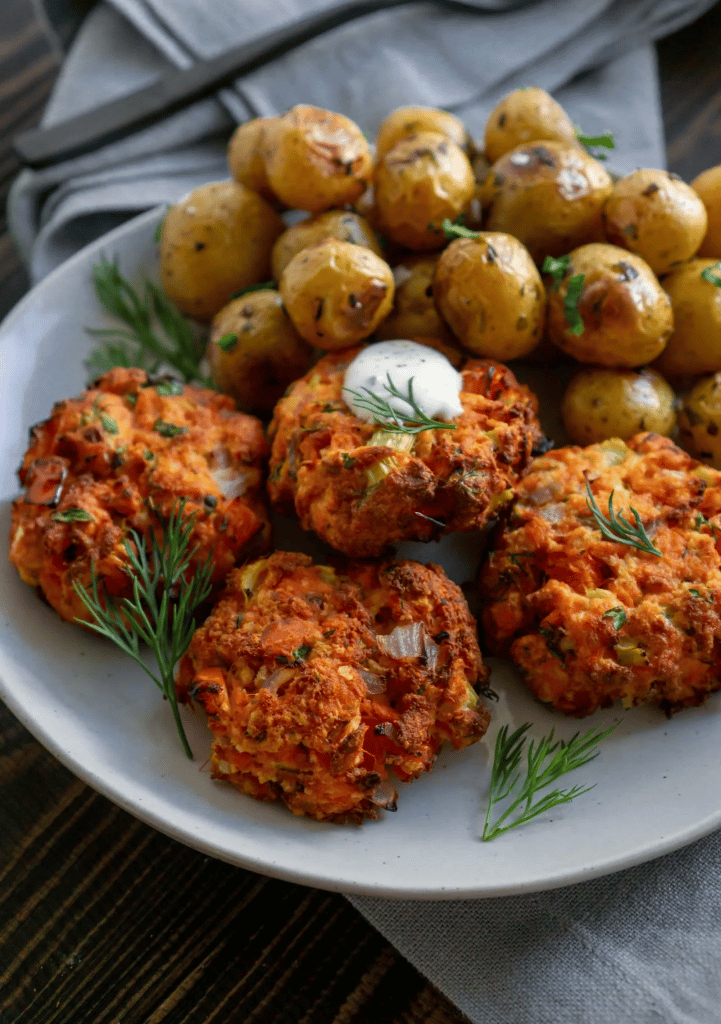 With a perfectly crispy outside and a juicy tender inside, this Salmon Cake recipe will become your go to for a delicious holiday dinner.
Plus, if you make too many, you can freeze them and have an easy dinner for the next three months.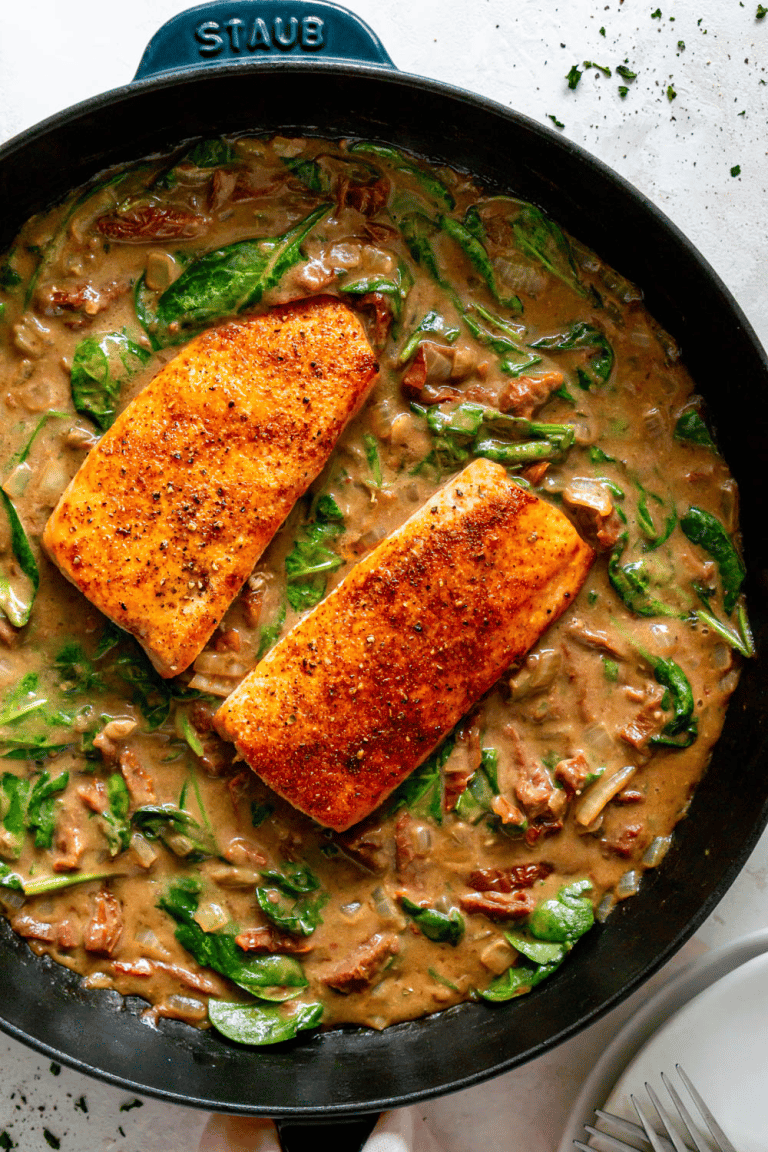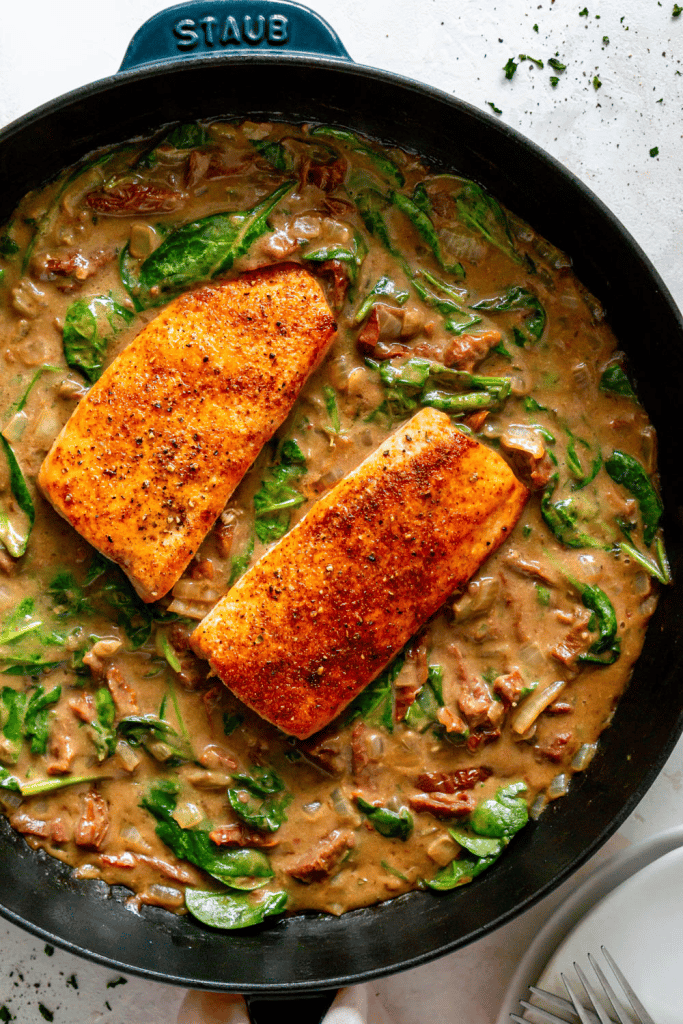 Creamy Garlic Tuscan Salmon is a great savory main dish to make for an alternative to a traditional Thanksgiving dinner. This seafood recipe is rich, creamy, and easy to make.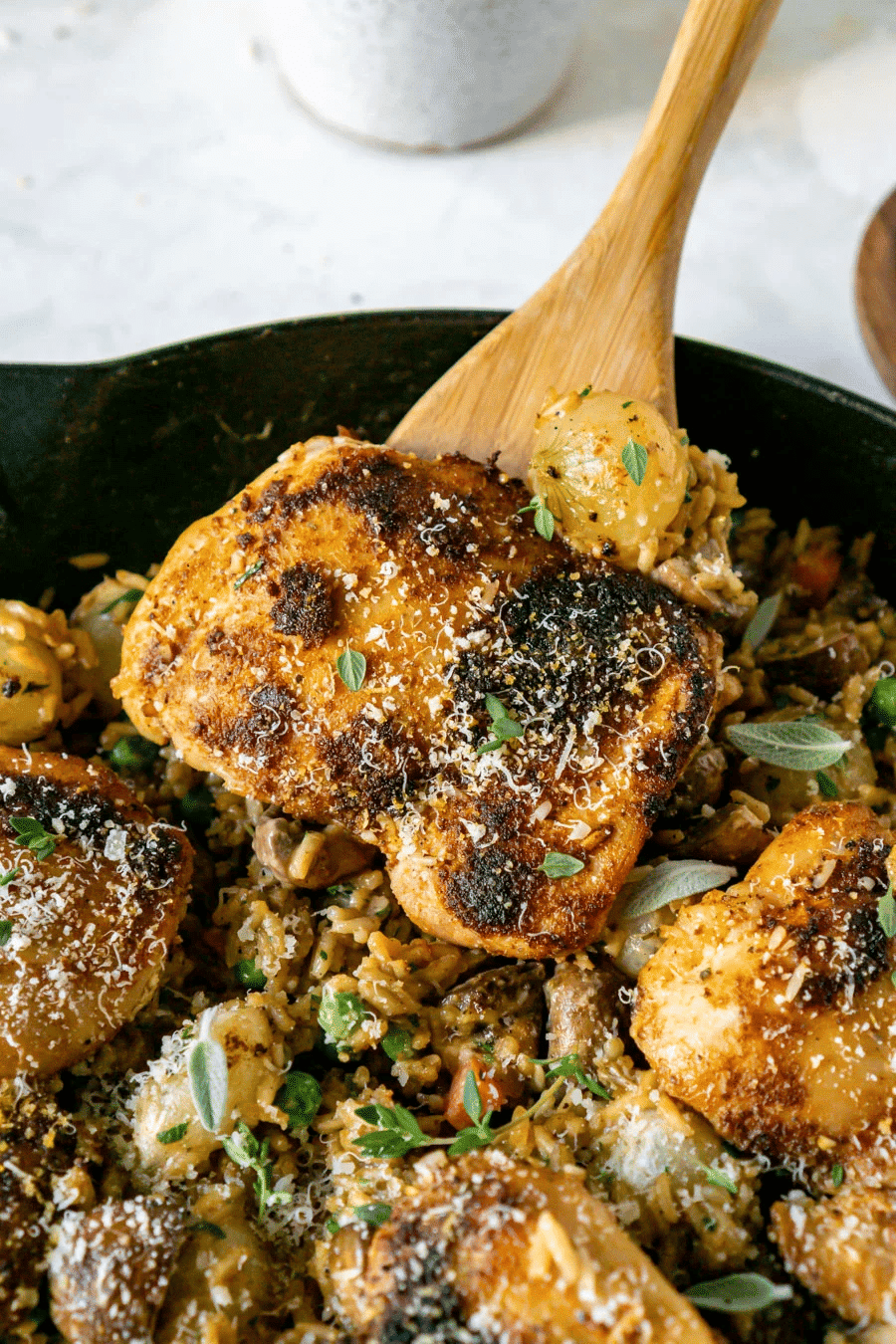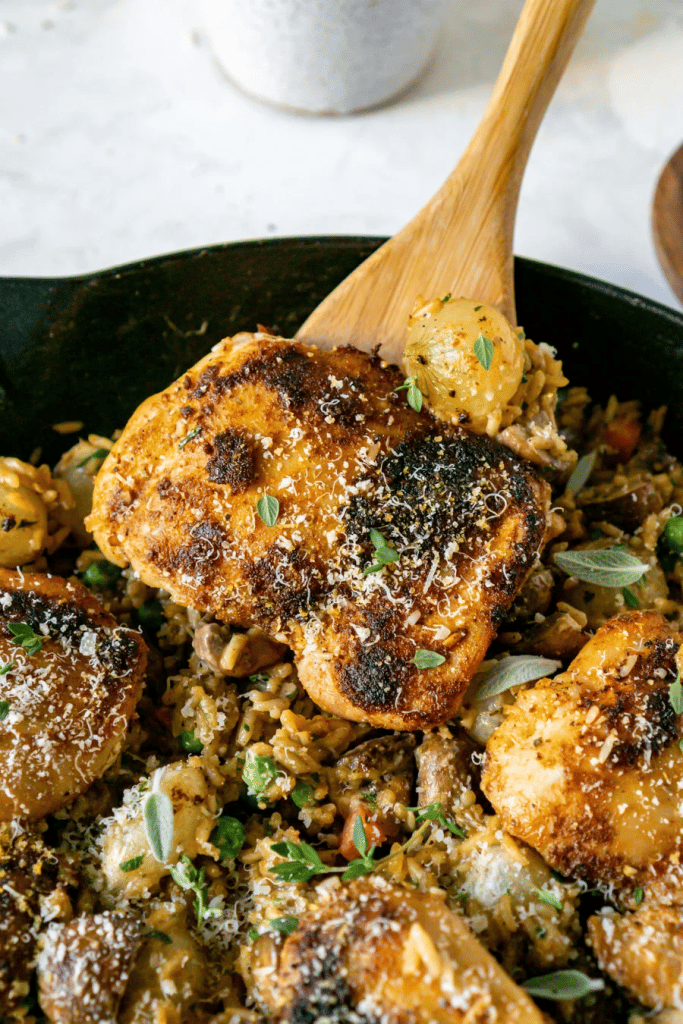 This delicious poultry alternative is perfect for weeknights and for a quick Thanksgiving main course. Juicy chicken paired with a bowl of flavorful, creamy rice makes for the perfect alternative Thanksgiving dish.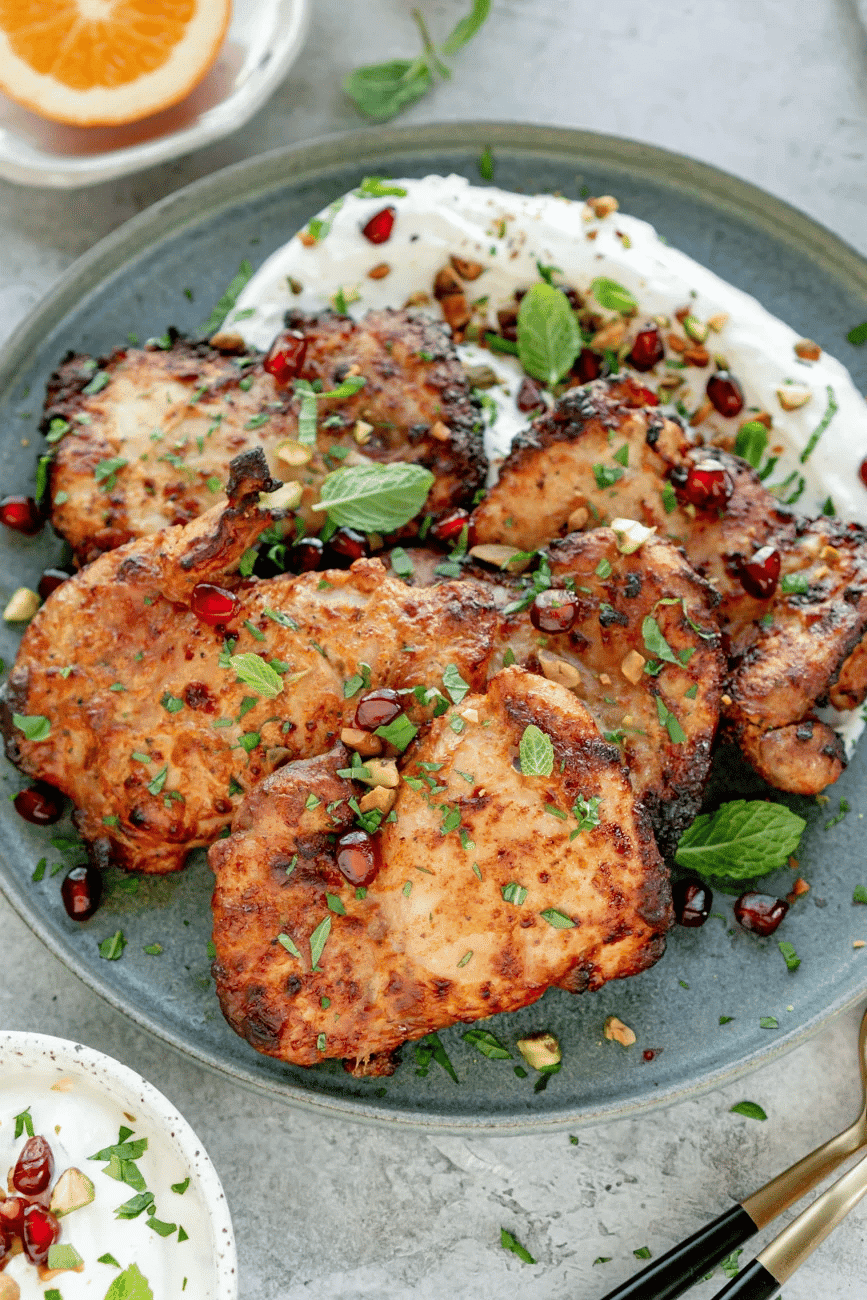 This creamy yogurt marinated chicken is covered in citrus and Greek flavors, making it the perfect main dish for any occasion.
Greek Yogurt Chicken Marinade is a great light substitute for your ordinary turkey on Thanksgiving.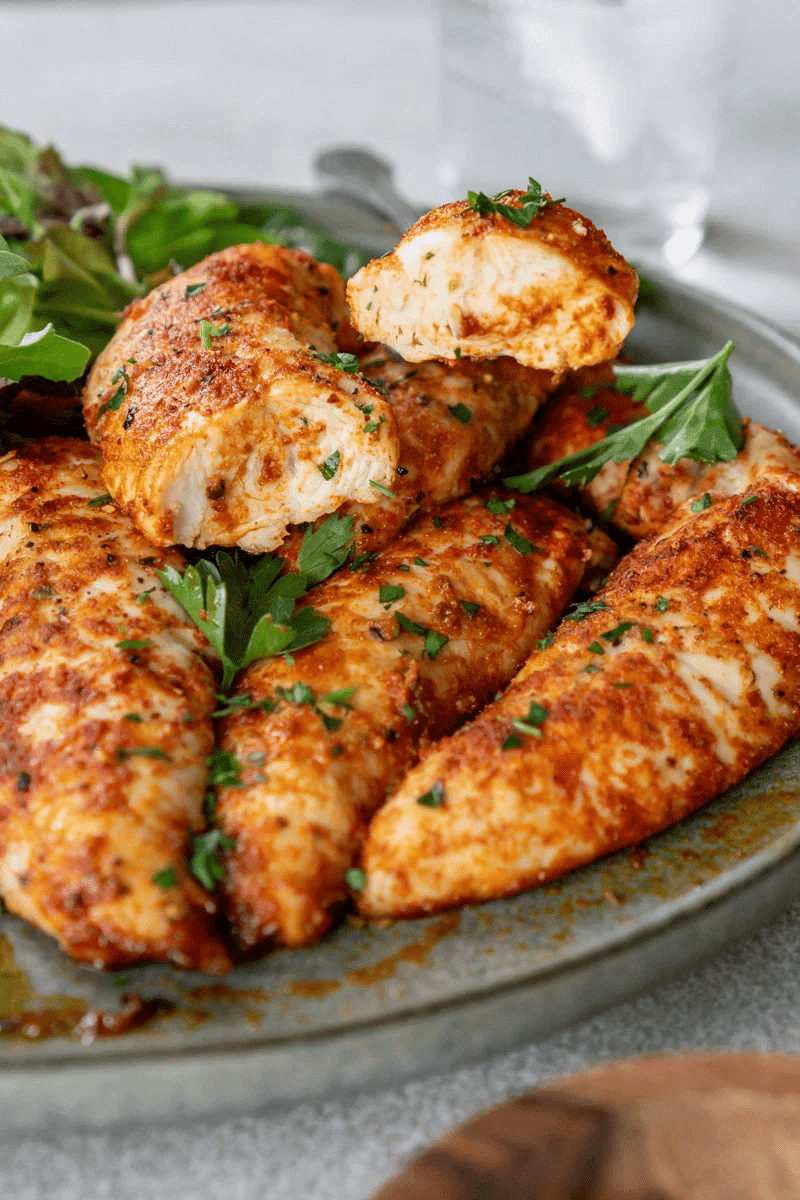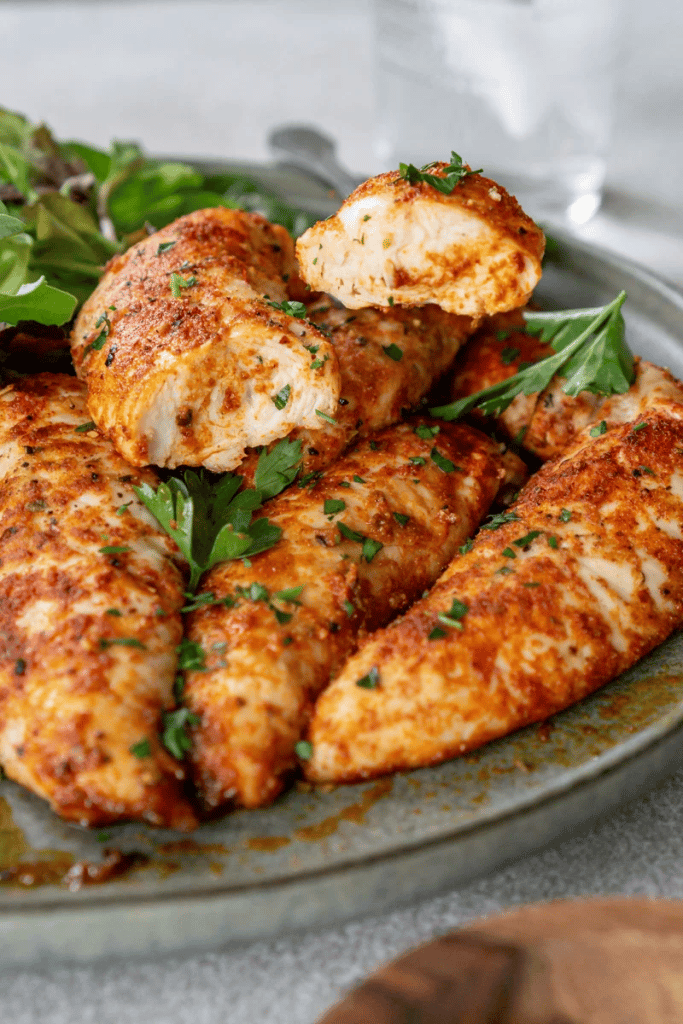 These Oven Baked Chicken Tenders are a family favorite that would be perfect for serving to your kids or your friends and family on Thanksgiving.
They only take 30 minutes and are healthier than any chicken tender you can buy in the store.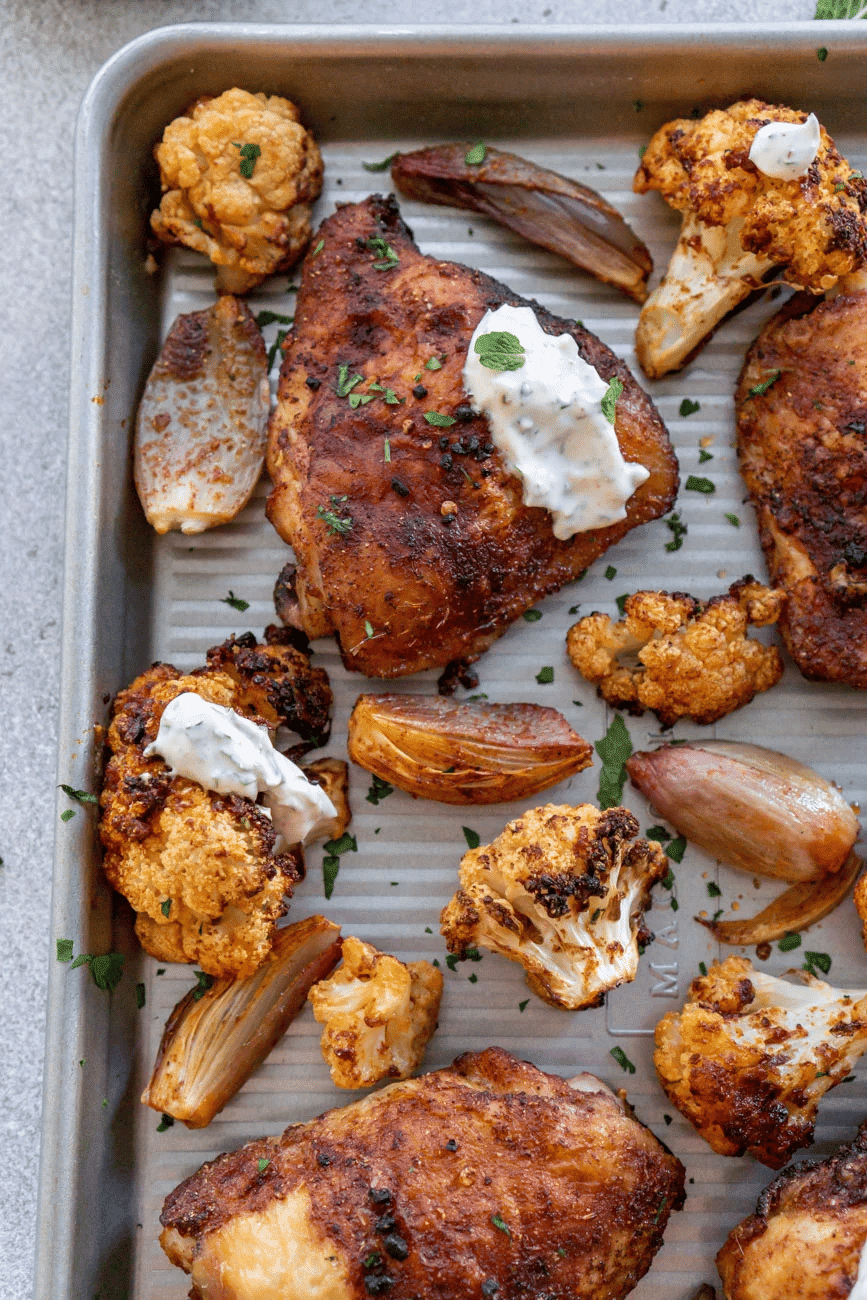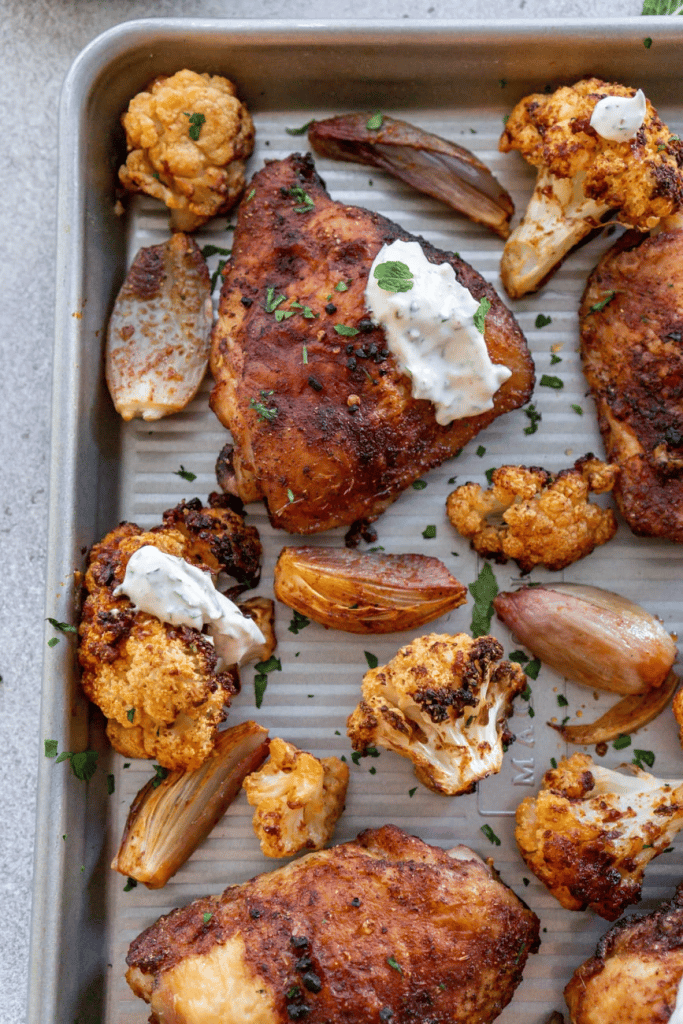 This quick and easy dinner option is an excellent alternative for your Thanksgiving dinner.
Oven Baked Chicken and Cauliflower are covered in bold spices and crisped to perfection in your oven in no time. Be sure to pair it with Herbed Yogurt Sauce!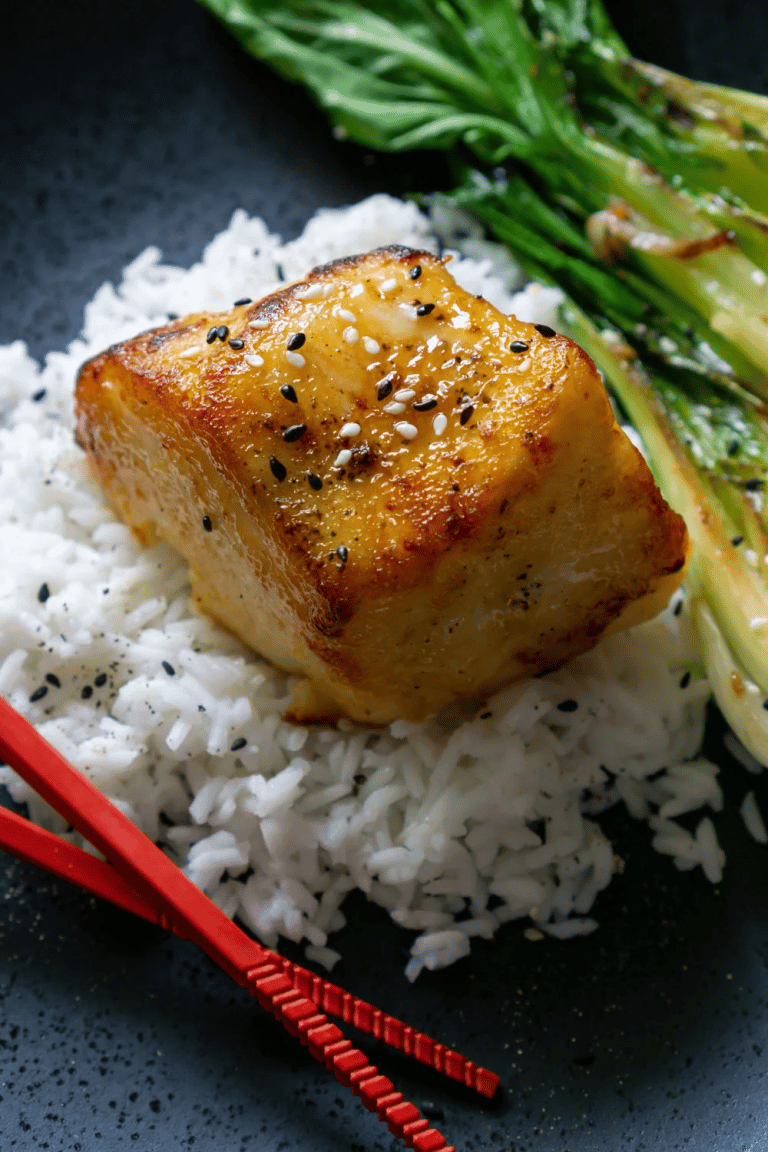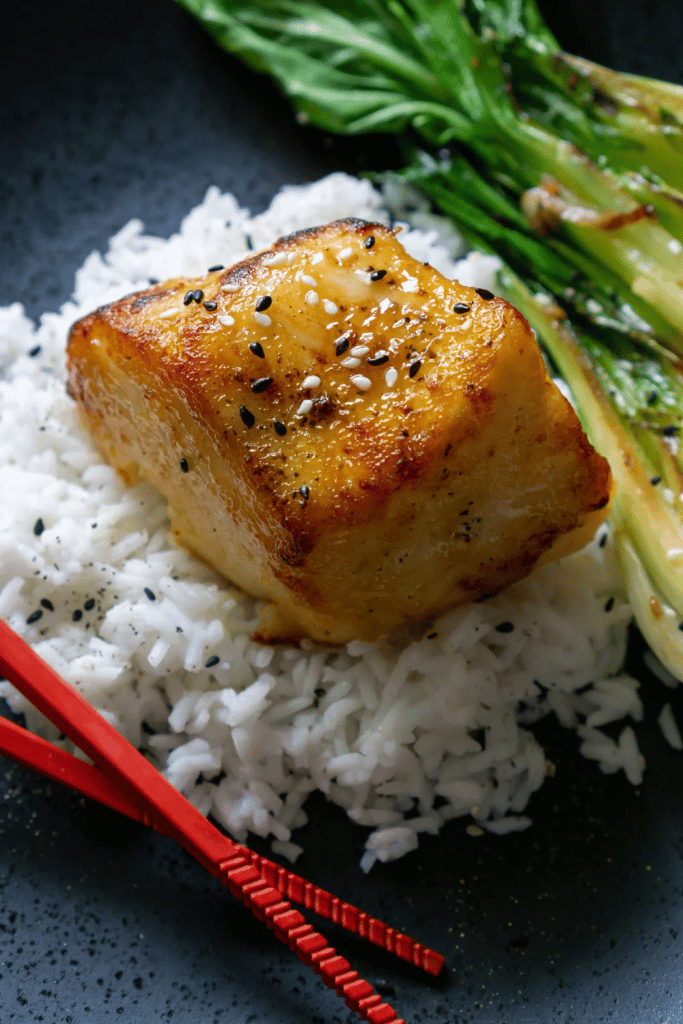 Try out this Air Fryer Miso Glazed Chilean Sea Bass for an incredibly flavorful main course this Thanksgiving. This simple recipe only takes minutes in your air fryer but will have you feeling like a master chef.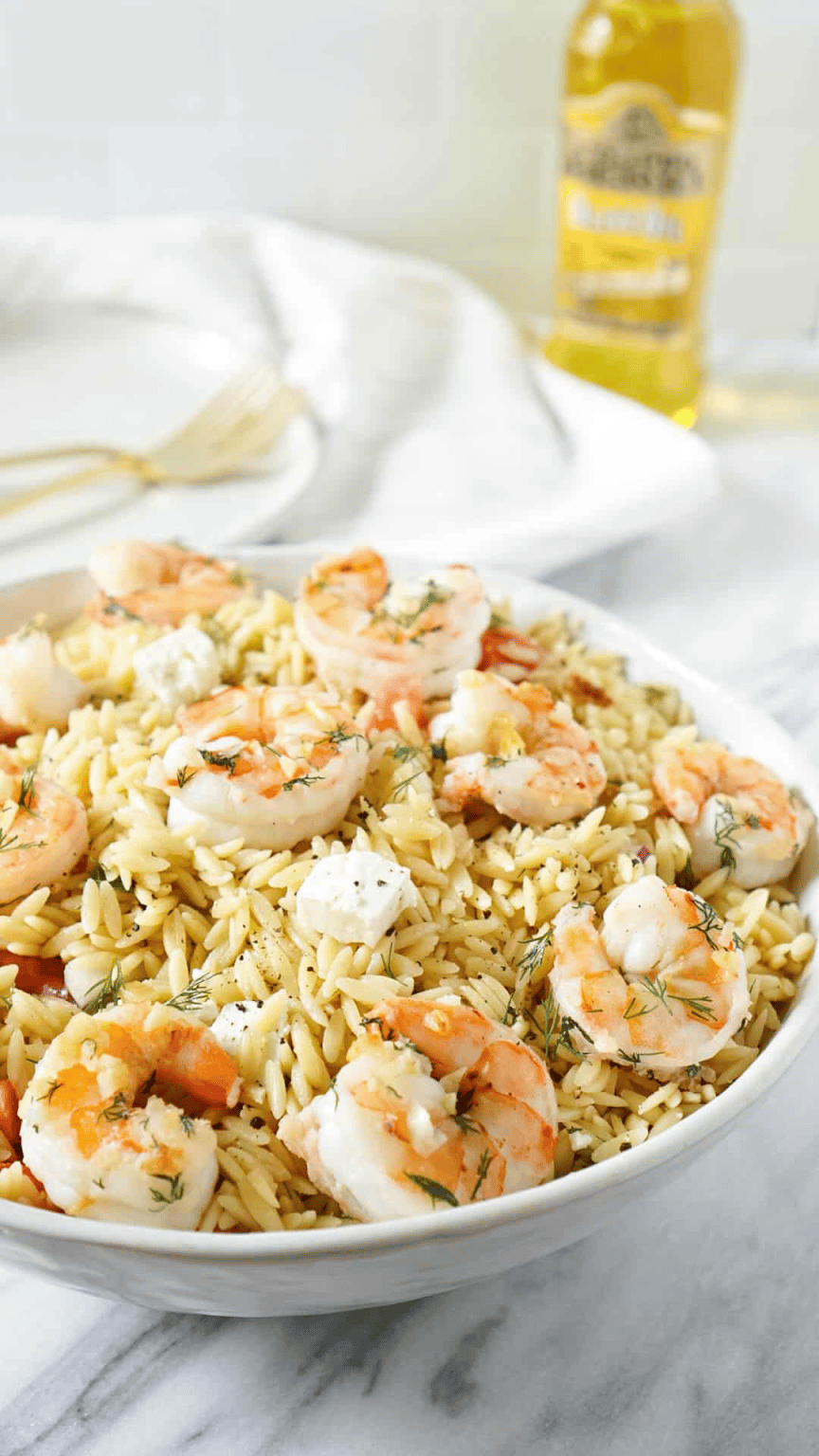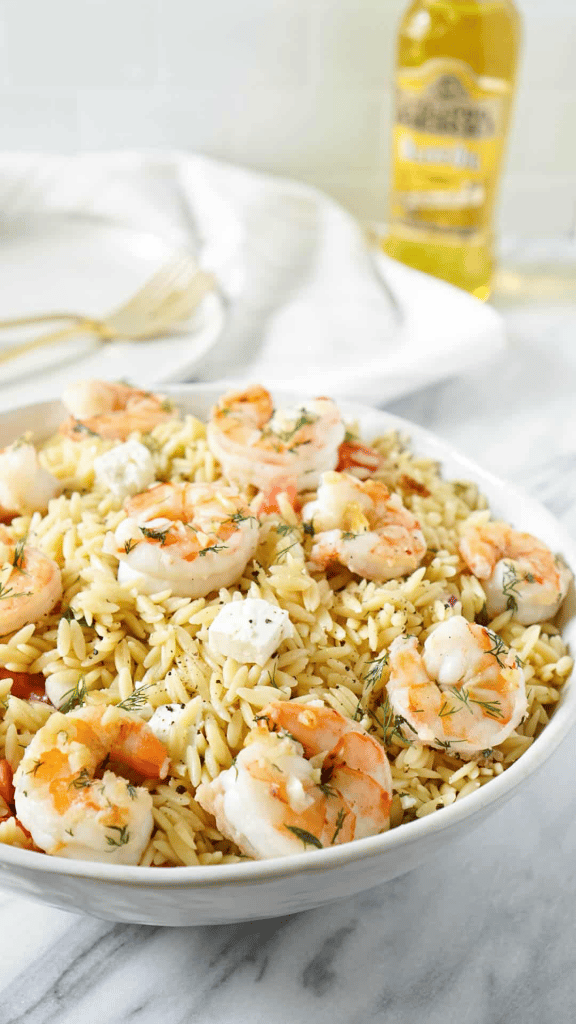 This Lemon Orzo Salad with Garlic Butter Shrimp recipe is packed full of refreshing lemon and dill flavors. It's easy to make and perfect to bring to a potluck and serve to a large group.
What are some non-traditional Thanksgiving side dishes?
Oh my goodness, I think sides are my absolute favorite part of Thanksgiving. I mean, who doesn't love a plate full of mashed potatoes, mac and cheese and green beans?
While these sides may be a little healthier, I think they are the perfect way to bring the comforts of a classic Thanksgiving table to your alternative Thanksgiving meal.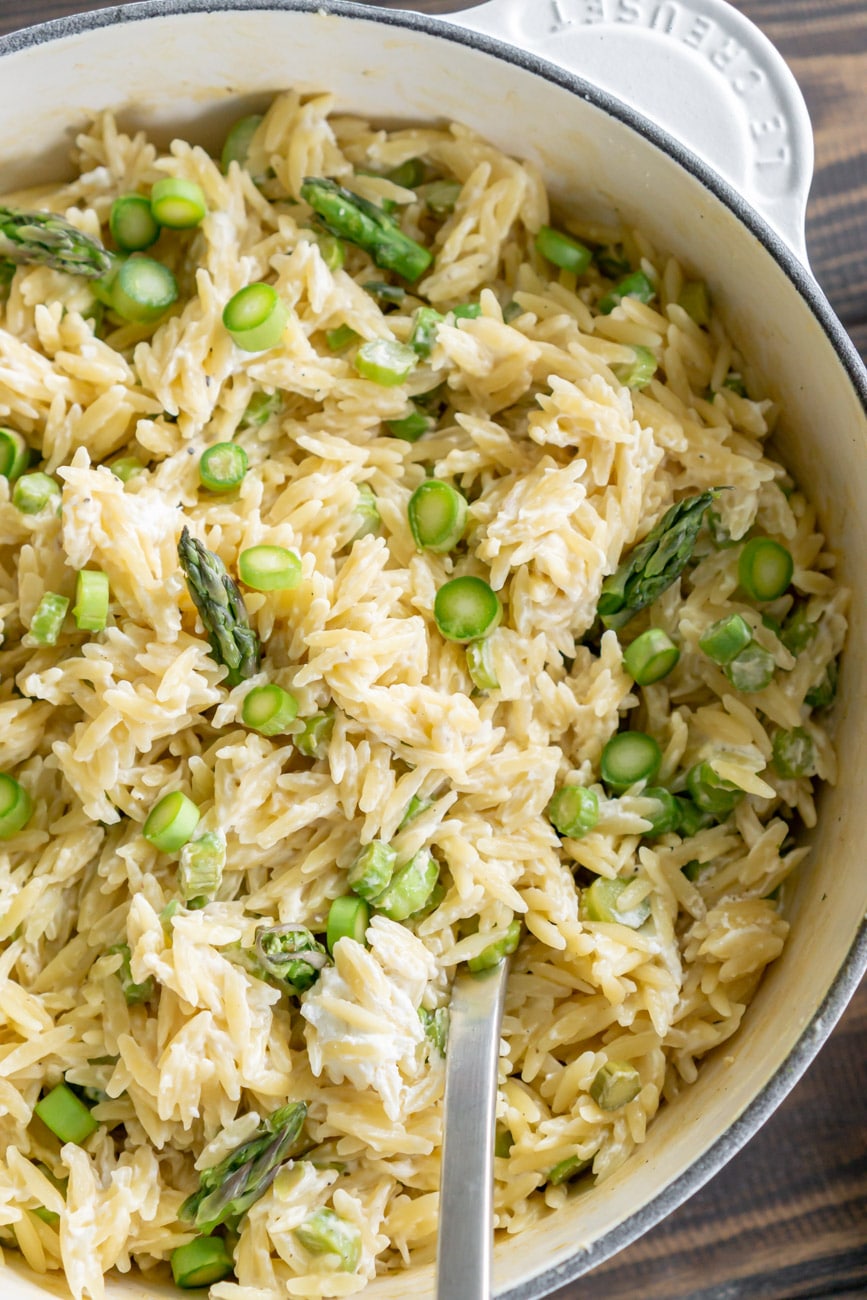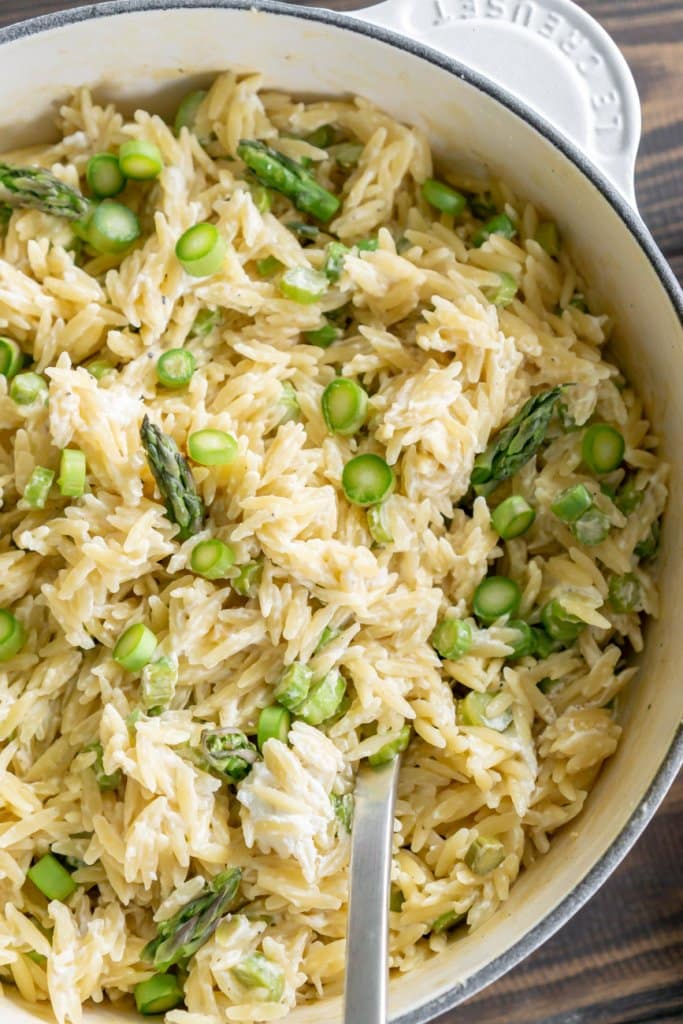 Goat Cheese Orzo Pasta Salad is great to serve for gatherings any time of year. Made with diced asparagus and creamy goat cheese, your guests will absolutely love this orzo pasta salad recipe.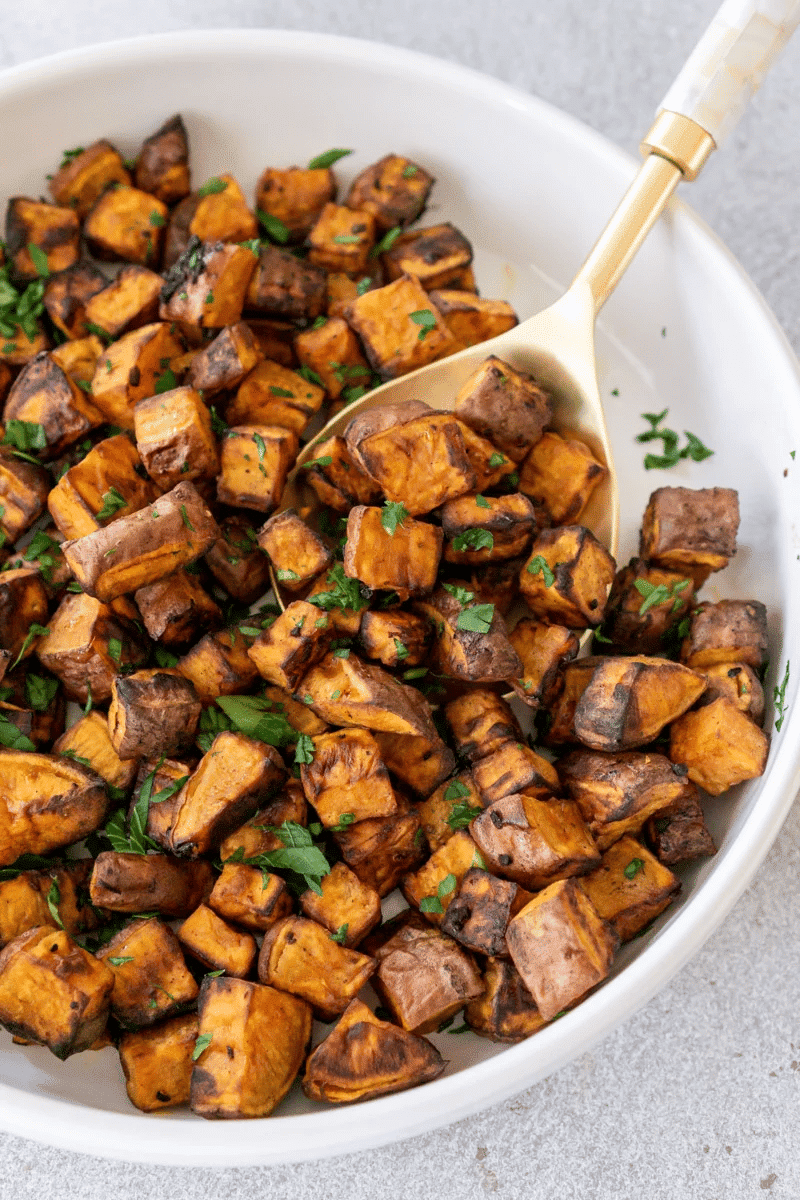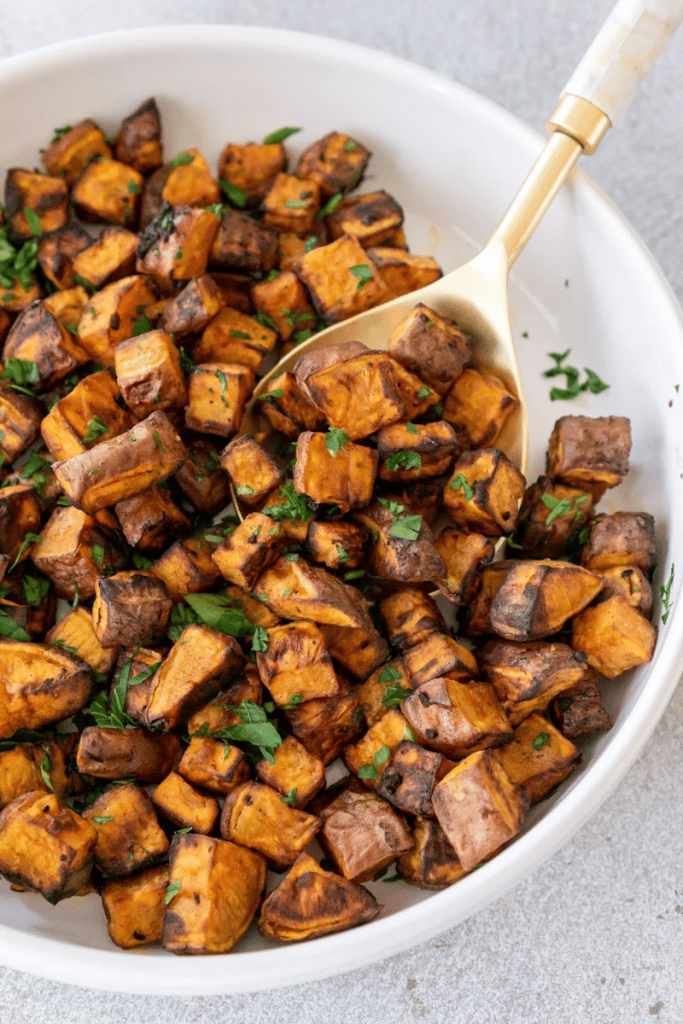 While sweet potato pie is absolutely delicious, I really enjoy the crispiness of sweet potatoes that have been in an air fryer. This Air Fryer Sweet Potato Cube recipe will make the perfect addition to any Thanksgiving meal.
Plus, if you don't use them all, you can always toss them in a Roasted Sweet Potato Bowl or a Crispy Quinoa Breakfast Bowl later in the week.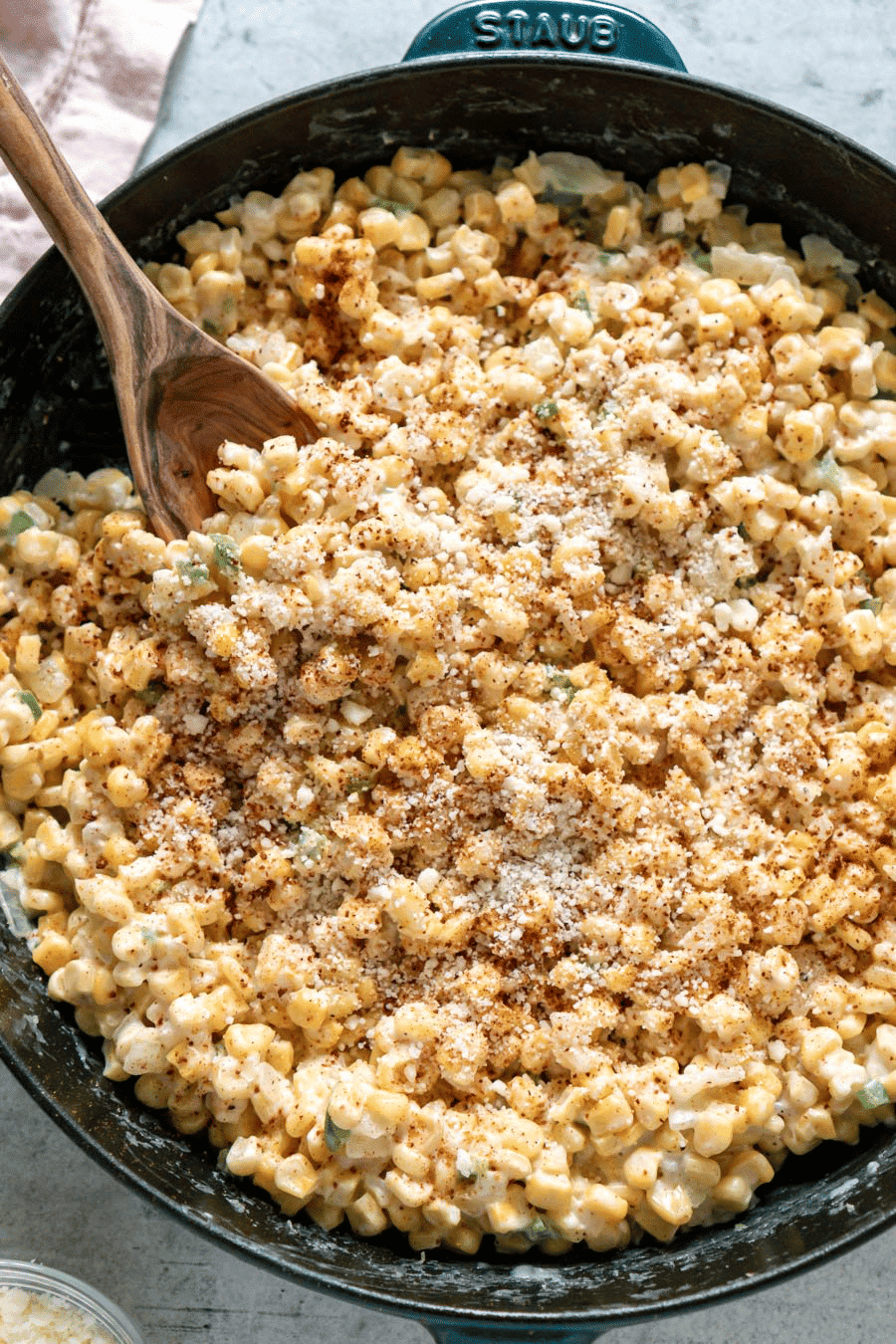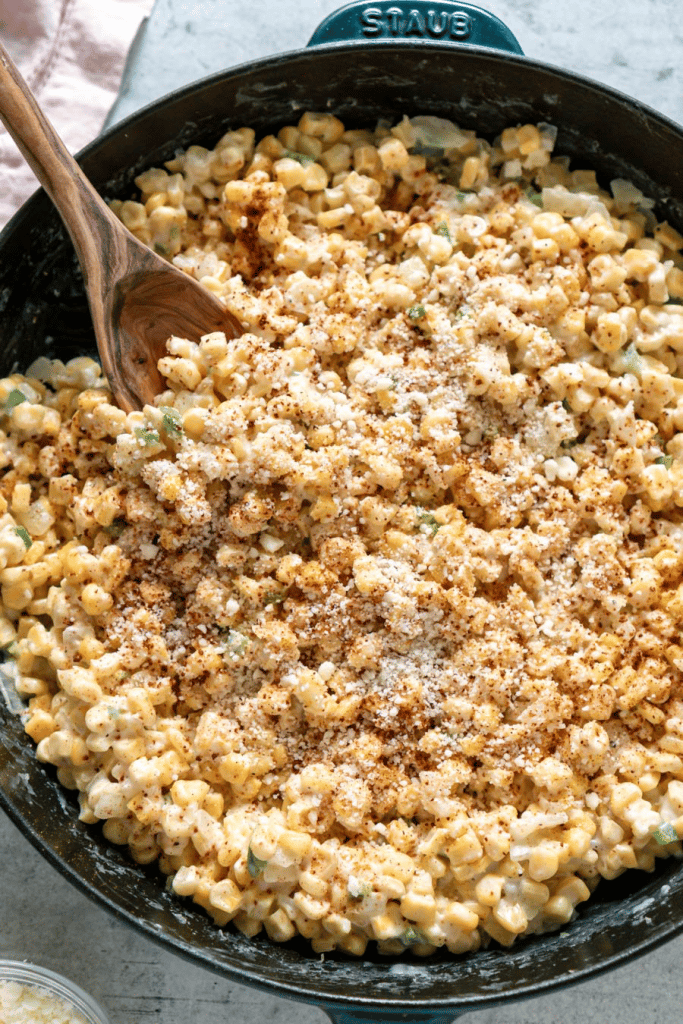 I have to admit; I really like turning things up a notch by adding jalapeño to my creamed corn. While a creamed corn recipe may be more traditional, adding jalapeño makes it a great alternative side dish that packs a punch.
If you're a jalapeño lover and need to make the perfect appetizer to munch on before dinner, try out my Jalapeño Popper Dip with some tortilla chips.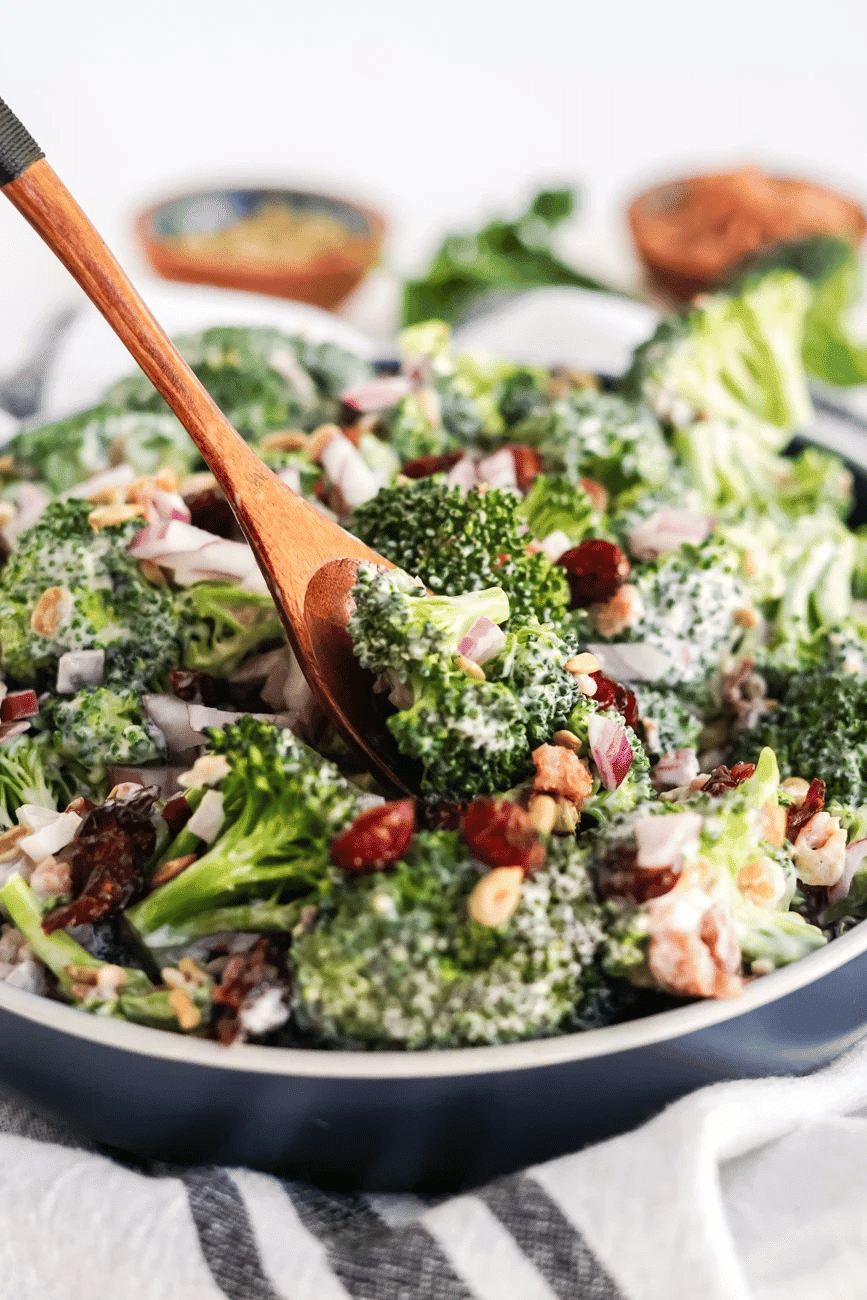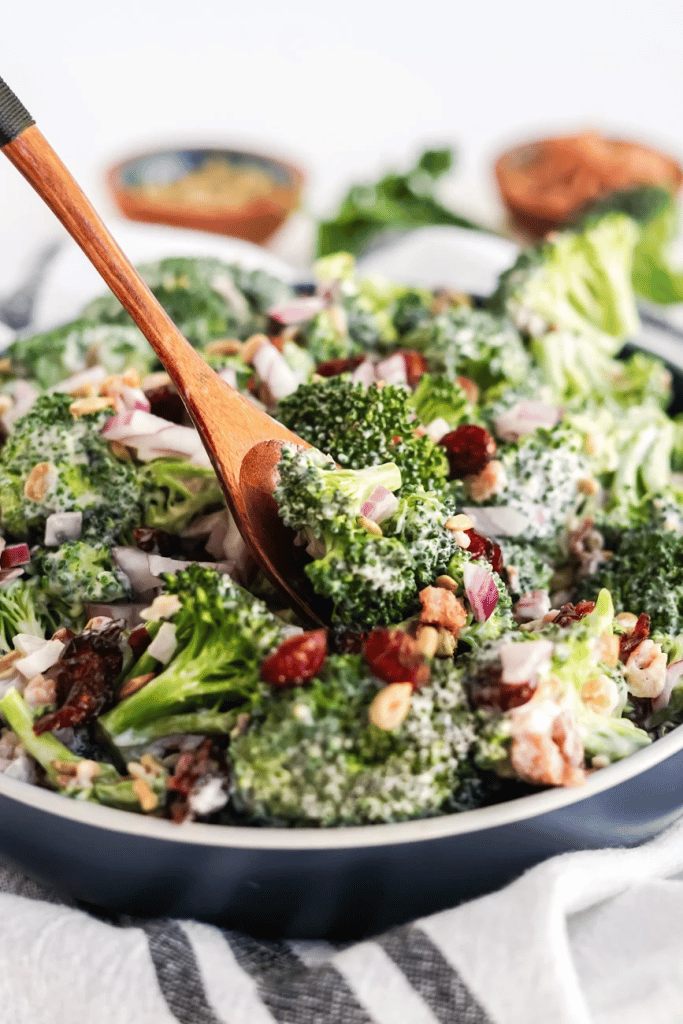 Who thought broccoli could taste so good?
Adding cranberry to this broccoli salad adds a little bit of a fall feel but is also perfect for a hot autumn day. This Cranberry Bacon Broccoli Salad has become a family favorite year-round.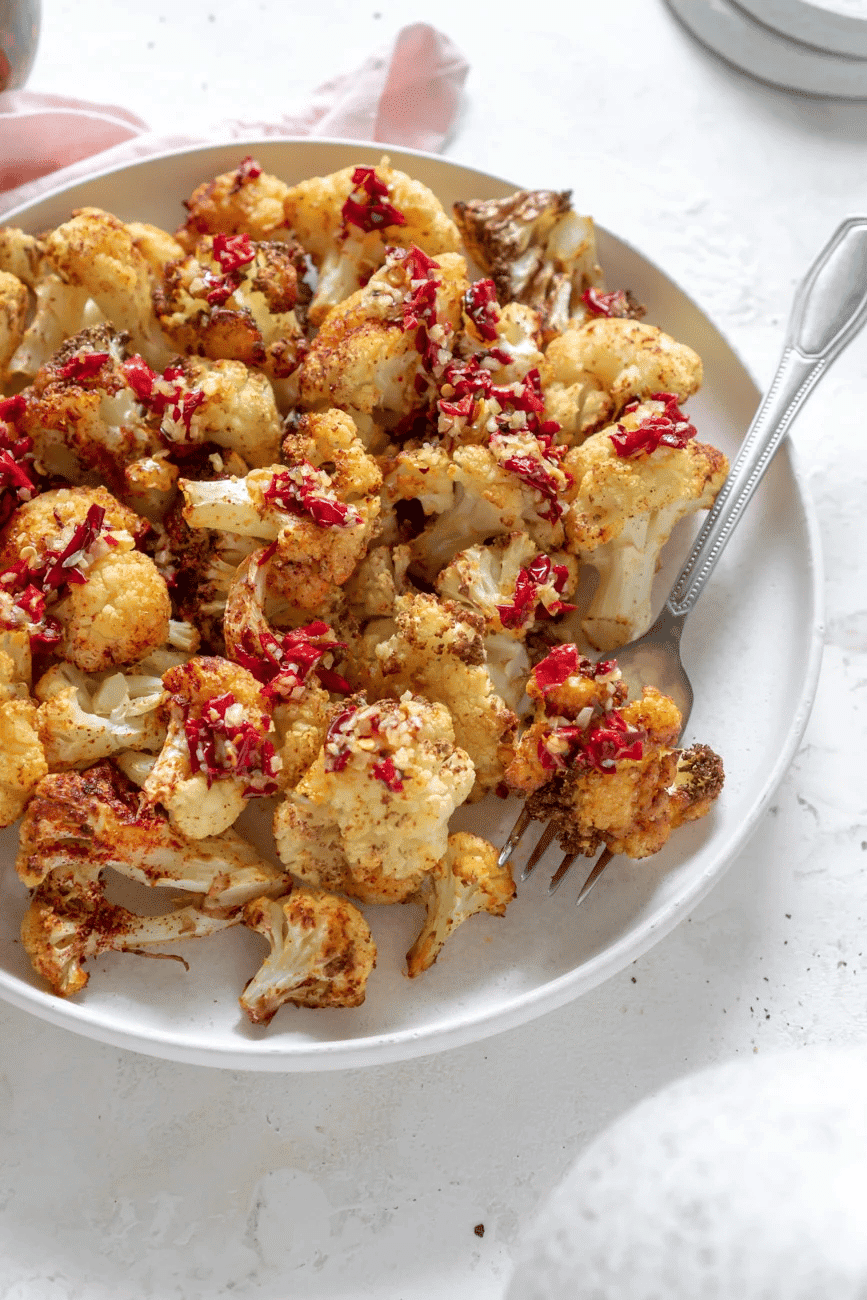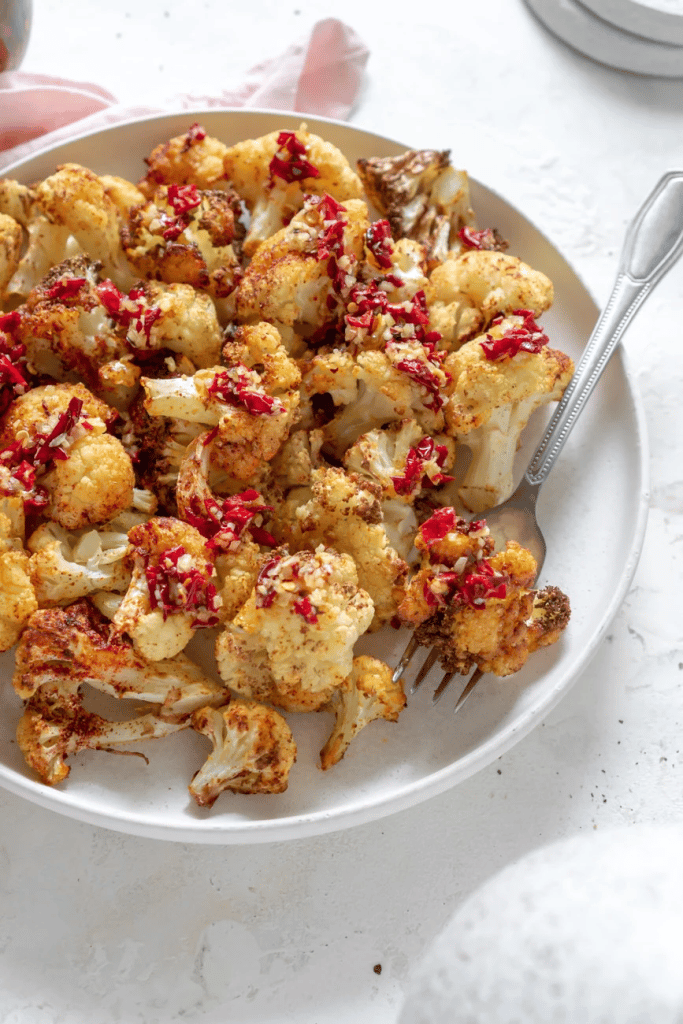 Time to bring out the air fryer! This Air Fryer Cauliflower recipe will not disappoint. Adding a homemade Chili Garlic Sauce on top of crispy cauliflower makes for the perfect, flavor-packed, side for an alternative Thanksgiving meal.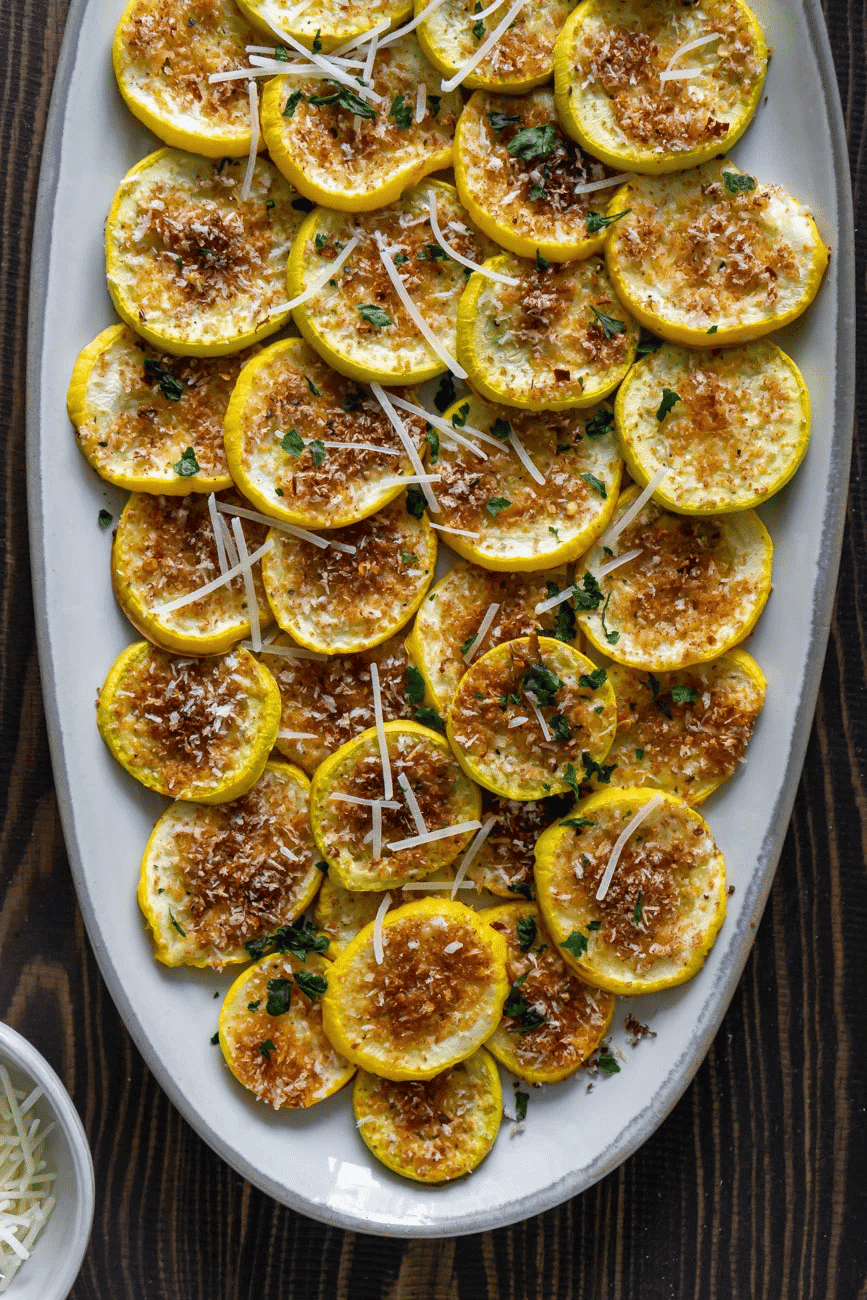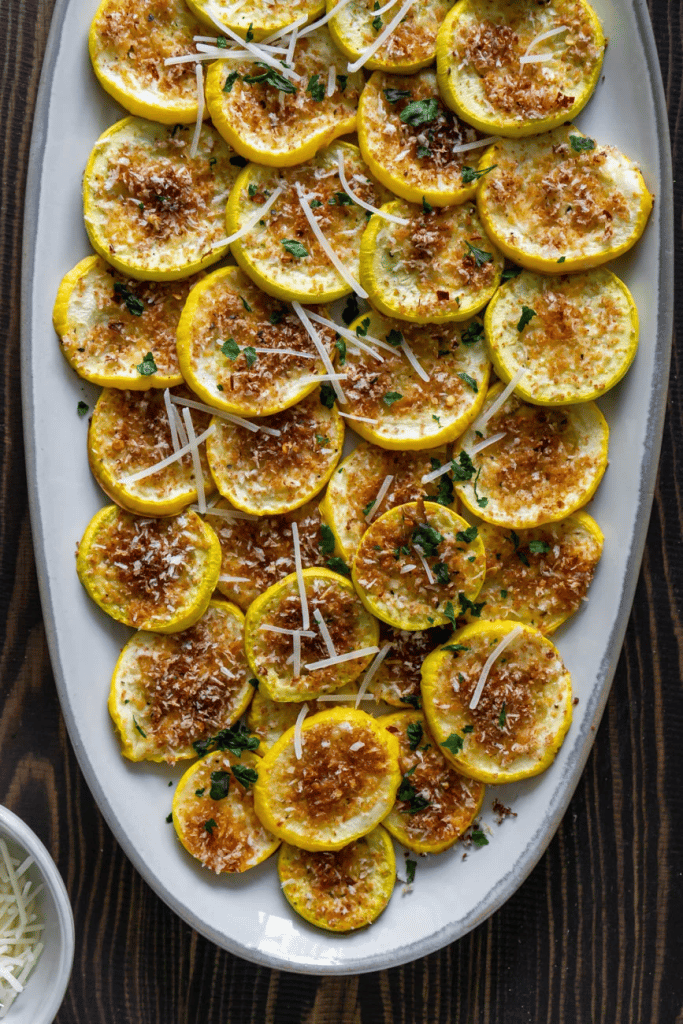 Does your family serve squash for Thanksgiving? I like to make this Roasted Yellow Squash recipe every year to add more color to our dinner table. Plus, it's the perfect healthy side, and it pairs nicely with the rest of our meal.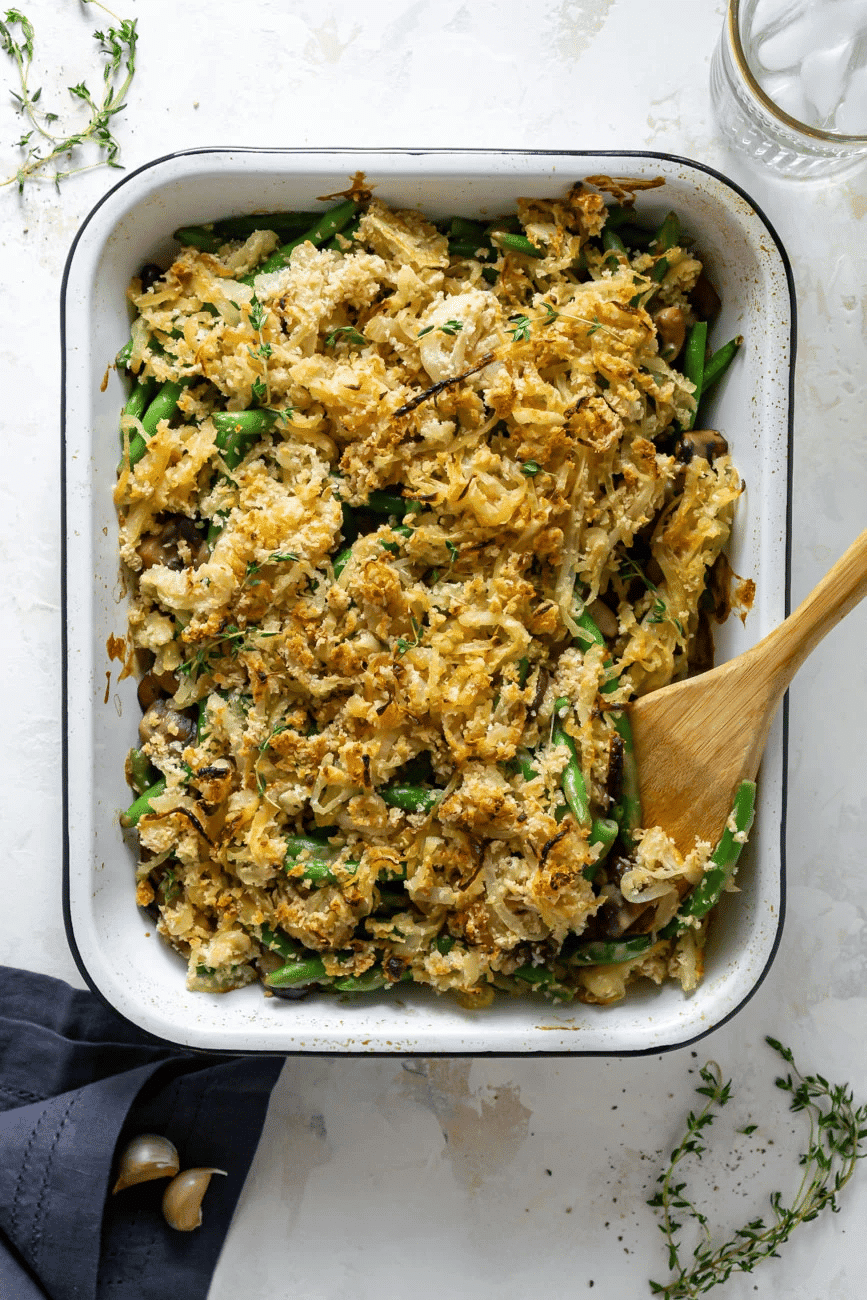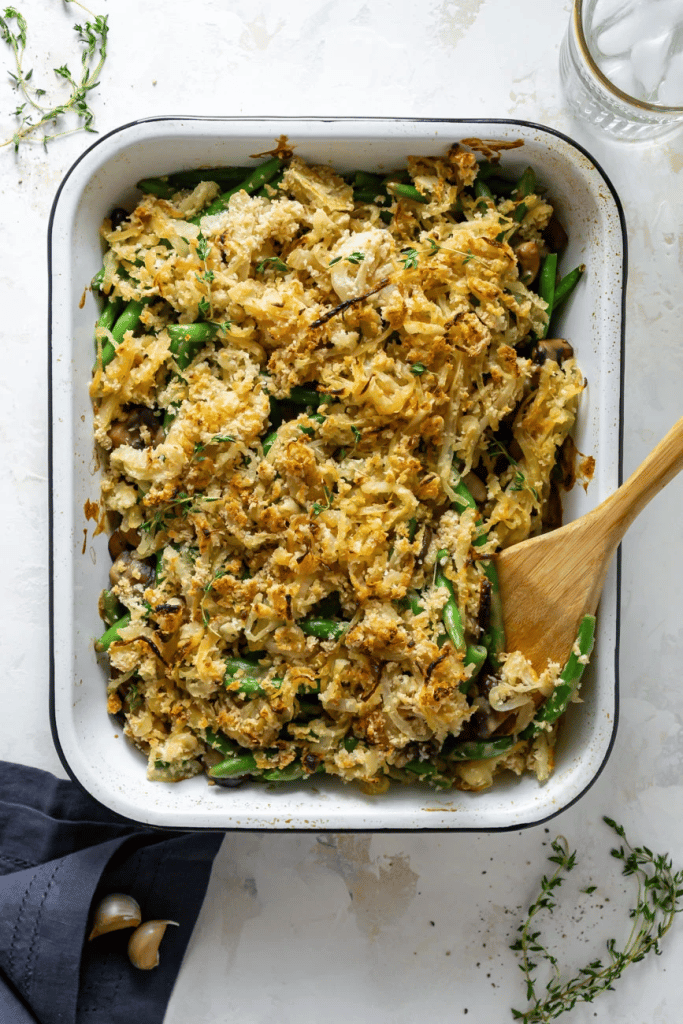 Green bean casserole is a family favorite at my house on Thanksgiving and Christmas. No more worrying about soggy and mushy green beans! This Healthy Green Bean Casserole is packed full of flavor and extra crispy.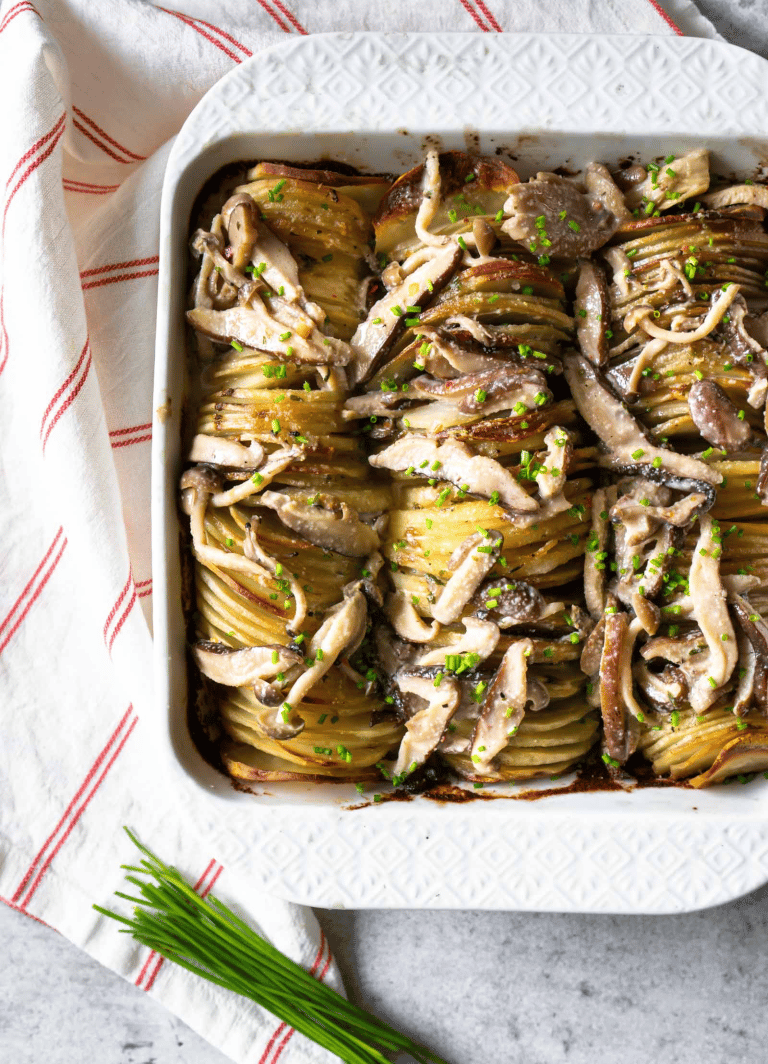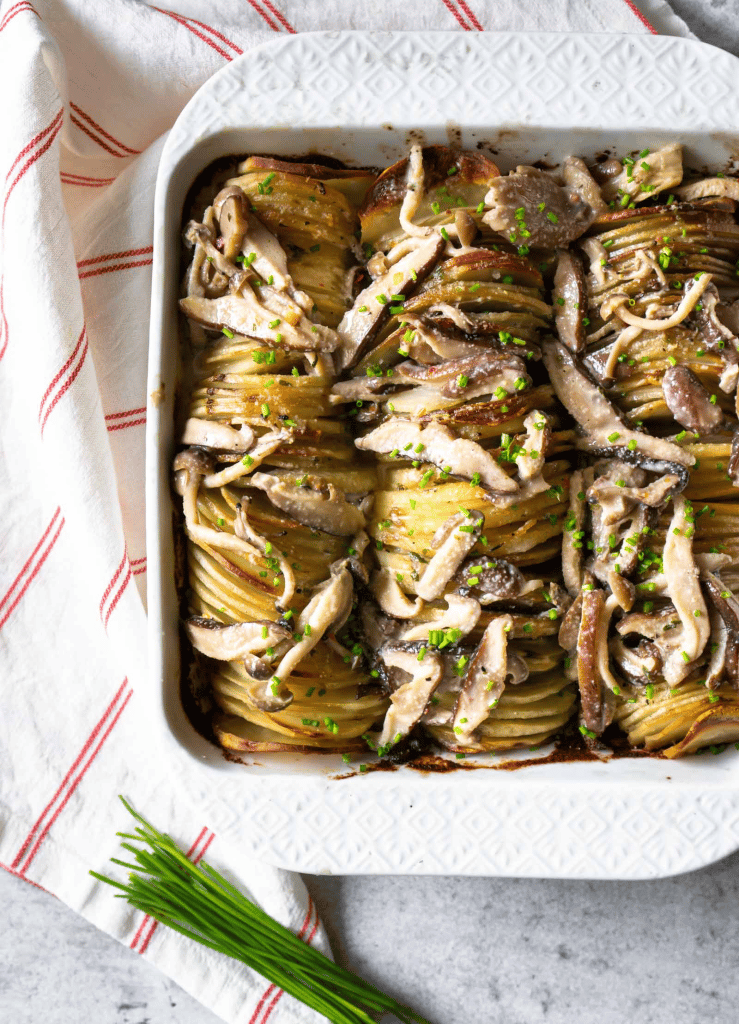 Whole30 friends, I have another delicious recipe for you. Creamy Whole30 Mushroom Hassleback Potato Gratin is a perfect side for either your traditional Cajun Turkey or even an Air Fryer Turkey Breast.
This mashed potato alternative is much healthier but also crispy and creamy.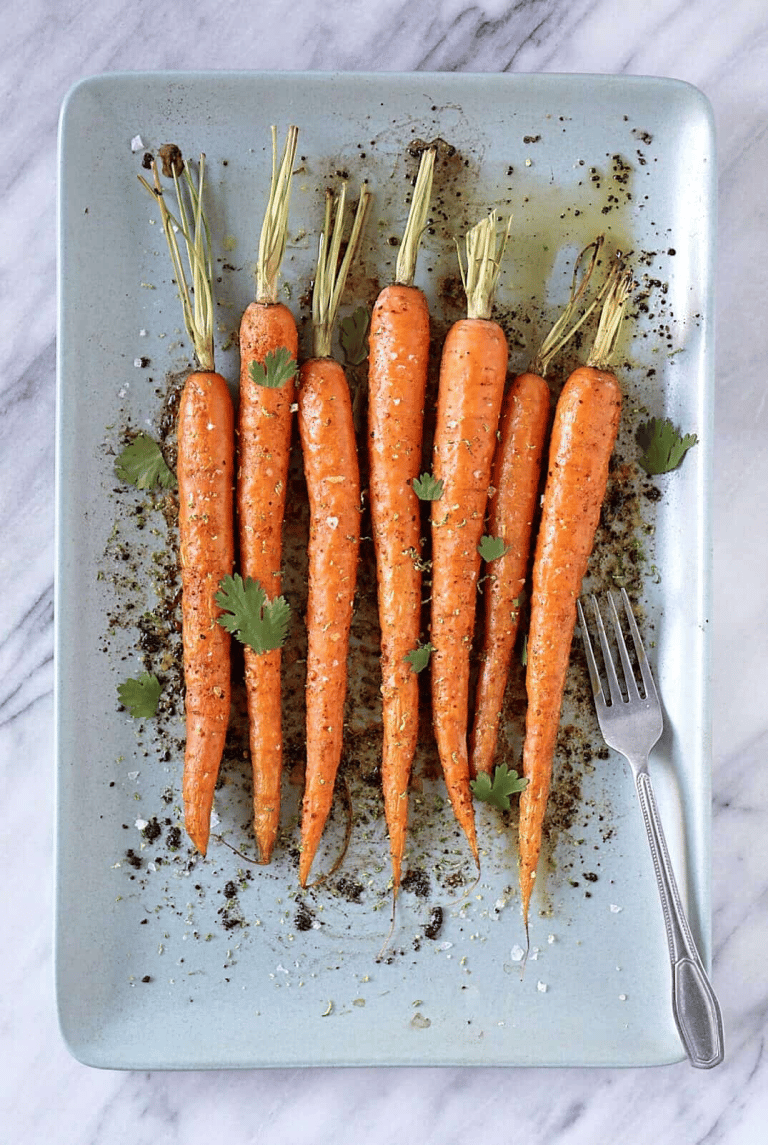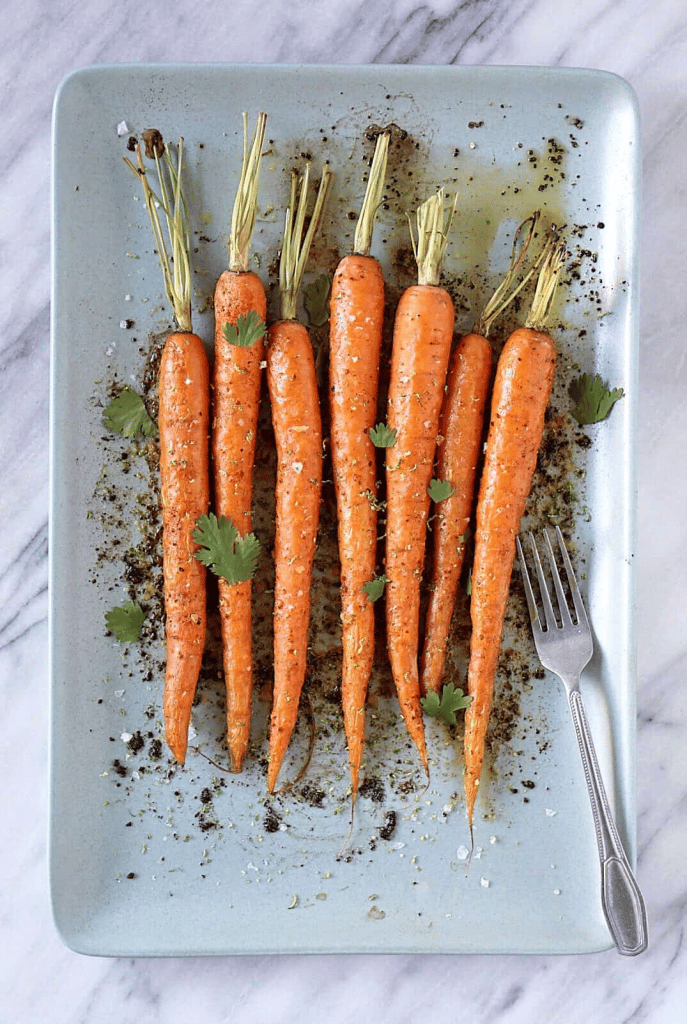 Have you ever had roasted carrots? They're absolutely delicious. The chili lime flavor of these carrots cuts the sweetness and adds a savory punch that pairs perfectly with your favorite protein.
Delicious Desserts to Add to Your Holiday Table:
My mouth is watering, thinking about all the dessert possibilities you can make for your holiday meal. Out with the traditional pumpkin pie and say hello to these delicious chocolatey recipes.
These simple dessert recipes are amazing for alternative Thanksgiving meals. Make sure to help yourself to seconds!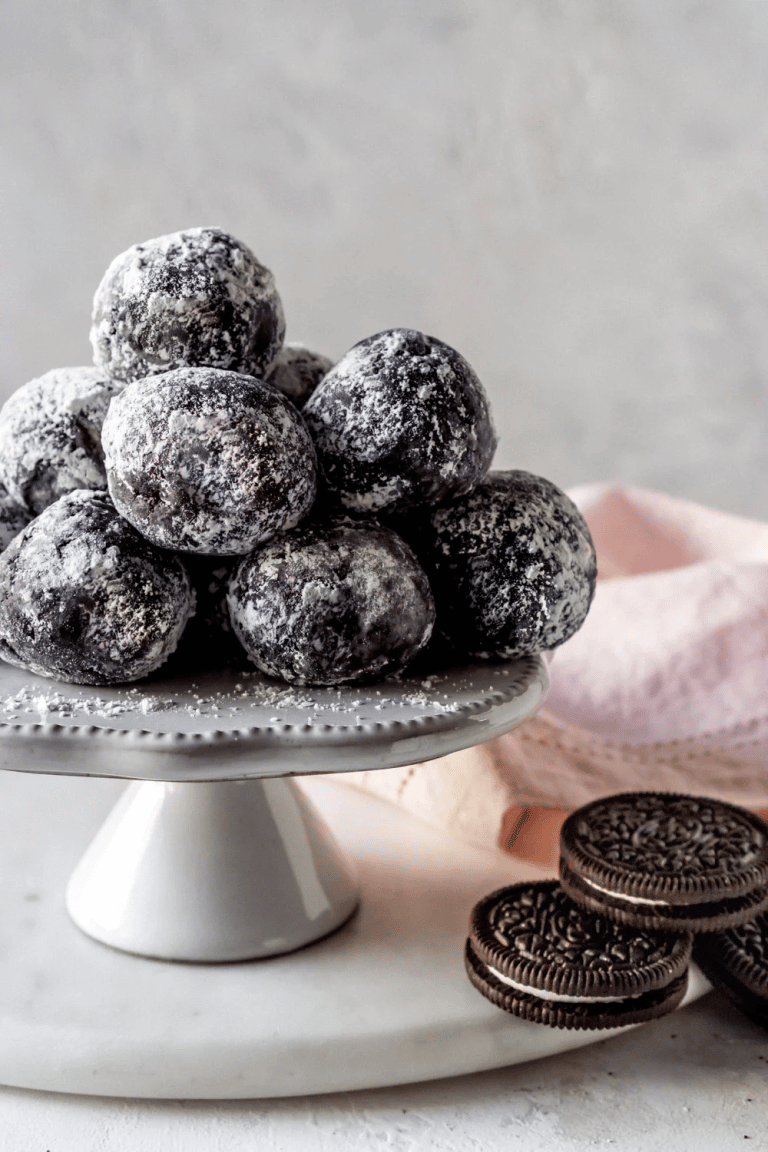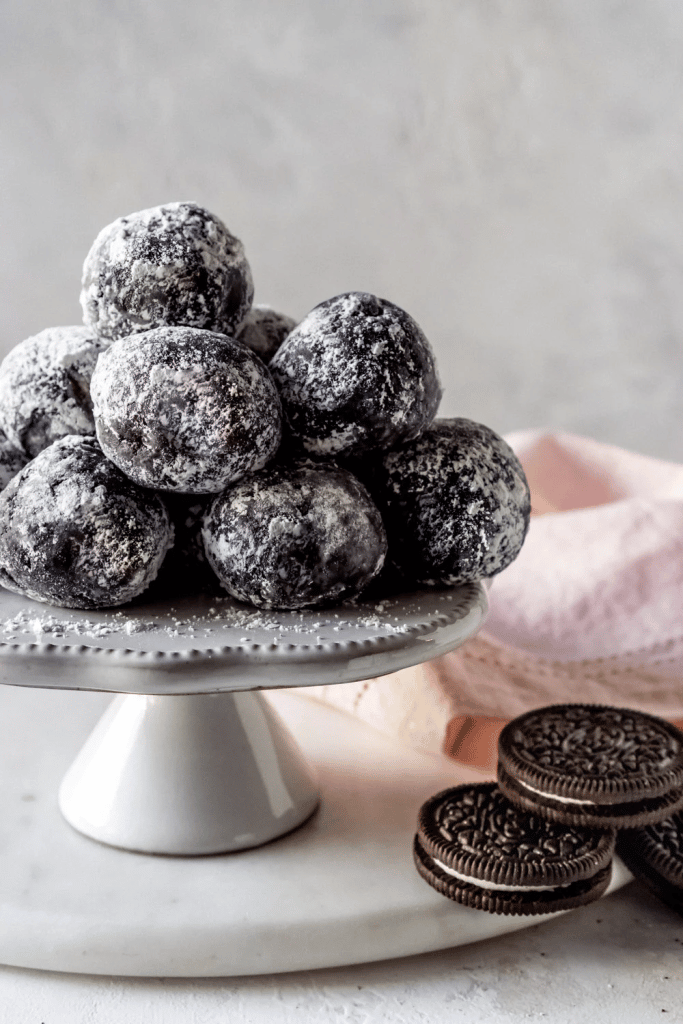 These Snowball Oreo Cookie Balls are great when it's getting colder, and you want to bring on the snow! This no-bake recipe is perfect for when your little ones want to help make your Thanksgiving dessert.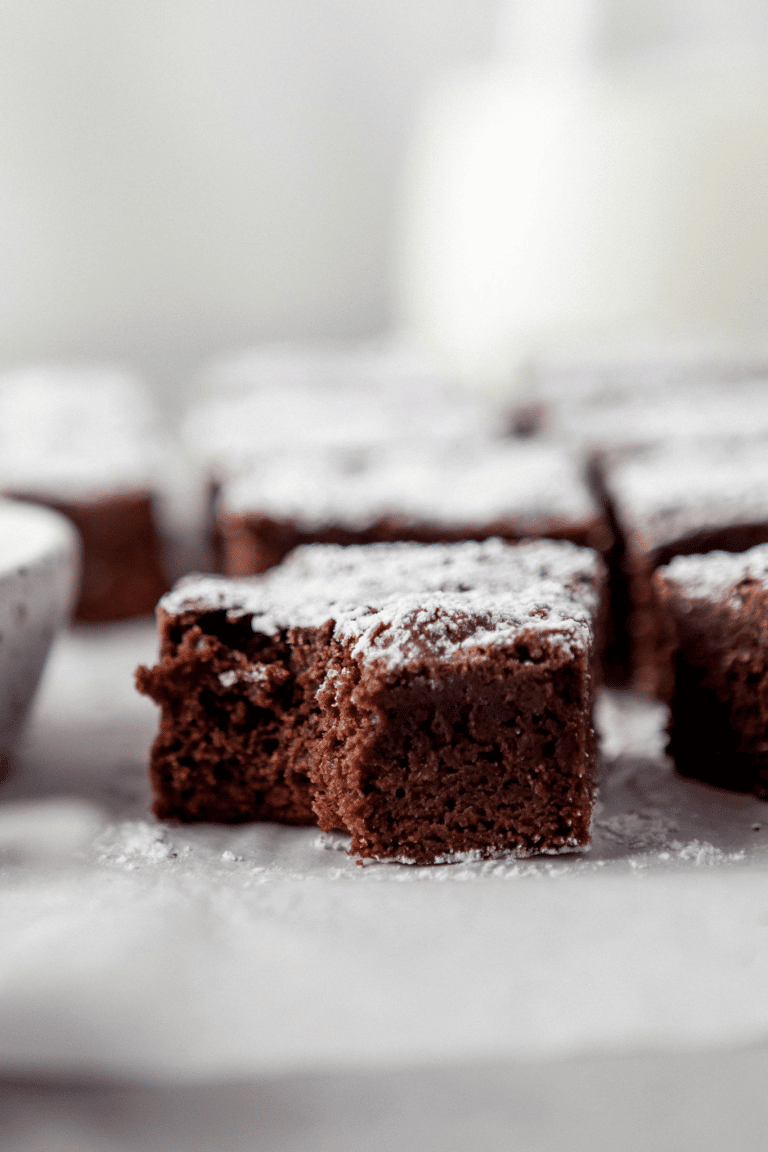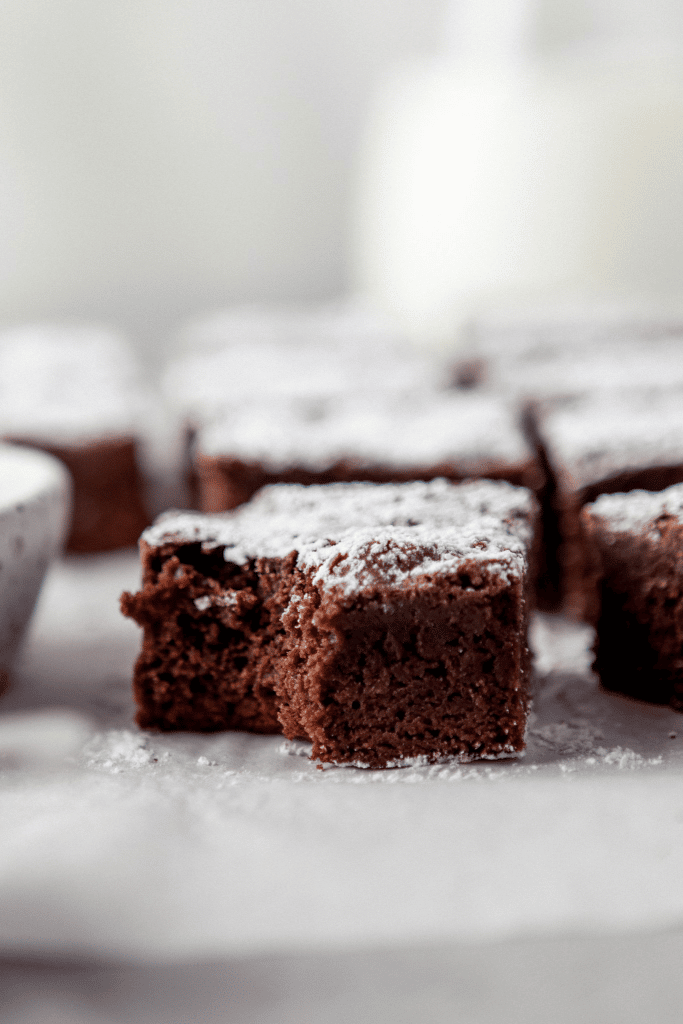 I could eat these Luscious Dark Chocolate Brownies every single day. These mouthwatering brownies are simple to make and are a great sweet treat to make for friends and family.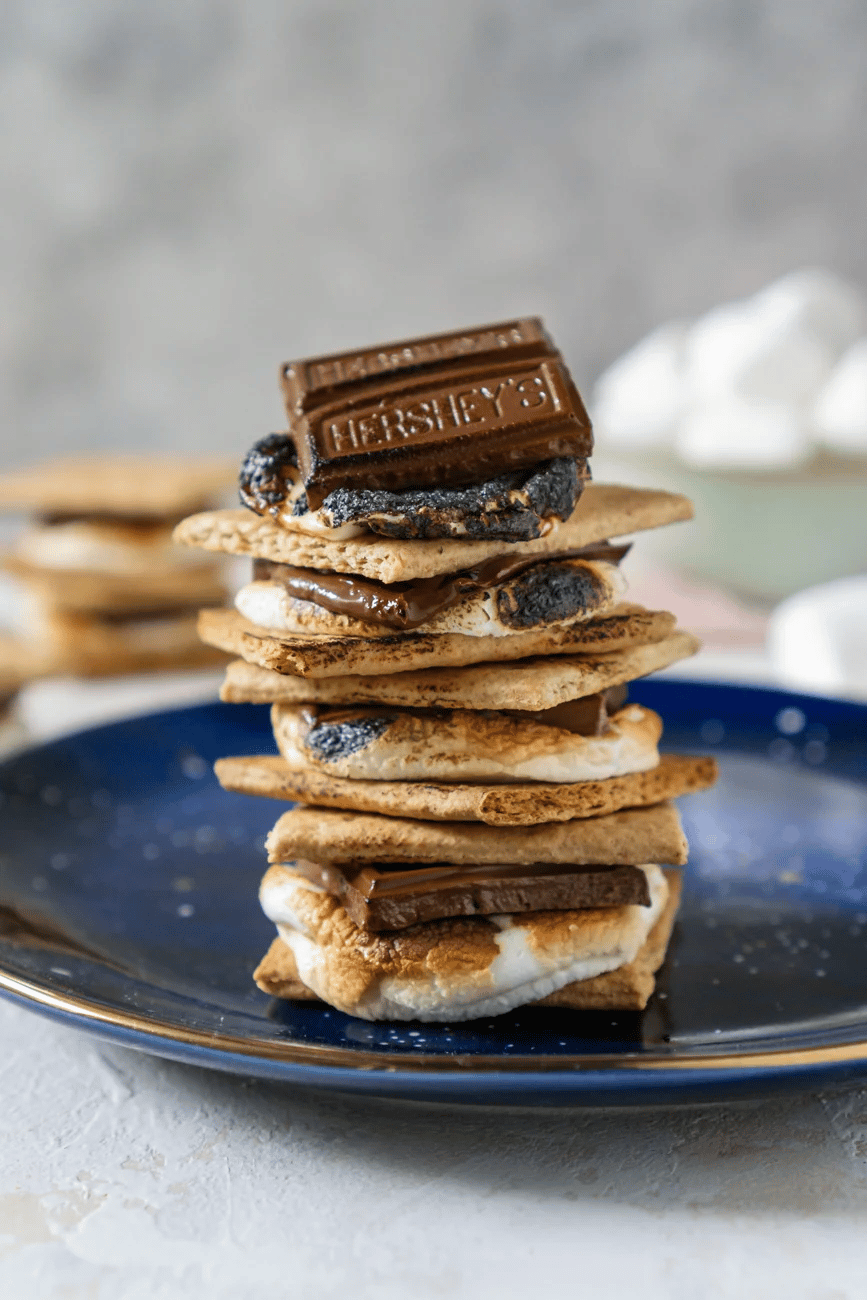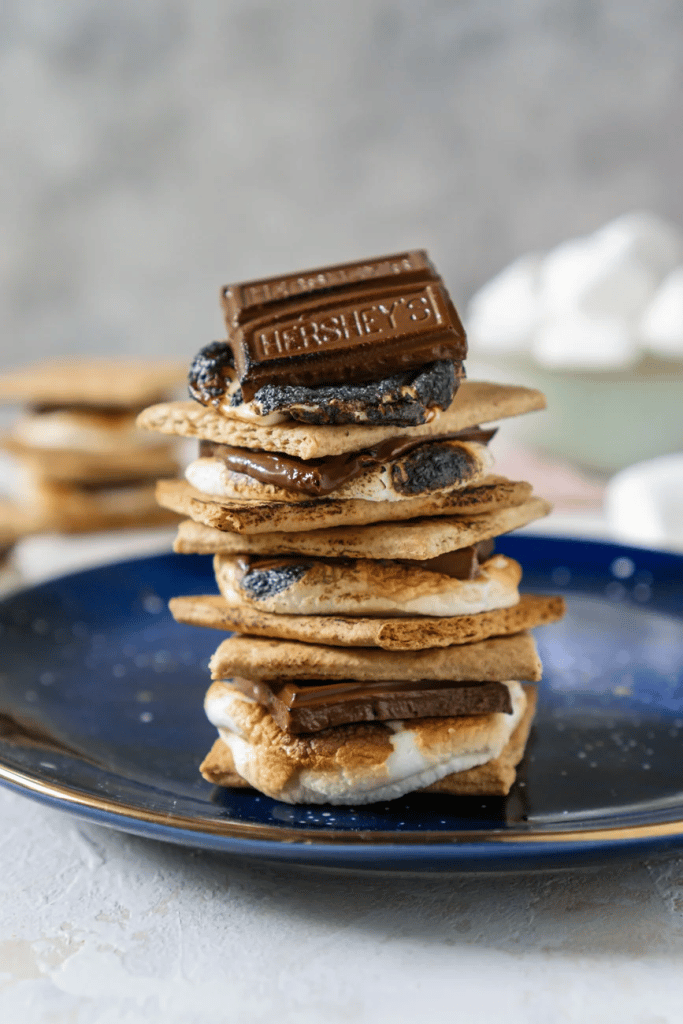 Oven Baked S'mores are great for a rainy Thanksgiving day when you can't go outside but still want to enjoy a chocolate and marshmallow treat. This s'more recipe is easy to make indoors, is gooey, and absolutely delicious.
It's a wonderful way to make a large batch of s'mores all at once!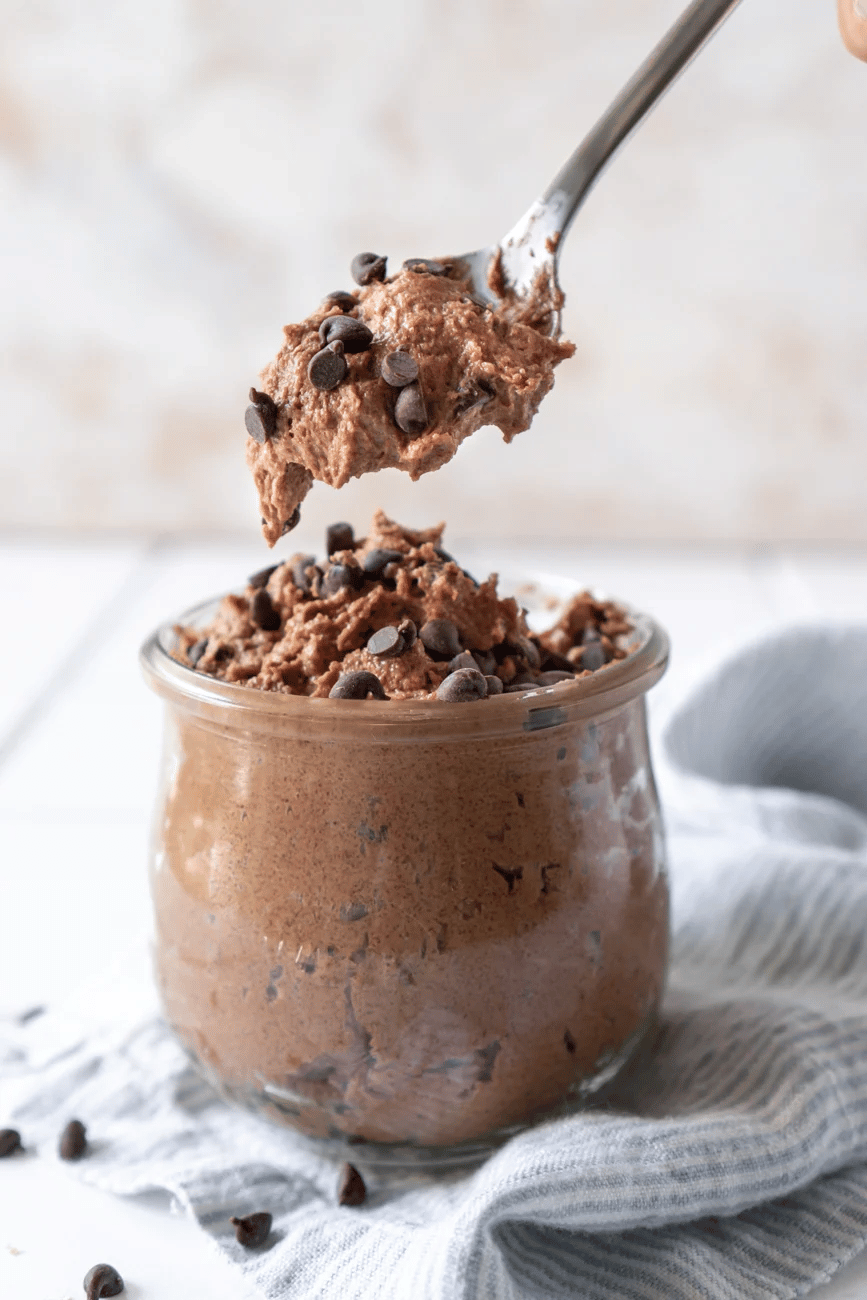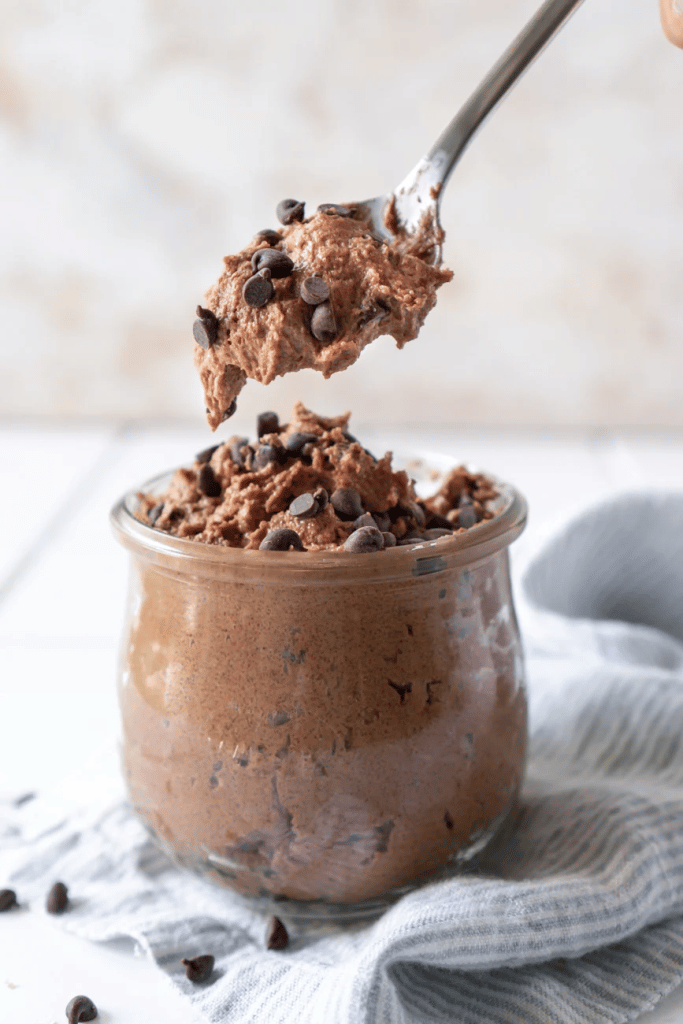 Most people don't think of Edible Brownie Batter Cookie Dough as your normal Thanksgiving dessert…but who wants to be normal? This chocolatey dessert recipe is easy to make and only requires a few simple ingredients.
How can I add fall flavors to my alternative Thanksgiving meal?
Are you still wanting to add a few Thanksgiving and fall touches to your holiday lunch or dinner? Try out these recipes creative thanksgiving ideas that are packed full of delicious autumnal flavor.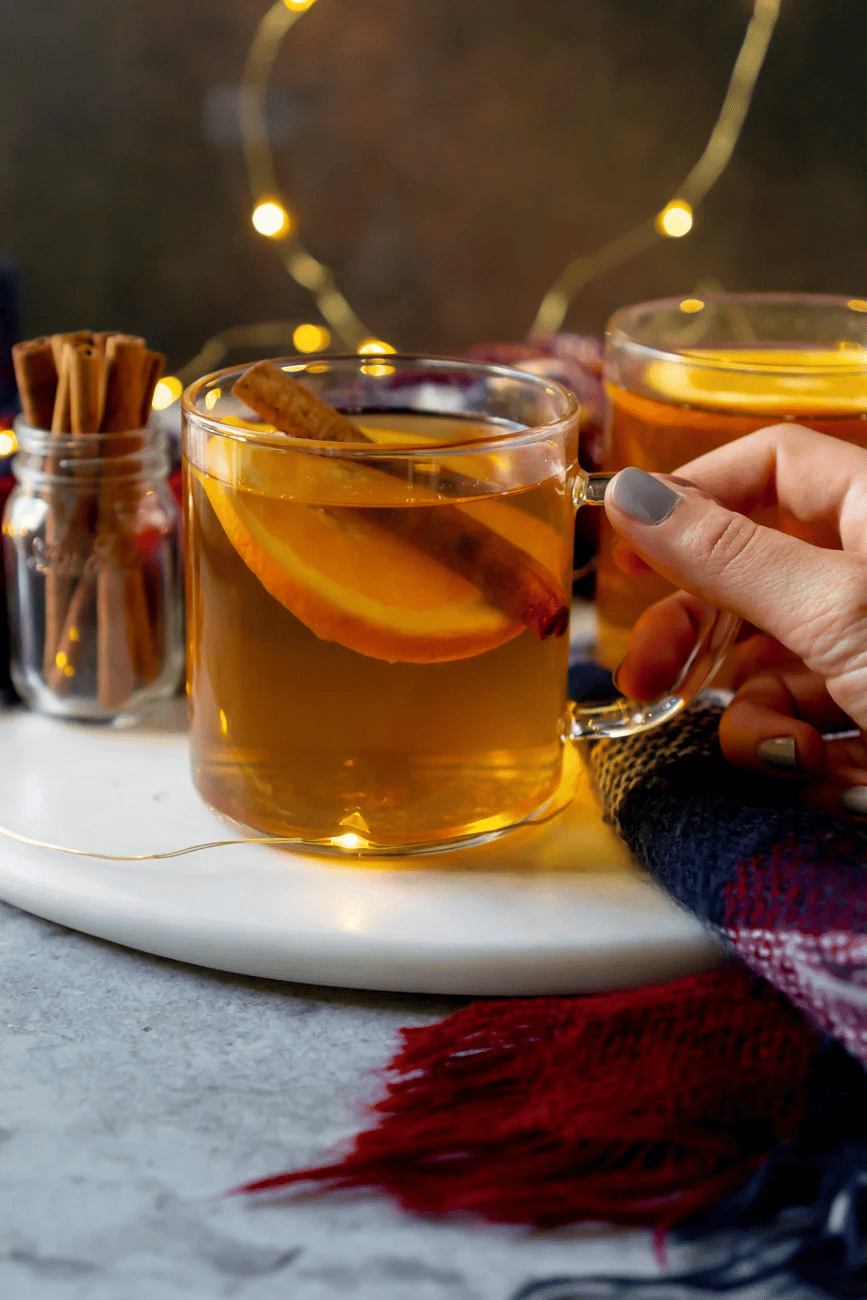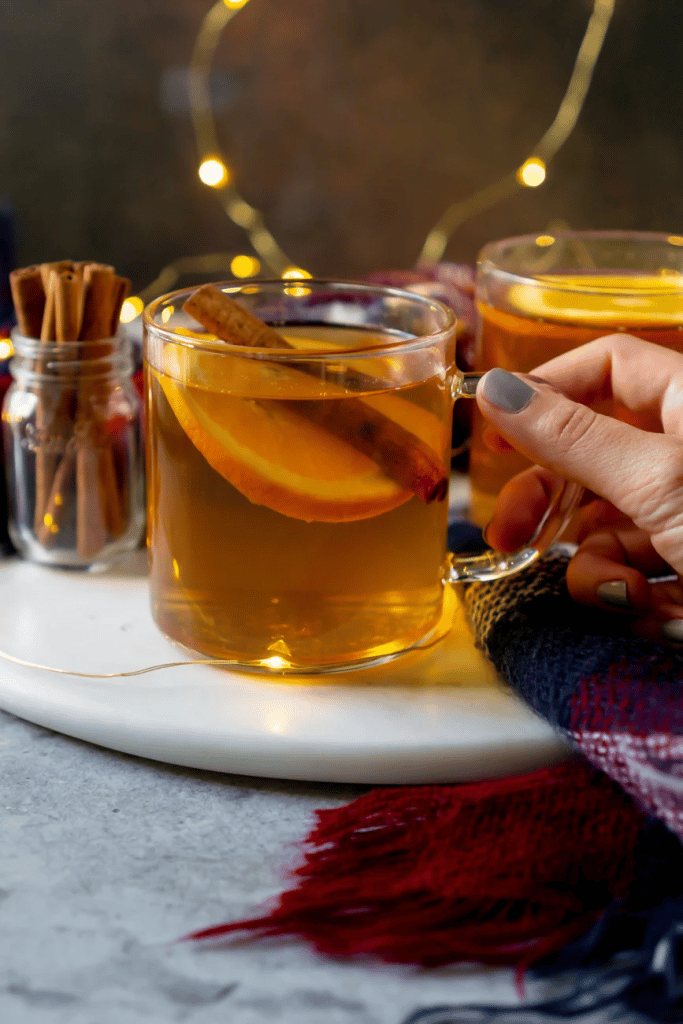 The perfect fall drink, this Pumpkin Spice Hot Toddy is the best drink to serve at your next Thanksgiving party. While this recipe is great for adults, if you leave out the bourbon, it is great for the kiddos too.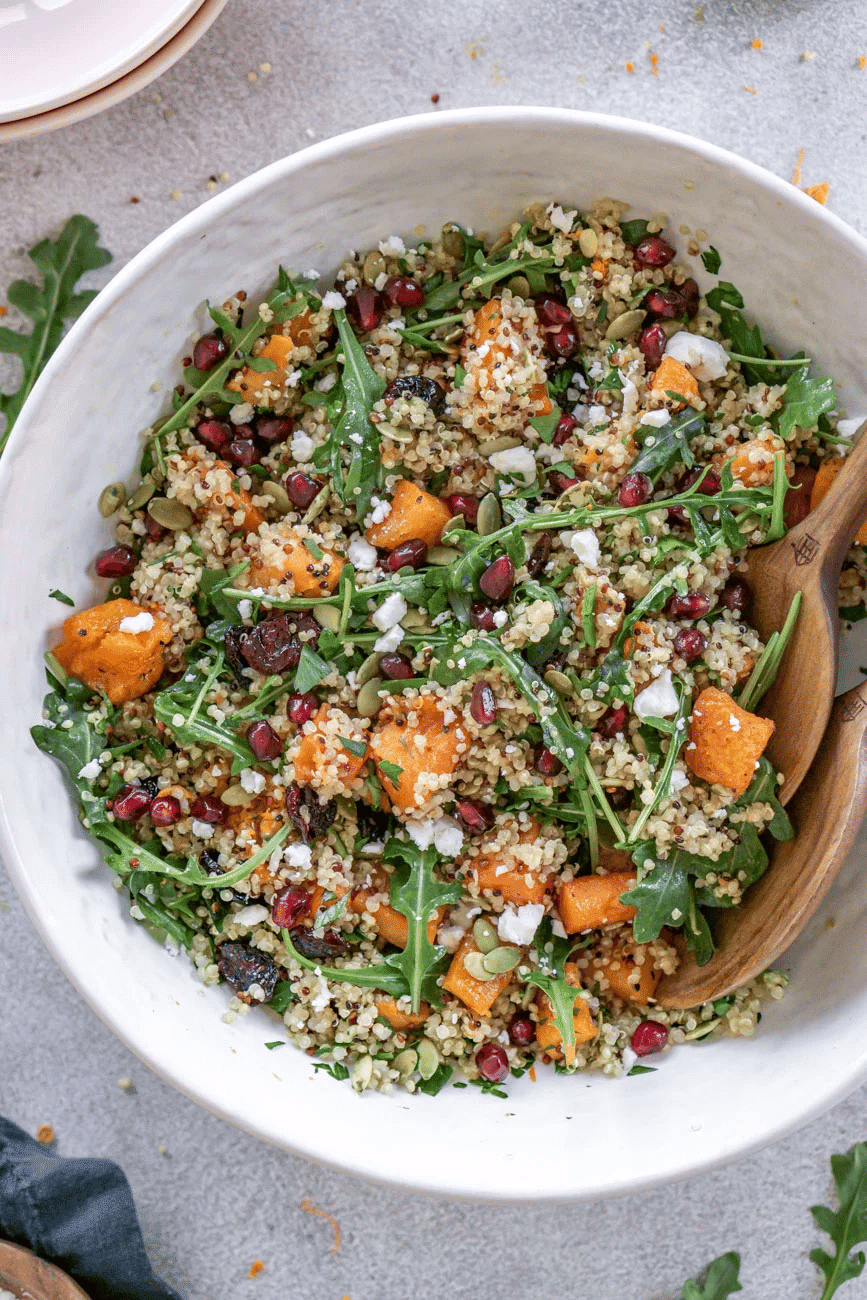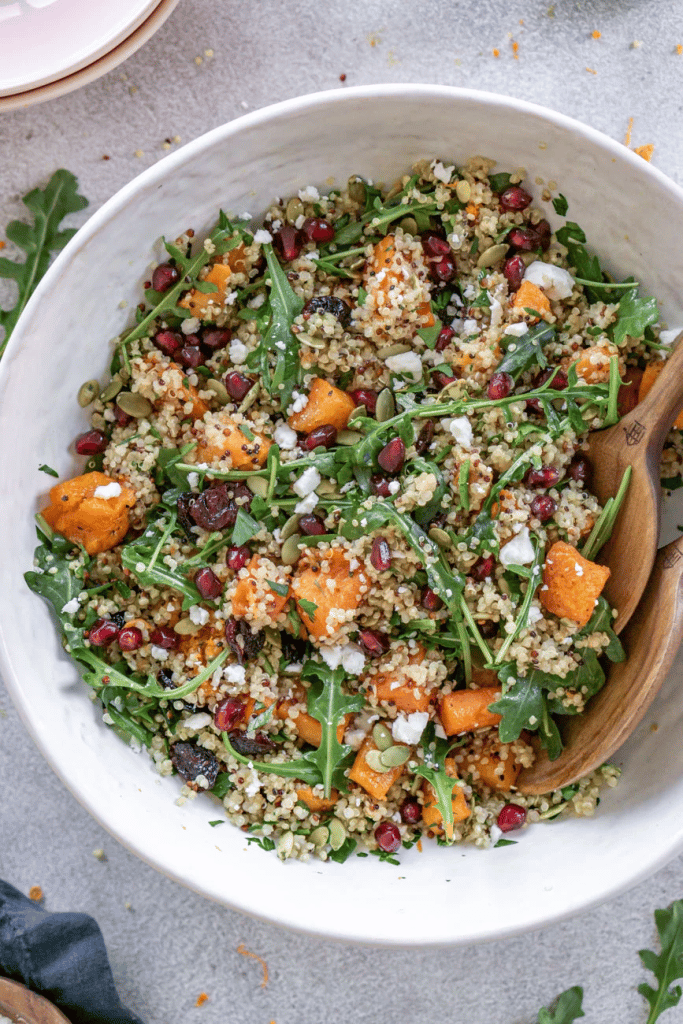 Butternut Squash Cranberry Quinoa Salad may not be one of the Thanksgiving staples, but it is a recipe full of delicious fall ingredients. Enjoy it with a honey Dijon Dressing for a quick lunch or dinner.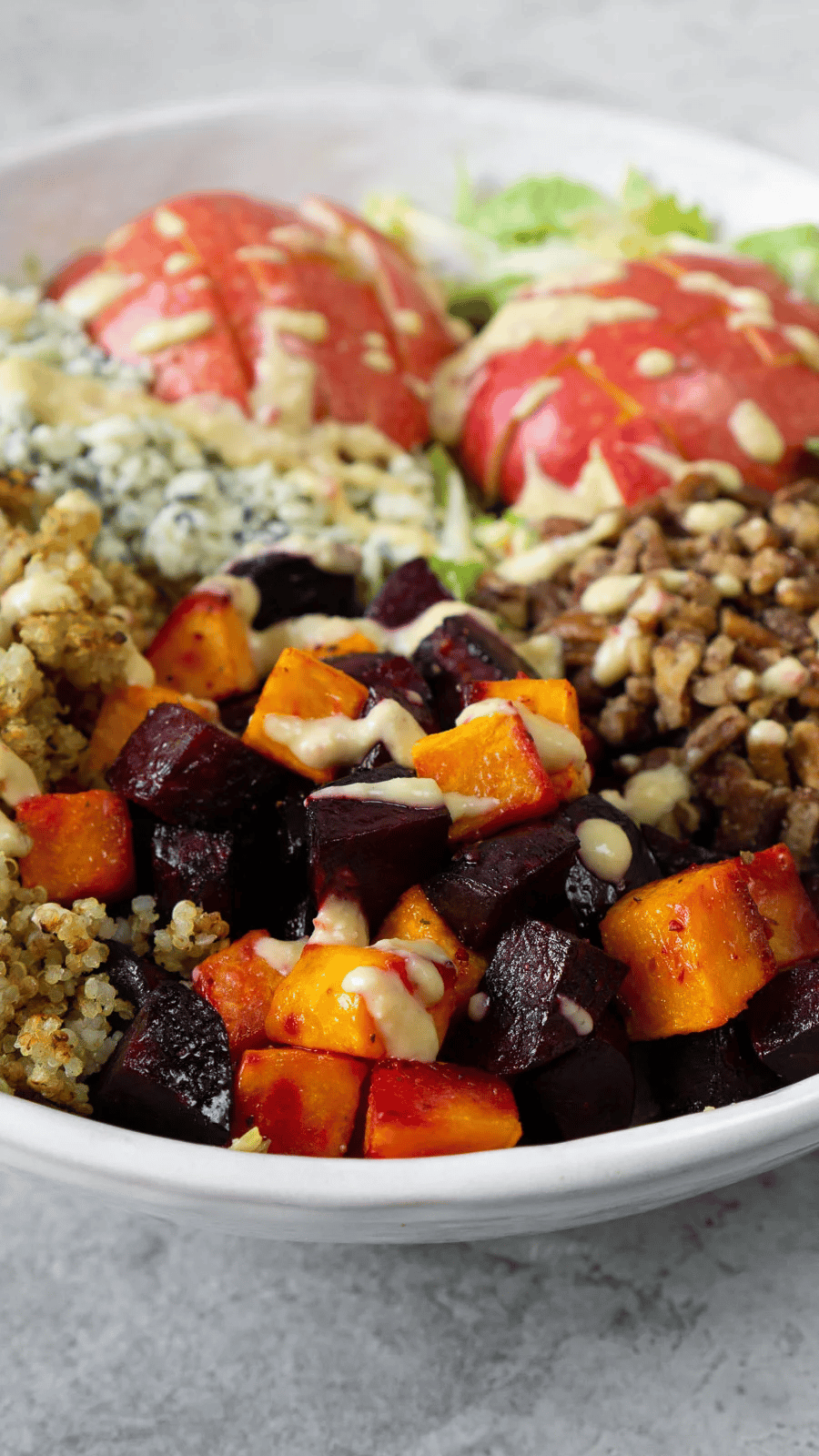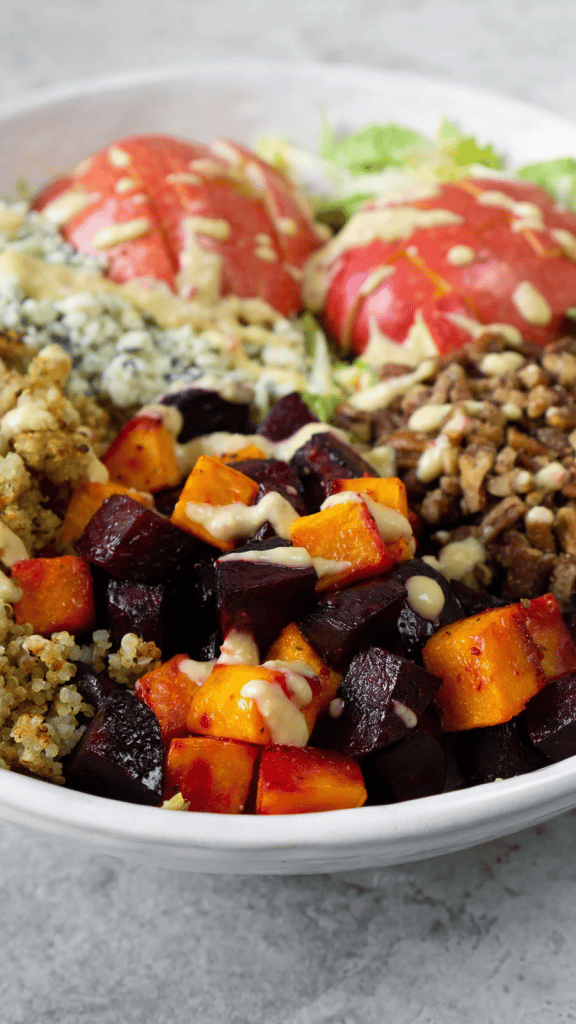 This may be my favorite way to serve all of the autumn flavors in one. A Fall Harvest Salad with Champagne Apple Cider Vinaigrette is great for a work lunch and will keep you full all day without the afternoon crash.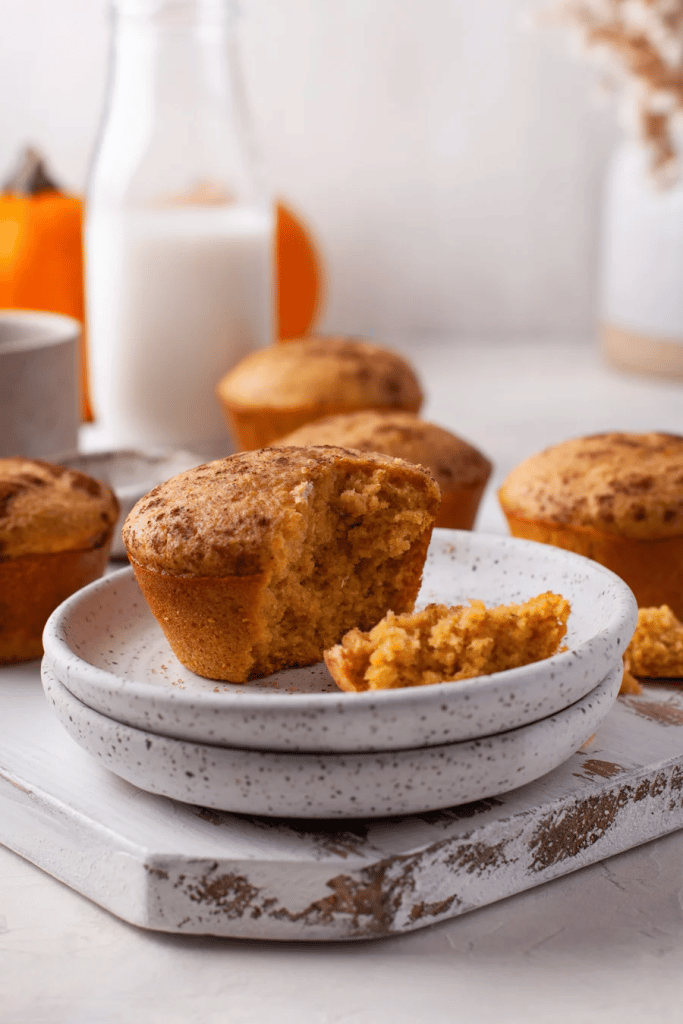 Forget the pumpkin pie and enjoy these fluffy Pumpkin Cornbread Muffins. This appetizer recipe is great to add to your Thanksgiving dinner table or even to add to chili on a cold fall day.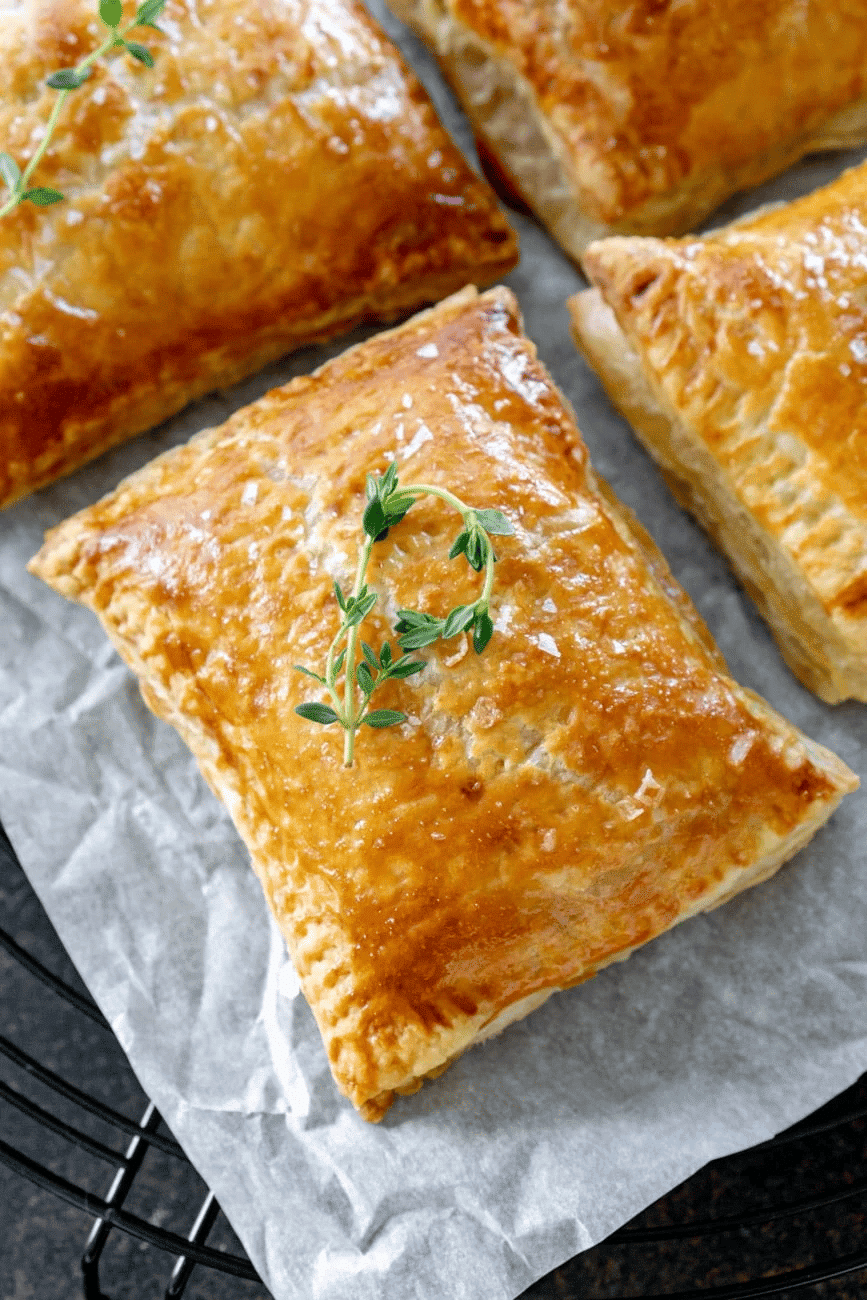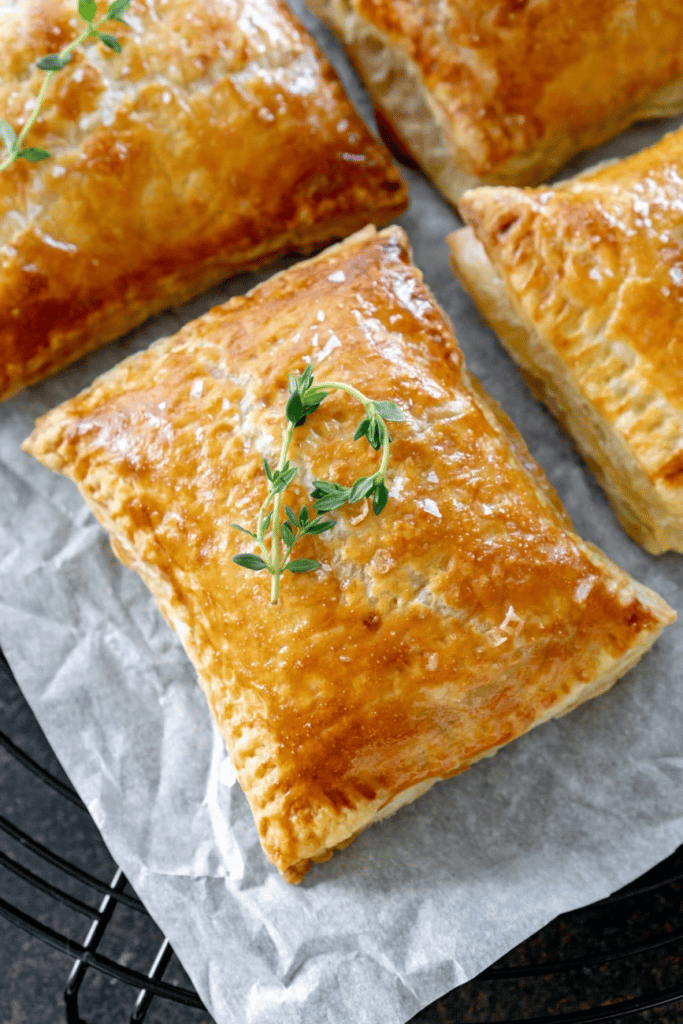 Full of savory flavors, these Cranberry Apple Hand Pies will surely become a quick favorite. Filled with cranberry sauce, brie cheese, and crisp apples with a golden brown outside, there is no dessert like it!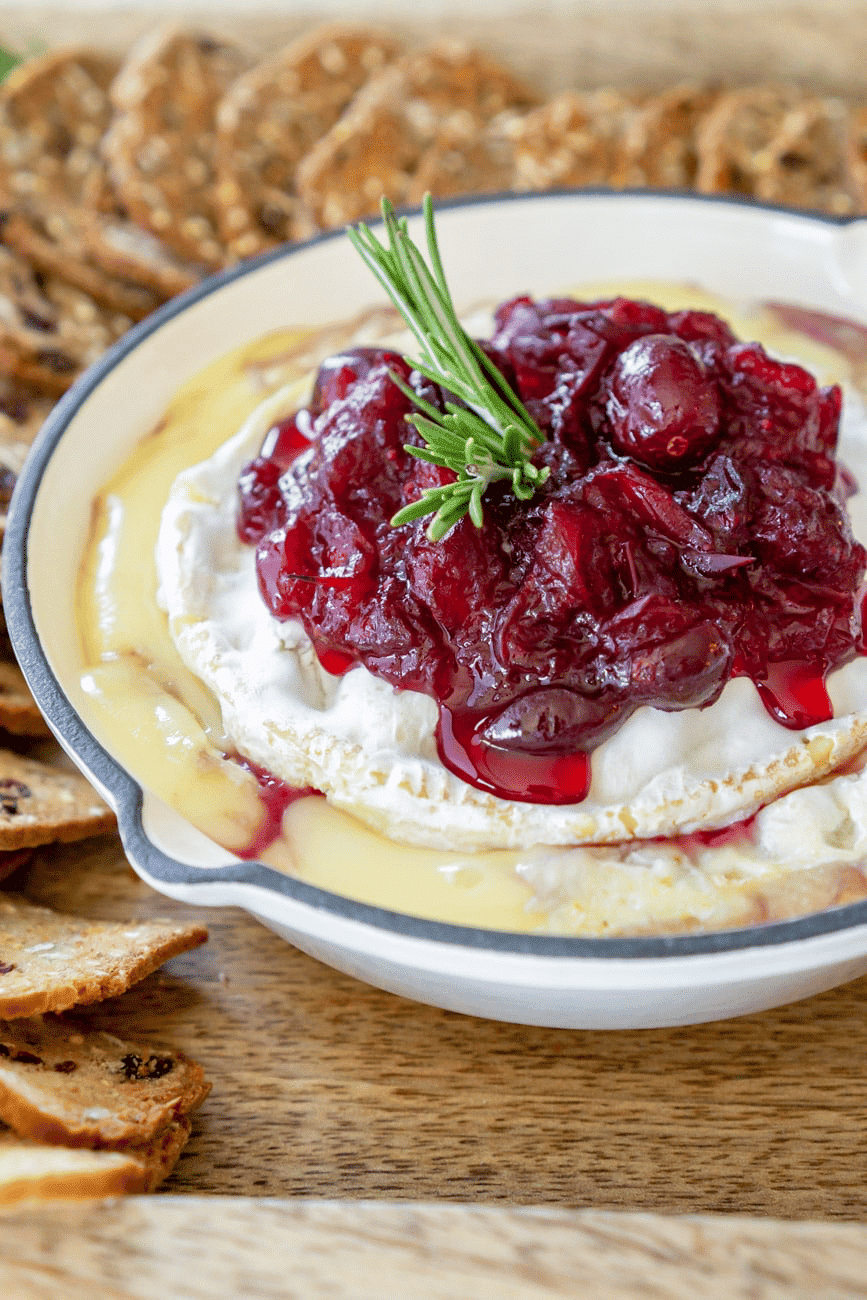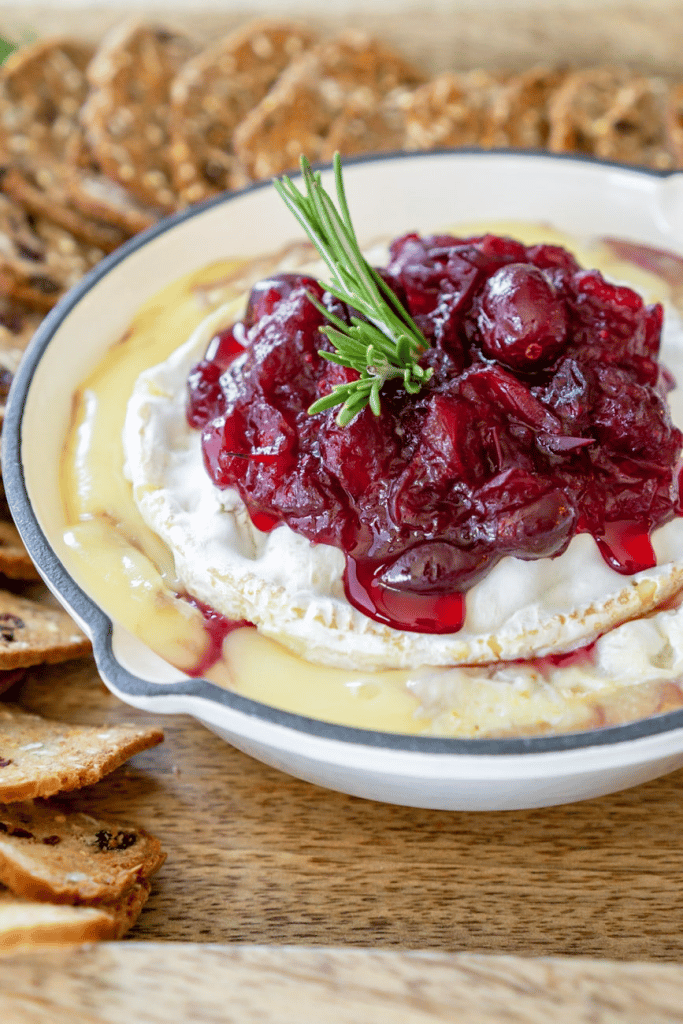 Are you looking for the perfect thanksgiving appetizer? Look no further than this simple Orange Cranberry Baked Brie recipe. Ready in less than 20 minutes, enjoy this dish with your favorite bread or crackers.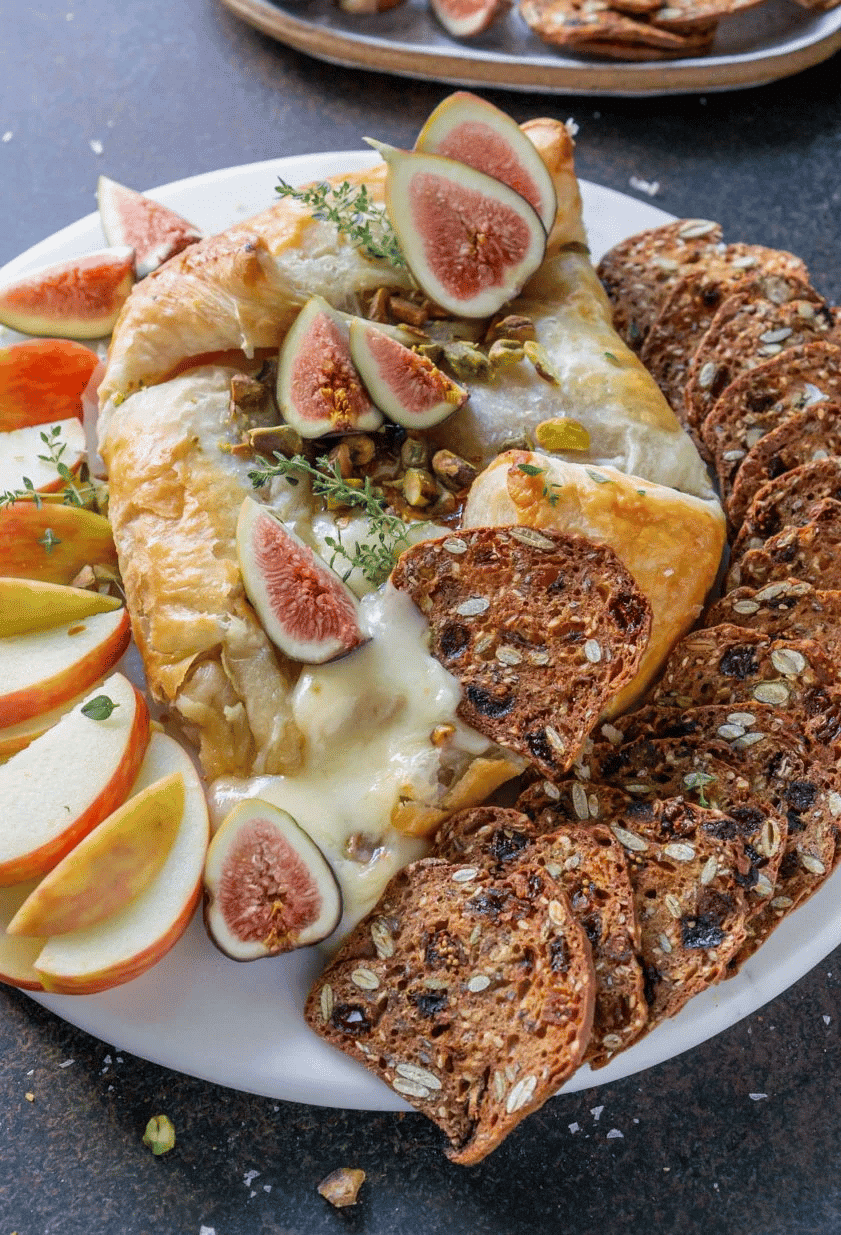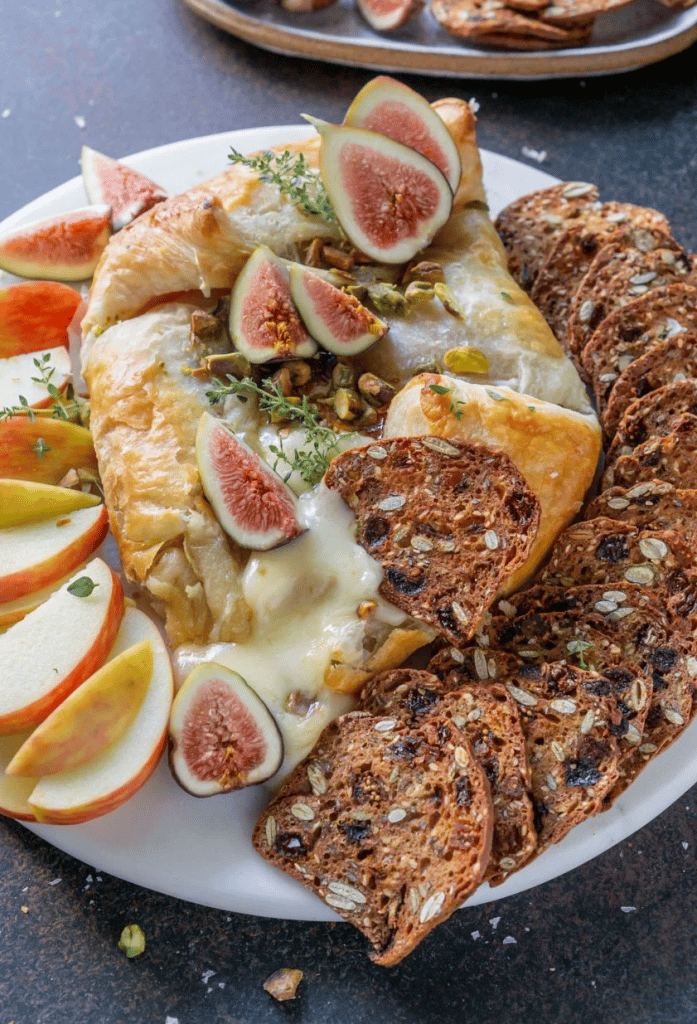 Another great brie cheese recipe is this Baked Brie with Fig Jam recipe. This crowd pleasing appetizer is perfect for adding to a charcuterie board or as a snack to keep your Thanksgiving guests full and happy.